In spring 2011 Garmin launched the Dezl 560 LT Truck navigator in Europe. The Garmin Dezl aims at those who drive large vehicles like trucks, lorries, RV's and motorhomes. Here's a hands-on impression of the Dezl navigator installed in a 1719AK Mercedes Benz expedition truck. Read about a few less known features.
In this story you find the following :
Garmin Dezl 560LT impression
The Garmin Dezl is a continuation of the popular Garmin Nuvi 465T. The Dezl comes with a lifetime TMC traffic subscription, CCTV reverse camera input, handsfree BlueTooth calling, and a large 5" display.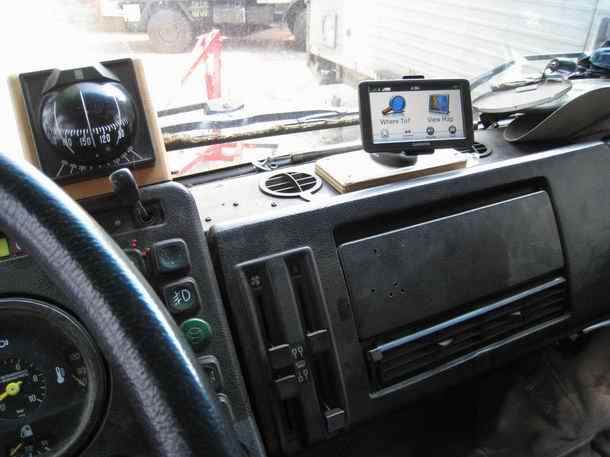 Garmin Dezl 560LT mounted in Mercedes Benz 1719AK truck

The Dezl has 4 vehicle navigation modes Truck , Motorhome, Car and pedestrian. Each mode allows several vehicle profiles to be selected at statup or during the journey.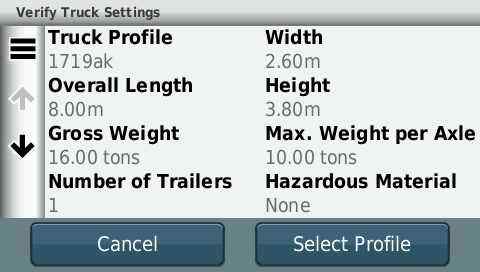 Garmin Dezl 560LT truck profile - height - width - length - weight

Each profile has several parameters such as vehicle dimensions, total weight and axle weight.
The Dezl comes with a list of truck stops and truck parkings in Points of Interest. Highway exits can be previewed with truck stops in the area and height / weight restrictions.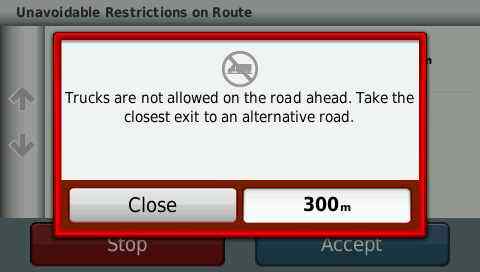 Garmin Dezl 560LT trucks not allowed warming

The Garmin Dezl has an internal battery - allowing about 3 hours of continuous operation on average - though in most cases the Dezl gets its power from the charger lead. Charging an empty battery takes about 2 hours. Read about
TMC - RDS function during battery operation
.
Lifetime European TMC traffic subscription is valid for the UK, Germany, France, Belgium, Italy, Finland, Slovenia, Norway, Sweden, Poland, Hungary, Luxemburg, Greece and Ireland.


Car navigation includes Garmins ecoRoute feature measuring fuel economy. The Garmin EcoChallange index gives 'green' driving freedback by measuring acceleration, deceleration and speed stability. Unfortunately this feature is not available in Truck or Motorhome mode.
Garmin Dezl reverse backup camera and CCTV
Reverse backup camera is a great feature for large vehicles. The Garmin Dezl has a standard composite PAL video input – though the video cable is not included. Luckily a standard Nokia cellphone AV cable also fits.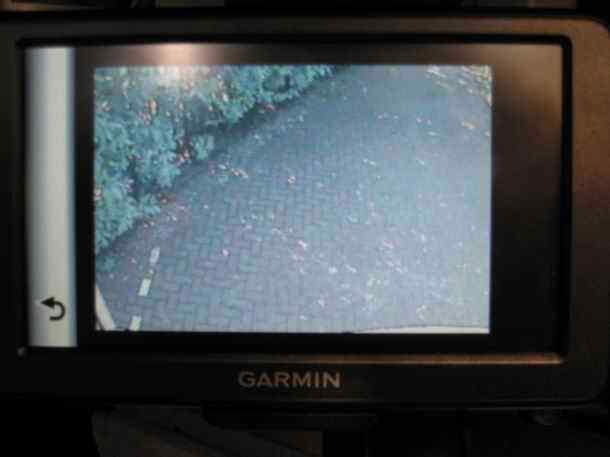 Garmin Dezl 560LT reverse backup camera display

In this setup the Garmin Dezl is connected with two Sharp ¼ CCD outdoor camera with IR spotlight connected to a 10 meter video cable.
The CCD camera is used as a forward and rear observation display in the living unit. A few details about this CCTV backup camera:
Reverse backup camera specifications - 1/4 CCD color chip with IR leds

SHARP 1/4 CCD LR38603A

PAL 500 x 582 pixels

Horizontal resolution 420TVL

3.6 mm lens

24 IR leds for night vision

20 meter IR range

3 Watt Max @ 12 volt DC



Be aware that commercial IR leds (InfraRed) emit a faint red glow in the dark and are still visible on close range. IR leds with military specifications are invisible in the dark but are less power-full.
The video input also allows showing video's / pictures from a cellphone or MP4 player.
Garmin Dezl RDS - TMC traffic jam avoidance
The RDS - TMC traffic jam avoidance function gets it's information through a external antenna connected to the Garmin GTM 35 charger lead. The antenna is included for all Dezl versions.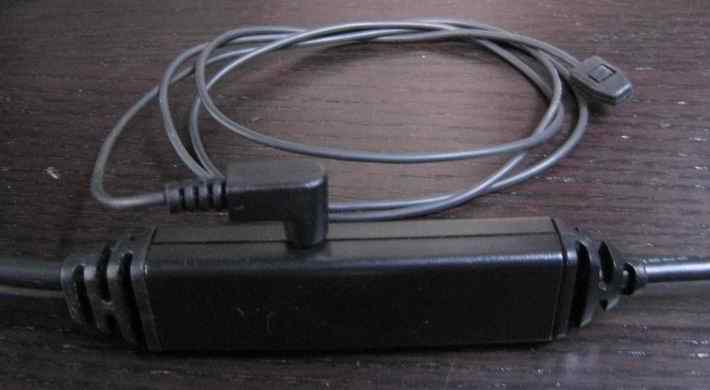 Garmin Dezl 560LT TMC RDS antenna connected to charger lead - Garmin GTM 35

When there's traffic somewhere on the planned route the Dezl will signal this on the map and through a sound. When there are faster alternatives it will automatically calculate a new route depending on the navigation mode. (fater time, shorter distance). Any traffic near the planned route will also show in a list of traffic jams.

The RDS - TMC traffic function doesn't operate when it's not connected to external power. Most likely there's a TMC signal amplifier in the charger lead. The TMC - RDS traffic button will also not show in the settings menu next to the bluetooth icon when there's no power.

Garmin Dezl display stand
The Dezl is connector compatible with the Nüvi range as – so display stands can be exchanged between both ranges. HAMA has a cheap camera stand avoiding costly GARMIN accessories.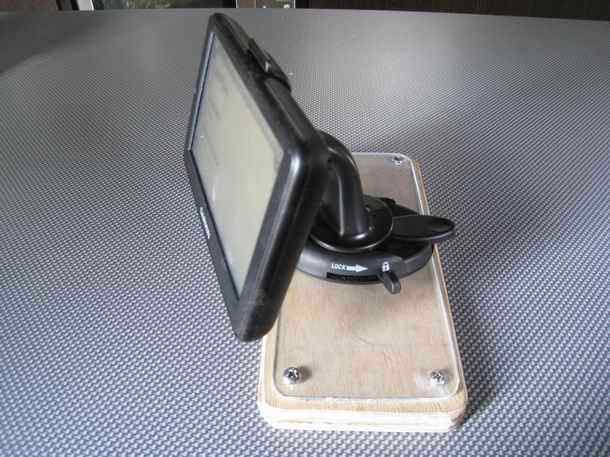 Garmin Dezl 560LT mounted in Mercedes Benz 1719AK truck

The standard Dezl stand is mounted on a home made magnetic stand. This allows the Dezl to be moved around on the dashboard and taken inside for route planning on the table.
Garmin Dezl 560LT worldwide prices

The
HAMA stand for the Nuvi range
is used as display stand for the CCTV system and route planning.|
HAMA also has a
Garmin Dezl carrying bag which fits the 5" display size
.
Garmin Dezl Bluetooth handsfree calling
The Dezl can act as handsfree kit for a Bluetooth phone. Speaker and microphone inside the Dezl are connected with the mobile phone (cellphone / handy) over BT.

The phonebook is automatically uploaded to the Dezl upon connection. The BlueTooth connection has the extra to dial businesses in the Garmin points of interest with the press of a button.
The Bluetooth connection is not free of software issue's with the tested version. Connecting from cold start doesn't work with a Nokia N95 8Gb while a Nokia N3110 Classic does connect. Connection with a Nokia N95 8Gb works only after Dezl startup though disconnecting doesn't work. The Dezl must be powered off to disconnect.
Dezl Bluetooth Version information is shown at the end of this article.
Dezl USB interface
The Dezl connects to a PC / Mac using a standard USB cable – which is included in the package. The USB cable connects with he Dezl using a standard Micro-B USB connector.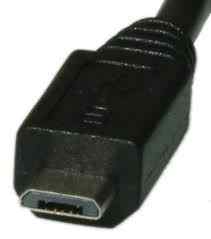 Garmin Dezl mirco-b USB connector.


As with other Garmin navigation devices it communicates seamlessly with Garmin Mapsource. The memory space of the Garmin is available as a USB drive in for instance Windows.

The USB interface is required to update firmware and maps within 60 days of purchase. A purchase is registered when the Garmin Dezl detects a speed higher than 30 Km/hr.
Dezl screen shot and picture viewer
Dezl has a screenshot feature which allows a screen dump at anytime through a permanent available button in the upper right corner of the screen.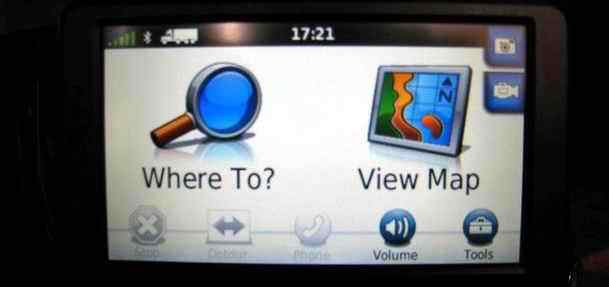 Screenshot and reverse camera button in the upper right corner

NEW January 2012
:
Detailed Garmin Dezl 560 review
The screenshot doesn't work with the reverse camera. The screen-shot is black whete the CCTV image resides.

Screenshots are available through the USB interface and can be copied from the DEZL memory drive from the screenshots folder.
Garmin Dezl Free trial's and map update
The Garmin Dezl comes with two free trial's:
1 month free Cyclops Speedcamera trail on single European countries
15 day Garmin Language guide trail version starting after first use
and a 90 day period to update the installed Garmin Map to the latest version. Garmin Maps can be updated through the microSD card slot at the backside of the Dezl.
The Language guide contains spoken phrases in Portuguese, Italian, French, German and Spanish.
Garmin Dezl in the US and Europe
The US version of the DEZL has more trucker related functions such as IFTA logging (US fuel tax system) and hours of service. The Euro zone has a different fuel tax system and other regulations for recording driving times and rest periods for professional drivers. Any European implementation in the Garmin Dezl will most likely cause a legal issue for those trying to use it professionally. Though when used privately, it would be nice to have in the Euro zone.
The Dezl truck profile in the US has extra fields such as ODO meter, Tractor VIN Tractor number and Trailer number.

Garmin Dezl system reset
The Garmin Dezl has 2 types of resets.
Garmin user data can be erased (Master reset) by pressing the right lower corner of the screen for 30 seconds when powering on the Dezl. A screen appears asking to erase all user data. After this the Garmin Dezl starts like with default settings and goes through all initial setup screens.

The Garmin system can be reset (Soft Reset) by pressing the power button for 8 seconds. Then press power again to start the Dezl again.
The Garmin Dezl system reset or user data reset also works when the Dezl doesn't start anymore when the power button is pressed.
Keep your Garmin Dezl updated with the latest navigation firmware. In 2012 Garmin released several releases with bug fixes.

Tested Garmin Dezl version
Below the Garmin Dezl version tested in this article. A newer Garmin Dezl version is available. Garmin Dezl GPS software can be directly updated with Garmin Webupdate.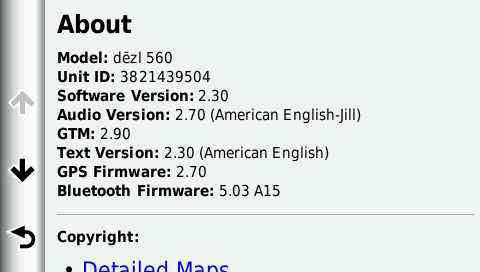 Garmin Dezl 560LT version information

Dezl predecessor - Garmin Nuvi 465T worldwide prices

Garmin Dezl product links
A few relevant links for Garmin Dezl information
- Garmin Dezl product page (english)
- Garmin Dezl produkt seite (german / deutsch)
- Garmin Mapsource product page

Other links: