Location
Handicraft center - Ensemble Artisanal in Marrakech.
31° 37' 38.082" N, 7° 59' 48.048" W
You'll find them all-over Morocco, government backed handicraft centers locally known as Ensemble Artisanal. In one building you'll find craft workshops of Moroccan craftsmen showing of their produce and trade. Have a look at the Ensemble Artisanal in Marrakech.


In this article;
Berber and Tuareg Traditional Moroccan jewelry
Moroccan tassels or passementier art decorative finishing
Getting a taxi from the Ensemble Artisanal in Marrakech
Other traditional crafts in Morocco
Ensemble Artisanal Marrakech – Moroccan handicraft centers
Nearly every bigger city in Morocco has one – called Ensemble Artisanal – a government backed handicraft center. Prices are fixed and without pushy salesmen persuading you to buy overpriced Moroccan goods of unknown origin.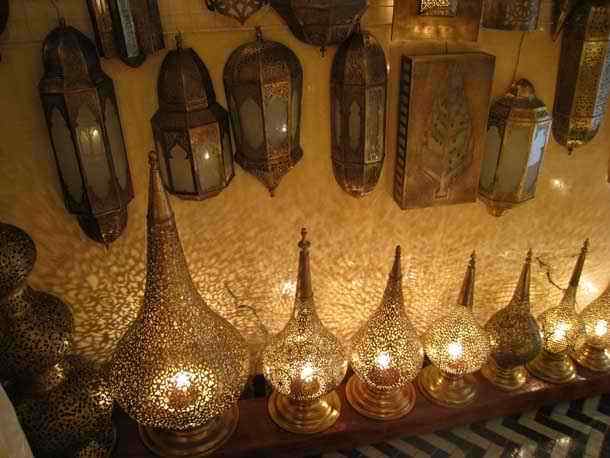 Moroccan Lamp or Lantern handmade / handicraft with metalwork decoration pattern
What you find in the Ensemble Artisanal is all handmade in Morocco by local craftsmen.
Traditional Moroccan jewelry from Berber or Tuareg origin - new or old
The Marrakech handicraft center - Assemble Artisanal - has several jewelry stores with traditional Berber, Tuareg or mainstream Moroccan jewelry. Most pieces are new and most have silver content.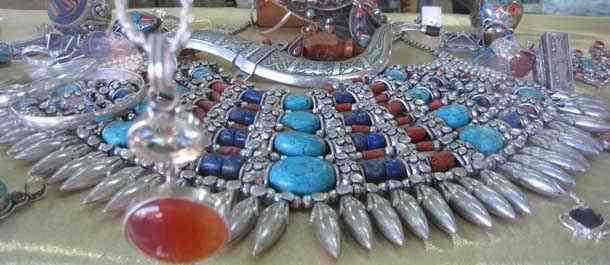 Moroccan handmade handicraft
jewelry - a
Berber
necklace

You'll have to ask for the prices - which are usually listed in tables.


Moroccan Berber or Tuareg handmade handicraft silver bracelet jewelry
Moroccan traditional lantern handicraft metalwork
You'll find many of them in the medina or souq - shops selling traditional, classic Moroccan lanterns. Some are so huge, shipping them abroad is a packaging issue on itself. At the Ensemble Artisanal the origin is known as well as a fair price. Though it's still worth to ask around a bit, specially if there's more than one lantern craftsman workshop.





Moroccan classic lantern with handmade brass metalwork pattern
Moroccan tassels or passementier art decorative finishing
Moroccans have great tassel work for furniture decoration as well as for clothing. The Marrakech Ensemble Artisanal has one workshop fully dedicated to tassels only. The craftsmen who create tassels are called passementiers.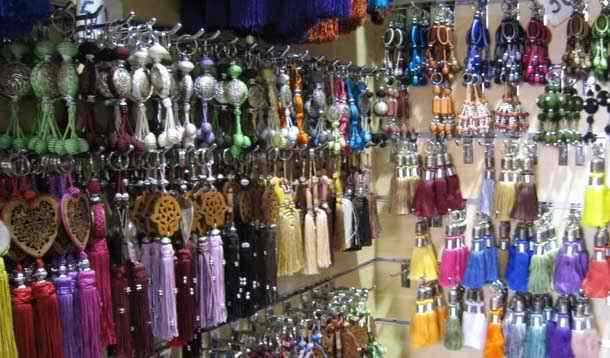 Moroccan Handicraft handmade tassel for furniture decoration made by passementiers
Have a look at traditional Berber silver jewelry in Tiznit.
Getting a taxi from the Ensemble Artisanal in Marrakech
Many taxi drivers cruise the Ensemble Artisanal in Marrakech. Behind the Ensemble Artisanal there's a parking lot shared with a hotel.
Ensemble Artisanal in Marrakech - handicraft center with workshops
Beware of a popular taxi ride scam known as the Euro trick. Say you negotiate your taxi ride at 40, be sure the quote is in Moroccan Dirhams by explicitly mentioning "40 Dirhams" for the total ride. In May 2010 we encountered this trick several times, with the driver replying with a total innocent face: "No, not Dirham, Euro!........".
If you are with more sharing the same taxi, make sure the quote is NOT per person but for the total ride.
Other traditional crafts in Morocco
A selection of other traditional Moroccan handicrafts:

- Traditional organic argan oil
- Ceramic Pottery store and factory in Fes
- Tiznit, traditional berber jewelry town