Those looking for parts for their overland truck sometimes turn to junk yards to find used parts. Sometimes it's only place to look, because new parts for old trucks are discontinued and existing stock has run out. Finding truck junk yards is not so easy, they're hidden among the many car junk yards. Here's a list of truck junk yards in west and south Europe.
Truck junk yards in Europe
While traveling in France, Spain or the Netherlands visiting a Truck junk yard, Truck salvage yard, Truck scrap yard or Truck breaker might just result in finding that one missing truck part. The first problem is to find the right words for truck junk yard in a different language, which sometimes is local slang.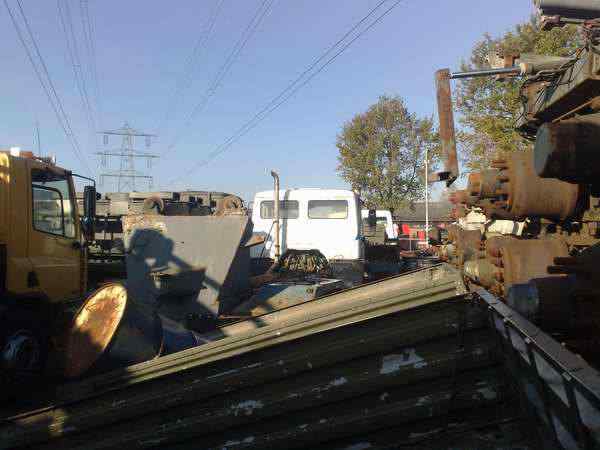 Truck junk yards are not so easy to find - hidden among many car junk yards
With Google Earth truck junk yards can be separated from car junk yards - trucks are simply bigger. Also the size of the junk yard can be seen using satellite images.
Most Truck Junk Yards do a lot of international trading so chances are some-one at the yard speaks or writes a foreign language.
Truck junk yards in the Netherlands
The local term for junk yard in dutch is "sloop" or "demontage bedrijf" offering used truck parts known as "gebruikte vrachtwagen onderdelen".
The local term for truck in dutch is "vrachtwagen". The bigger truck junk yards are member of the Dutch junk yard association called the STIBA - http://www.stiba.nl

In case you find information missing or dead website links - drop us a note.
Have a look at :
Truck junk yards in the Netherlands
Truck junk yards in France
Truck junk yards in Spain
Truck junk yards in Germany

Truck junk yard list Explained
In the list above you'll find the GPS location (click on the address) together with truck Junk yard website. If there's no website, the satellite image is listed.
This is an example of a Truck junk Yard listing;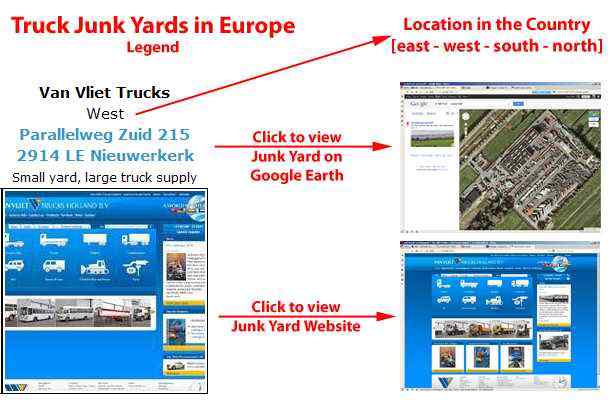 Truck Junk Yard listing and explanation
Truck junk yard locations in Germany, Belgium and Italy are in preparation. In case you know a truck junk yard not listed here, drop us a note.