The Garmin Dezl comes with a free trial of speed camera locations by Cyclops. However for those in countries with a language not listed on the Garmin website the free trail doesn't work of the shelf. Here's what to do to activate the free speed camera trial for 1 month.
Free Garmin Speed camera trial
Inside the Garmin Dezl package the sits the following flyer: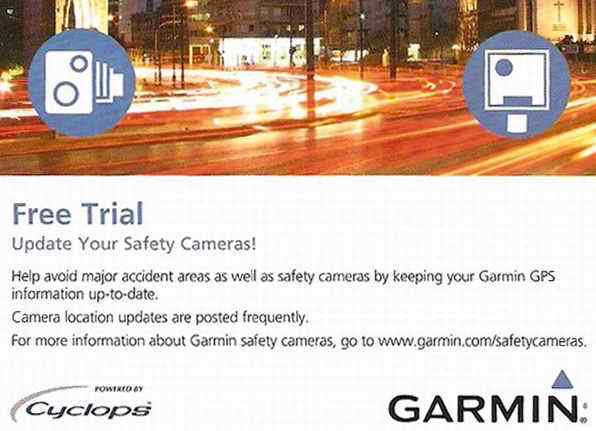 Free Garmin Dezl 560LT speed camera trial by Cyclops

For those who have bought the Garmin Dezl in for instance Belgium or the Netherlands won't find their country on www.garmin.com/safetycameras. It seems the Free speedcamera trail hasn't been released for other European countries than listed. However there's a way around it.
Free cyclops speed camera trail work around
Choose one of the country languages you can read. Then click on the text link in the text to purchase a speed camera subscription. In the list choose your country (or any other country) - ignore the price listed, just click on buy.
In the drop downbox in the purchase window - listing the paid subscription by default - you'll find a free subscription. This only works for 1 single country and not for the Speed camera subscription covering the whole of Europe.
Cyclops Speed Camera Website

From here the speed camera subscription can be activated for a month. Speed camera locations are downloaded to the Garmin Dezl during the activation process.
After activation it's not possible to download and activate another country's speed camera database. Choose the speed camera trail country carefully.


More about the Cyclcops speed cam service.