Being used to simple GPS & paper map navigation – operating the Garmin Dezl 560 is something to get used to. An impression of the Garmin Dezl Navigation system.

Garmin Dezl navigation basics
As already explained in the Garmin Dezl 560 introduction, the Dezl comes with a huge collection of POI's – Point Of Interest – all preloaded with Navteq road maps. Being used to a single waypoint store in a simple Garmin 12 XL outdoor GPS, the Garmin Dezl is a bit more complex:
Read about a 2012 review of the Garmin Dezl 560LT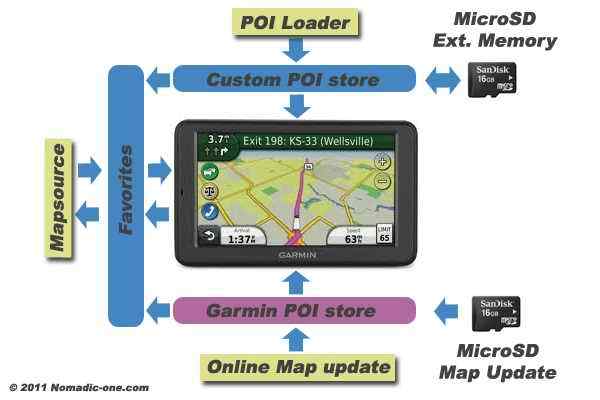 Garmin Dezl 560 navigation system - POI stores and Garmin programs

The Garmin Dezl has 3 locations with POI's :
- Garmin POI Store (purple), which is read -only and can't be changed
- Custom POI store (blue) is available for own storage of POI's
- POI Favorites (blue) which can hold 1000 locations
Garmin software to change POI's
The POI stores and Favorites can be updated by 3 programs (colored brown) through an USB cable connected to a PC or Mac:

- Garmin Mapsource to manage favorite POI's
- Garmin POI loader to upload new custom POI's
- Garmin Map updater to load new maps and POI's

The favorite POI store can hold upto 1000 locations being one of the following:

- A standard Garmin / Navteq POI
- Custom POI's uploaded by POI Loader,
- Manually entered POI – through "Where Am I?"
- Uploaded POI's using Mapsource


The favorite store can be managed by Garmin Mapsource where Points of Interest are normal Waypoints again.
Garmin Mapsource and POI loader are 2 essential tools
in building your own GPS waypoint collection with the Garmin Dezl.
Custom POI's can be stored on
MicroSD card so Garmin Dezl's internal memory is not used
.
Navigation approach with Garmin POI stores
A navigation approach for the Garmin Dezl is the following:
The favorite store contains interesting locations found while driving using the "Where am I" function located in Tools: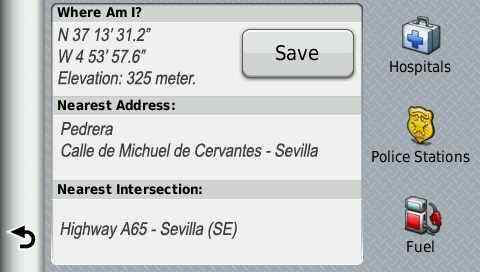 Garmin Dezl 560 "Where Am I" - Saves the current location to favorites

The Custom POI store contains user uploaded locations. For example where to park a large RV, motor-home for free. Access to the Custom POI store is through "Where to" then select Extras, then "Custom POI's".
After a completed trip the created tracks and favorites are downloaded using Garmin Mapsource and stored locally on a PC or Mac. Larger collection of downloaded favorites - such as new locations to park a truck are converted to .GPX format using Mapsource.
POI loader is used to upload the .GPX locations to the custom POI store area. This way the favorite store remains free as much as possible to capture locations during a trip.
Garmin navigation programs
The following software tools can be downloaded for free.
Please mind that Garmin Mapsource will check for a previous installed Garmin Mapsource version. Garmin Mapsource comes with any acquired Garmin Map.
Garmin Map Updater will be downloaded and installed automatically. Read about the process to update a Garmin Map online.
Other links related to the story above: