The Garmin Dezl comes with a free nüMap map update within 90 days after purchase. Maps can be updated online nowadays - the near 3Gb download isn't a problem for most with 24 hour internet access. But the large 3Gb map file can cause unsuspected disk space problems. Here's work around to update Garmin maps when disk space is tight.

Read about the Garmin Dezl in a Mercedes Benz Expedition truck.

Free Garmin nüMap map update
The Free Garmin nüMap map update for Europe - version 2012.10 - requires at least 5 Gb of disk space on the boot disk drive C. Those running older Windows or Mac machines where disk space is already tight can get stuck downloading the free Garmin map update after purchase.
Unfortunately Garmin does not allow Map installations on other disk partitions than the boot disk - meaning only Windows drive C can be used.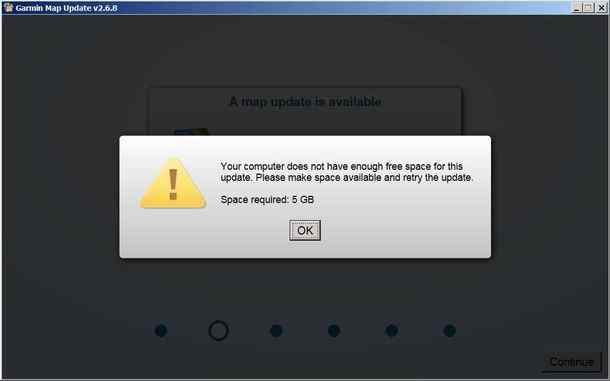 Garmin map update V2.6.8 requires 5Gb of disk space

Boot disk space gets even more tight because this Garmin map update also requires a 30 Mb Microsoft .NET client download and update.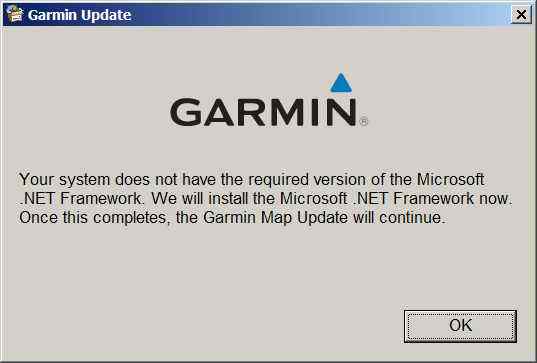 Garmin map update requires Microsoft .NET update

To clear up at least 5 Gb of diskspace is quite a task when free disk space is just around 1 Gb or less. Next to this Windows installations for travelers are preferably kept small (10-15 Gb) so it's fast and easy to backup using drive image / ghost programs like Norton backup. The result is free disk space averaging somewhere between 1 - 2 Gb at best.
But there's a way out - though it requires a bit of Windows knowledge and determination.
NOTE: If the Garmin Dezl crashes during a map update - read this.
Alternatives to Garmin Map updates
There's a way to cope with the large Garmin Map update if you know someone with a Windows computer with a boot disk (drive C) with more than 5Gb disk space. It's possible to do the Garmin Map update there bringing your Garmin device and move a Mapsource installation with the new map to your own computer.
The large Garmin map file can reside on the D or E drive or even on an external disk. But there's a chance it can still be done on your own computer.

Windows System page file and hibernation file

In case there's a large system page file (pagefile.sys) and hibernation file (hiberfil.sys) occupying precious disk space on drive C it's possible to temporarily clear up space just enough to run the update. This requires a second drive/partition on the same disk like a D or E drive with enough disk space.
Windows system file optimization
Two files in a Windows installation occupy a large chunk on disk space. First is the system page file (pagefile.sys) , second the system hibernation file (hiberfil.sys) . The latter occupies disk space with size of internal RAM memory. This can easily amount to a file chunk of 2Gb.
Hibernation mode can be temporarily disabled in power options freeing up a large chunk of disk space.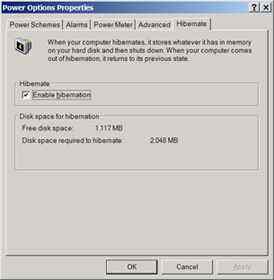 Disable windows hibernation mode

System page file can be reduced on drive C and enlarged on drive D or E on the same disk.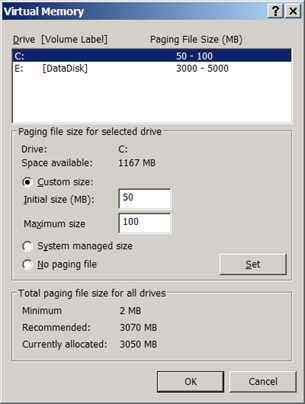 Resize windows page file to data disk

Update Garmin Maps on a different computer
The map update process is similar to doing it on your own computer. Be sure to have backups of critical stuff on this computer is stuff goes wrong in the process.

The Garmin Map Update can take quite a while - below a Garmin Map update that took more than 7 hours. During the setup process one can choose to update the Garmin Dezl and PC with Mapsource. The default setting is to update the maps of the Garmin Dezl only.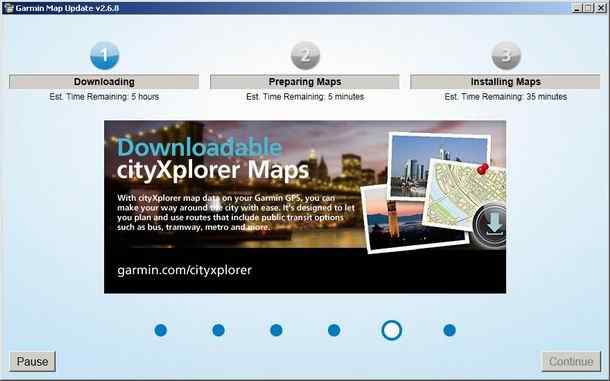 Garmin Map update download screen

After update of your Garmin Dezl the computer also has a Mapsource installation including a full version of the map. Copy the Garmin Map files onto an external drive from this location:
C:\Document and Settings\All users\Application Data\Garmin\Maps
Then create a Windows shortcut at this same location on your computer. The short cut should point to the location where the Maps reside on a different drive.
Download Mapsource from the Garmin website and launch the program. It should come up with a notification it has found new maps. Now go though the Map unlock process using the Garmin Dezl connected to your computer. After this the map update should work on yoru computer with the maps on a different drive than the C drive.
Garmin Map updates - North America and Europe

Creating a second Windows boot disk
In case you have a second disk laying around somewhere and have access to a windows installation CD - create a 2nd windows installation and use this for updating Garmin Maps.
The installed Garmin map files can be moved as explained earlier.
Moving to a bigger windows boot disk
Moving your windows installation to a bigger boot disk requires 2 steps requiring drive imaging experience. If you've never done this - the Garmin Map file update is not the moment to learn about drive imaging. There's a high chance of loosing your windows installation while experimenting with drive imaging. Nonetheless to go down this path the steps are:
First to backup the Windows installation to a backup drive with at least the size of the original disk drive. Then restore the drive image to a new larger disk.
Second step is to increase the restored partition with a tool like partition magic or the partition tool in the free UBUNTU installation file.
It's takes quite a bit of time to pull this relocation through but might get you want you want - more boot disk space to complete the Garmin Map update.
Alternative is to update a Garmin Map through a microSD card
Read about less known Garmin Dezl features