Garmin has released a new firmware update for the Garmin Dezl 560 in June 2011. A few details about previous versions and the firmware update process.
Garmin Dezl V2.50 firmware update
While updating the cyclops Speed camera database - the Garmin Dezl 560 V2.50 firmware update was downloaded automatically and installed during restart.
It took about 15 minutes for the download to complete. The installation took about 5 minutes - it seemed the Dezl 560 needed several soft restarts to complete this update.
Customizations like the uploaded navigation voice Dr. Nightmare remain in tact.
The result - Garmin Dezl 560 Firmware version V2.50: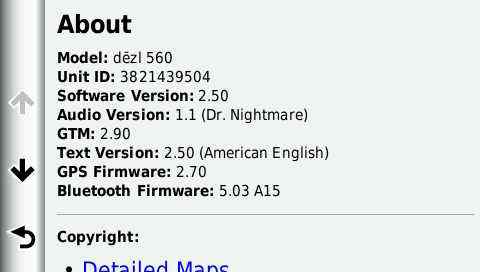 Garmin Dezl 560 V2.50 software version information

Changes made from version 2.30 to 2.50:

* All map files now updated when the user updates the maps.
* Fixed error with custom road avoidances.
* myTrends routes now use previously traveled roads when possible.
* Improved RV routing for low gross-weight vehicles.
* Fixed error that caused Hours of Service to reset incorrectly after 34-hour break.
* Exit Services in Europe now shows Fuel Stations instead of Truck Stops.
* Added support for industrial complex trucking category for future Europe maps.
* Many other minor improvements and fixes.

The previous software version was V2.30: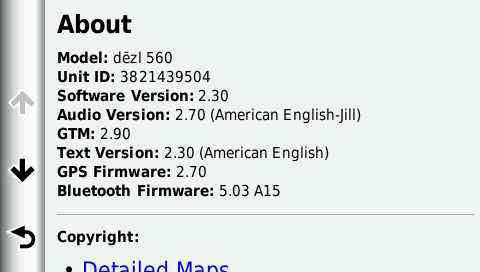 Garmin Dezl 560LT version information

Firmware update on battery power
The firmware update was executed automatically on battery power - which is a remarkable. Power loss during a firmware update usually is fatal - causing a corrupted software version in flash memory. There was no notification to connect external power - which is normal when updating software stored in flash memory aka firmware memory.
More release notes for the Garmin Dezl 560: