After 6 years of continuous living and travel in a 1017A 4x4 Mercedes Benz truck we're moving into a new house - a 1719A 4x4 expedition truck built in 1989. It's a extremely rare opportunity - finding a remarkable expedition vehicle and at the same time being offered an unique place to move from one truck to the other. An impression of our new home since spring 2011.
Impression - 1719A expedition truck
On first glance – the Mercedes Benz 1719A is a towering 4x4 truck, the name on the sunscreen 'L'elephant de la Piste' is not far off.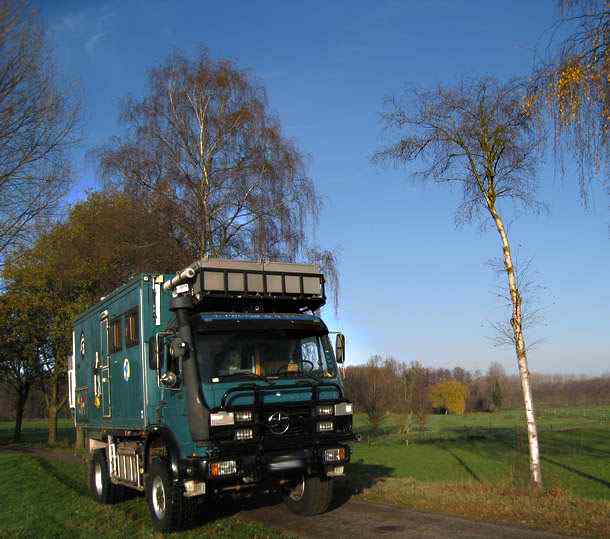 Front side aof the Mercedes Benz 1719A 4x4 Expedition Truck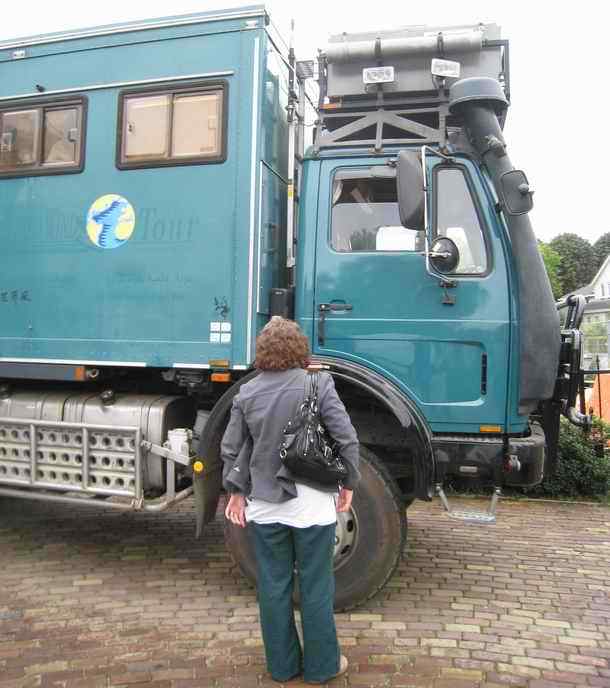 Mercedes Benz 1719A 4x4 Expedition Truck

Built in 1989 and used for several years to explore Africa and the north/south American continent the Expedition truck already has a travel history. Marks from Ghana, Nigeria, Nicaragua, Costa Rica and Canada are still visible on the out and inside.
Looking for similar Expedition Trucks? Have a look at the trucks at Expedition Truck Brokers.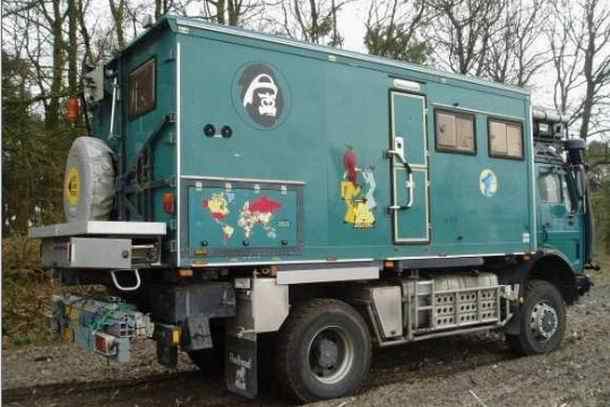 Right side and entrance of the Mercedes Benz 1719A 4x4 Expedition Truck

Like these kinds of trucks? The yearly International Overland Travel event "Willys Treffen" is an absolute must see.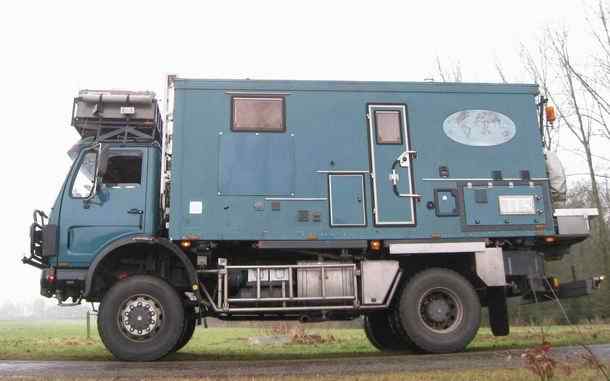 Left side and secondary entrance of the Mercedes Benz 1719A 4x4 Expedition Truck


The living unit has the feel of a boat – light brown woodwork with lots of storage cabinets all round. Quite recently the kitchen has been renovated – it's modern feel fits well into the existing warm woodwork.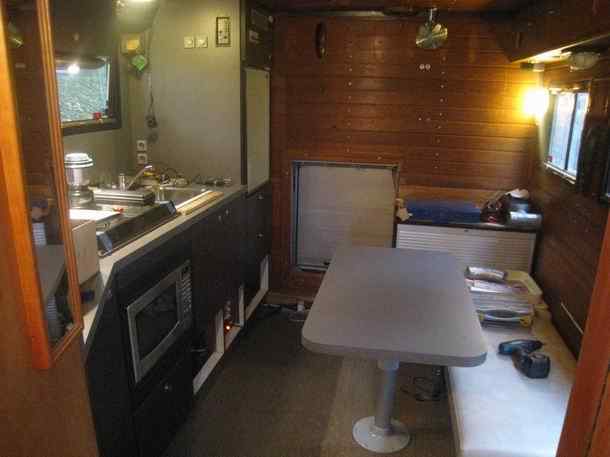 Work in progress in the interior of the Mercedes Benz 1719A 4x4 Expedition Truck


Relocating from a Mercedes Benz 1017A to a 1719A in autumn / winter time is quite a project. All this is possible because of a unique location with enough space for 2 trucks parked next to a fully utilized mechanical workshop.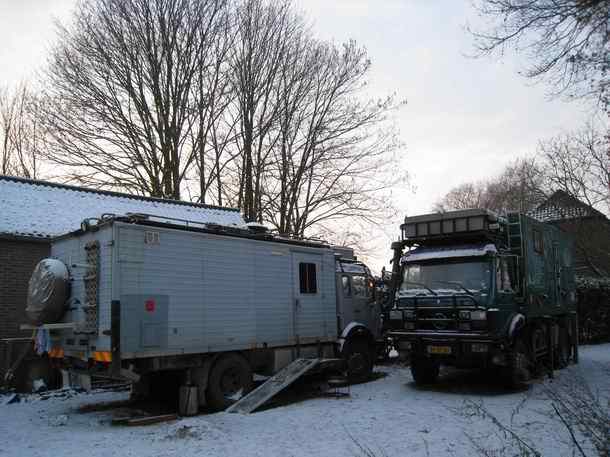 Mercedes Benz 1017A and 1719A parked in winter time

As we already experienced with the Mercedes Benz 1017A in 2006, the cold season is perfect for hammering out any problems for all season travel.
1719A expedition vehicle characteristics
There's an incredible amount of detail in this expedition truck - it took us quite a while to grasp all of it. Without prior overland travel experience it's sheer impossible to do all that in such a short time. Not to mention the overload of technicalities in trucks like these.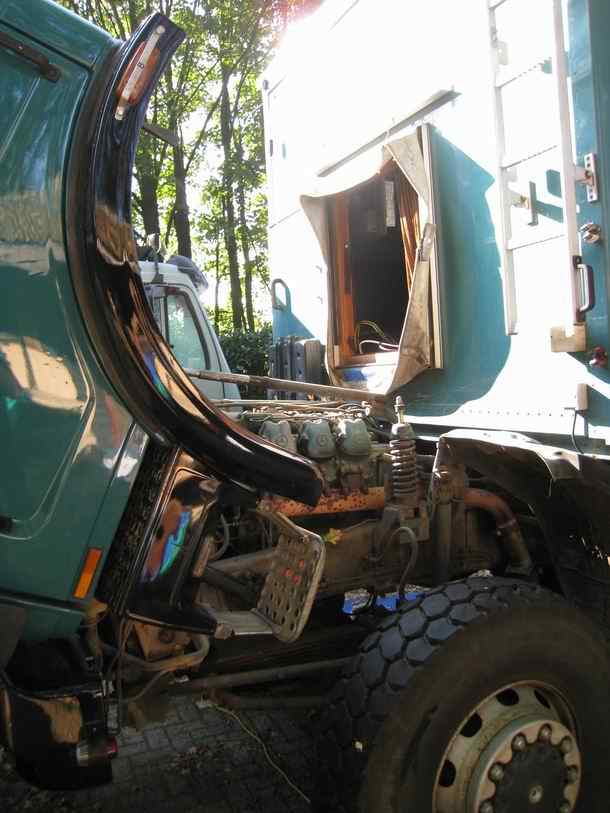 The OM401 engine of the Mercedes Benz 1719A

Most strikingly, The 1719A expedition truck is prepared for independent travel in extremely cold weather, with a powerful electric generator as the center of it's winter survival capability. It's possible to live in arctic climates without the necessity of having to move around every day to recharge batteries. Next to engine heating, fuel heating and extensive anti-frost protection for watertanks and water pipes, 3 layers of insulation in walls and roof enables it withstand extreme cold.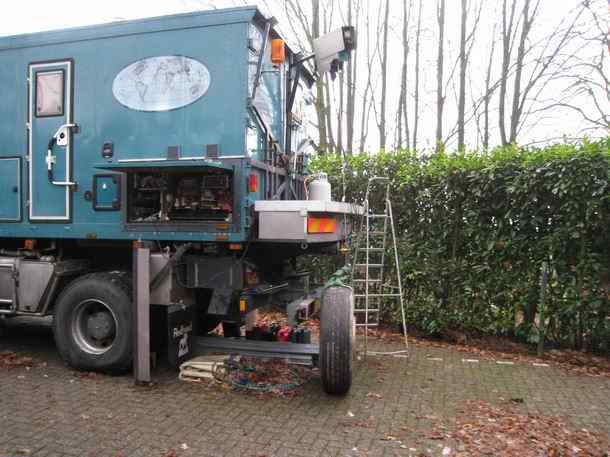 Working on the spare tire - on the left the generator compartment

Remarkable is the double entrance – left as wel as right. Though the left other entrance is also shower and toilet.
The living unit can be detached from the truck – to be able to live in the unit without the truck underneath. It's not so much for during travel but more afterwards such as having a temporary place to live in when buying a piece of land and store the truck elsewhere.
For extensive engine service it's possible to park the vehicle apart from the unit - avoiding the costs of a hotel or apartment.
1719A Expedition truck modifications
In 2,5 months of continuous work truck load of stuff has been tested, serviced and changed to fit our requirements. In brief the following projects have been completed so far:

1.2 Kw Mastervolt Combi inverter & double bank battery charger
3,5 Kw Eberspacher parking heater
Replacement of roof hatches with Vetus marine escape hatches on the roof
Overhaul of electrical safety switches / cables / fuses
Generator trouble shooting and minor overhaul
New sitting corner
LED lighting
Chemical toilet and still there's a long list of small stuff waiting to be done.

It's intense work in cramped spaces and requires a lot of tools and parts to get stuff right. Without access to a workshop and a large parking space it would have been sheer impossible to do such an amount of work is such a short time.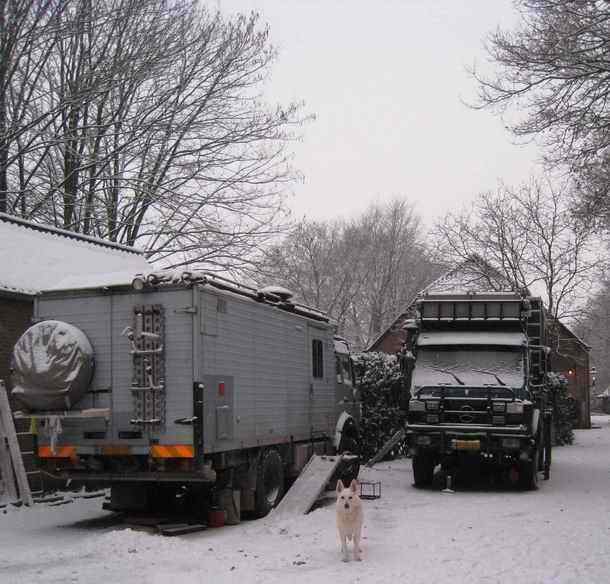 Truck winter camp with Indra in the snow

The workshop and parking space has been generously offered by fellow overland travel enthusiast. And most of all with many cheers from our dog Indra who loves the place.
1719A Past life and journey
The 1719A was born in 1974 and was used as earth moving equipment in a private company. The first owners also became the first travelers in 1999 after a full engine / body overhaul and conversion to expedition truck.

Impression of a similar 1719AK with OM401 engine sound - hauling tree trunks;



The 1719A has driven 284.000 Km since 1974. With 104.000 Km as a expedition truck. We're the 3rd owners preparing for an ongoing journey.
Mercedes Benz 1017A Future
What happens to the Mercedes Benz 1017A 4x4? See the detailed 1017A overland truck description for more information.

Have a look at Willys International Overland Travel Event in Germany.
Also interesting:
- Mercedes Benz clutch cylinder repair - how to NOT get stuck.
- Have a look at European Truck junk yards.
- Michelin XZY-3 wide base truck tires
- Garmin Dezl truck navigation.
- Adventure Trucks - Overland Truck Technology