Staying overnight with a motorhome, rv, campervan or camper on public parking areas is possible throughout Europe – assuming a bit of common sense. Here's how to load a Garmin Dezl 560 with 10.000+ public parking locations from a free GPS public parking directory.
Overnight parking areas in Europe
Staying overnight on public parking area's with large camper trucks or bus campers is quite common in Europe – same as it is for truckers and bus coaches. With considerable autonomy there's no need to stay at campsites or campings. Besides that European campsite entrances are often too narrow or height restricted. Specially pitches on popular campsites are quite small - maximized to cater as many guests as possible.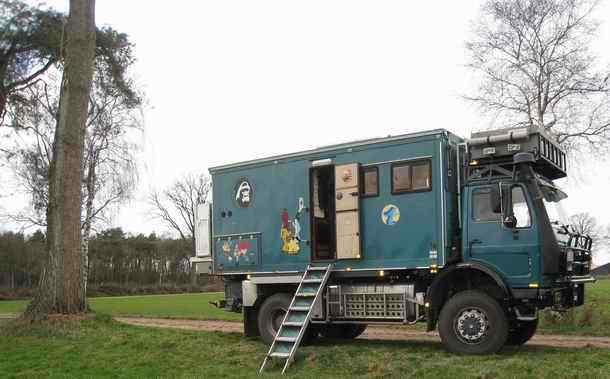 Public parking area in Europe - sometimes of the beaten path on gravel roads

Assuming a bit of common sense – its well possible to roam across Europe like this. Outside Europe towards Asia, Africa and direction Russia this way of travel is the norm since there's no supporting campsite infrastructure at all.
Public parking area directory in Europe
There are several who have compiled huge and growing lists of public parking area's in Europe. Popular lists are:
Of course there's no guarantee a public parking area still exists or has any space left specially during holiday seasons. Below a service point in France (in Void Vacon) for electricity, water and waste disposal.
Also local authorities may have closed a public parking area down due to massive popularity or (ab)use such as excessive waste disposal or many complaints from locals in the neighborhood.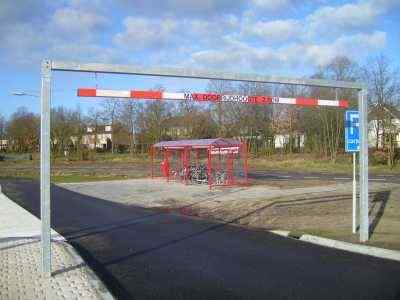 Height restricted Public parking area in Europe - common in popular beach areas

Garmin Dezl 560LT worldwide prices

Though outside high season and well away from popular holiday regions - finding a public parking area in Europe is (still) no problem.
Spend the night at a fire brigade? Its possible in Portugal.
Public parking area file format conversion and POI download
The site www.womo-sp.org distributes the public parking area list in ASCII format. This is just plain text without any formatting, making it readable for many programs.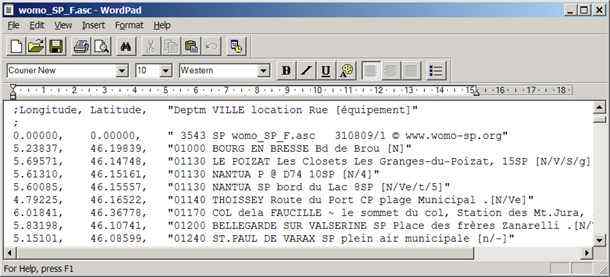 Public parking area in Europe - in ASCII format - just plain text without formatting

To upload it to a
Garmin Dezl 560
the list needs to be converted to popular CSV format (Comma Separated Values) used by for instance Microsoft Excel. For those not familiar with the import/export function of Microsoft Excel,
free software like POIedit
can do the same. It requires loading the ASC file and saving it as CSV file.

Public parking area in Europe - in CSV format - just plain text without formatting

Garmin POI loader uploads .CSV files
to internal or microSD card memory.
Public parking area in other languages
There's no single word in Europe to describe a public parkling area for those with a motorhome, campervan, or rv. Most European languages have their own jargon - some countries don't even have a word for it.
A public parking area in other European languages:
German - Stellplätze


French - Aires de stationnement


Italian - Aree di sosta


Spanish - Estacionamiento


Portuguese - Estacionamento


Dutch - Camperplaats, Openbare parkeerplaats
Links to public parking area information
Overview of external links mentioned above

POIedit software

Garmin POI Loader

Free public parking area directory

Staying overnight on European public parking areas (germain)