Location
Ancona Ferries Terminal in Ancona, Italy
43° 36' 46.0512" N, 13° 30' 0.1836" E
Going to Greece by ferry from Italy is extremely popular among Europeans. Each year many take their car, campervan, motorhome, bike or backpack on a short cruise to Patras or Igoumenitsa. An impression of Ancona port in Italy, a popular departure harbor.
Greece by ferry boat from Italy
Ancona has been the top departure port for ferries to Greece for many years. The ferries operating from this port have seen a boom in passengers and cargo stretching logistics at Ancona port far beyond it's capacity.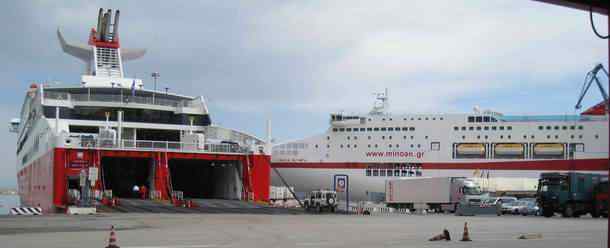 The ferry harbor in Ancona with the Superfast Ferry and Minoan Lines in the back

Because the port is at Ancona's city center it's always been a chaotic scene of cars and trucks. The port is public area so anyone who wanted to be in the harbor simply could. In recent years Ancona authorities have changed this for many reasons. The Ancona port area is now off limits for anyone without a ferry ticket. No more parking overnight in the port or just being there for the fun of it.
Ancona ferry ticket center
About 1 km from Ancona port – a new ferry ticket center is opened. All ferry operators have been moved from the old Ancona Maritime center to a new building with parking area.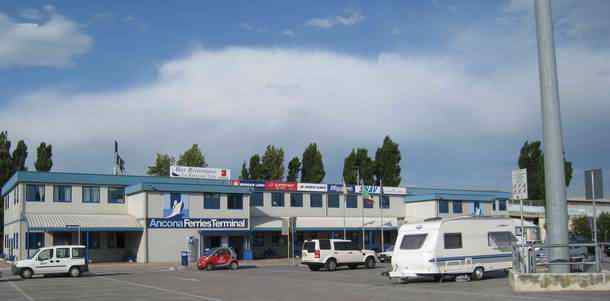 The Ancona Ferries Terminal - the place to check-in and get the boarding pass

This place is a obligatory stop for everyone traveling by ferry. Either to buy a ticket or to check-in with a pre-booked reservation. Here you get a customs gate ticket (or boarding pass) to enter Ancona port area. Although Ancona port authorities have placed huge signs along the road to the port – still many people drive up to the customs gate to try to get into the port. To no avail – you won't get in anymore. Get your tickets first.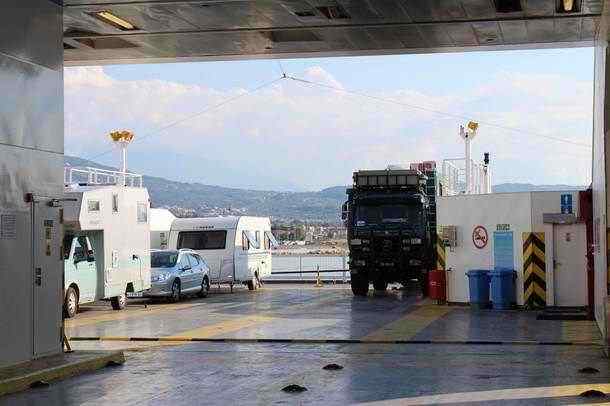 Camping on Board with Superfast ferries to Greece
A "camping on board" counter ticket (no reservation) for 2 persons and a 8 meter long vehicle in 2012 low season was about € 332,- including 25 % discount and a €45 fuel surcharge.
The discount can be obtained by showing a membership card from a camper van club like the NKC, ACE (Auto Club Europa), FFCC (Federation Francaise de Camping et de Caravaning), DAMTC, Vlaamse kampeertouristen, Il Club del Plein Air, L'Automobile Club and TCS.
Ancona Ferries Terminal
The offices at Ancona Ferries Terminal open at 8 am and close round 19:00 daily. The parking area closes from 23:00 till 7 am in the morning. The exit gate remains open for those who wish to leave. Although it's a fenced of area, it's a public place where hustlers can roam free.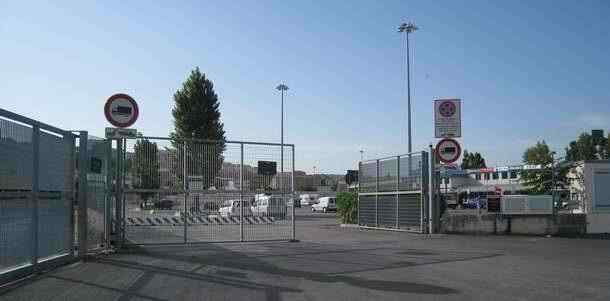 The Ancona Ferries Terminal Parking - Its allowed to stay here overnight in high season.

Busses from the Ancona municipality have a bus stop at the Ferries Terminal. Coaches also stop here so the place will be flooded with passengers several times a day. The train arrives next to Ancona port entrance. So those with a booked ticket still have to go to the Ancona Ferries Terminal first to get the boarding pass.
Parking overnight in Ancona
Ancona port has been a popular overnight parking spot for those who arrive early for departure the next day. Overnight parking inside the port area is now forbidden – no-one can't enter Ancona port on the days before departure. Ancona port gate opens at every day round 8am – allowing those in with a checked-in ticket / boarding pass at the day of departure.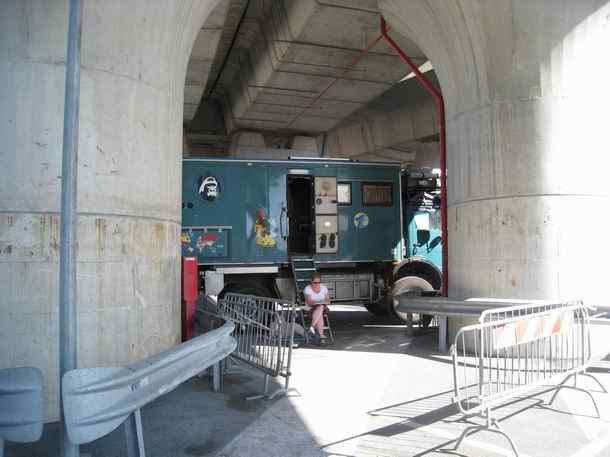 Parking overnight at the Ancona Ferries Terminal

The Ancona ferry tickets center is now the place to park overnight during high season. Although it's quite a big parking area – in high season it's totally packed. The best places are behind the ticket center offering shade from a fly-over bridge. In low season the same parking place is closed during the night.
Don't expect to find a parking place in the evening before departure day. Many motorists will look for the same parking spot traveling with SuperFast, Anek lines, Minoan lines and al other ferry companies. Its better to park along the Autostrada highway incase you're arriving in Ancona in the evening.
Parking outside the Ancona Ferry Ticket center is already stretched to the max. For those with large truck based campervans (like ours) there's a change you might find a spot in the free truckers parking area a bit further on. The rest of the parking spots in Ancona city is paid parking.
The signs in the parking area already suggest what's been happening there in the past;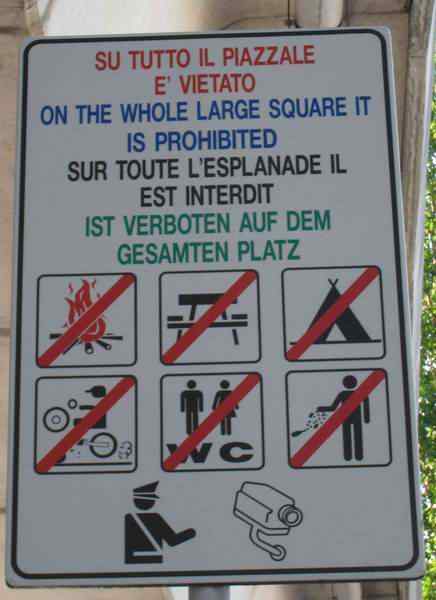 The overnight parking rules at the Ancona Ferries Terminal

In low season there's no supervision, but in high season there is definitely some control to prevent the place from turning into a huge mess.
Internet at the Ancona Ferries Terminal
There's a WIFI hotspot at the Ferries Terminal. Access keys can be bought at the coffee shop inside the Ferries Terminal which is open from 8:00 am upto 23:00 daily.
In 2012 24 hrs internet access costs € 2,-

Most ferry companies have WIFI internet at the ship through a satellite link. Don't expect a cheap and fast connection – it goes through a satellite link. Filter restrictions also apply to prevent online abuse by those carrying virus infected laptops.

Looking for Free Internet in Greece? Here's how.