Location
Argan Afous near Essaouira in Morocco.
31° 31' 57.6012" N, 9° 35' 35.7936" W
The area between Marrakech, Essaouira and Agadir in Morocco is known for it's Argan trees. Not surprisingly, the area is littered with small Argan oil factories, which are traditionally run by Moroccan women. Here's a bit about how argan oil - the traditional way – all very bio or organic.

In this article;
Road side Argan oil shops and factories
Traditional Argan oil from local workshops
Traditional Argan oil versus industrialized oil
Other traditional crafts in Morocco
Argan Oil Producers and Exporters in Morocco
Argan oil produced by local Moroccan women
It won't get any more Bio or Organic than this – local Moroccan women producing argan oil by hand as has been done for a long time. In Moroccan tradition it's a women's affair and still is.


Moroccan woman grinding roasted argan kernels into culinary argan oil in morocco
Argan oil is exceptionally rich in vitamin E
.
Culinary argan oil
- with a distinct nutty flavor and smell - is used as oil in for instance salads and traditional Moroccan dishes.
Cosmetic argan oil
is used to treat several skin diseases.
It takes about 10-15 hours and 40-50 Kg of Argan berries to produce 1 liter (33.8 fl oz) of Argan oil the traditional way. Culinary argan oil is made from roasted Argan kernels, adding 1 step more to the production process. Roasting argan kernels adds the distinct nutty scent and flavor.
Argan oil is known for nutritive, cosmetic and numerous medicinal properties. It's exceptionally rich in vitamin E.
Road side Argan oil shops and factories in Morocco
There are countless roadside Argan shops producing Argan oil the traditional way. Most of them made the transformation to rather modern stores mimicking the visual appeal of Bio / Organic shops in the western world.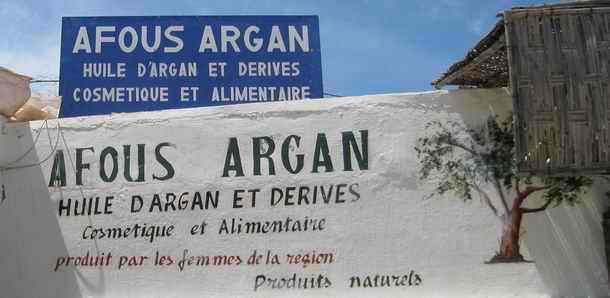 Argan oil shop / factory in morocco - Afous Argan huile D'argan produit femmes regional
Every shop has it's own argan oil production line on display, showing each step in the process. It's quite interesting to see for the first time. Though according to HACCP standards the traditional argan oil production line is probably a total nightmare.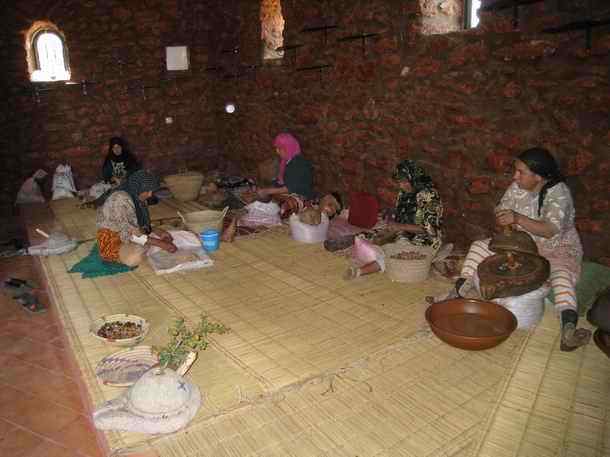 Culinary Argan Oil production line workshop in morocco
But one thing is probably true, Argan oil from the Moroccan road-side workshops is not engineered or optimized as it's usually is when done the western way. You get traditional hand pressed organic / bio argan oil. And as with so many things, plain common sense applies.
Traditional Argan oil from rural workshops in Morocco
On average a bottle of - 250 ml / 8.45 fl. oz - traditional culinary Argan oil is vocally priced at 200 Dirham (€ 18 / US$ 23.50) in may 2010. The same amount for cosmetic use (kernels are not roasted) does about 150 Dirham (€ 13.50 / US$ 17.50 ).


Bottle of 250ml Culinary Argan Oil -
Huile D'Argan de Table from Argan Afous
Production / Expiration date unknown.

At best, traditional argan oil bottles have sealed caps, are labeled and usually stamped with a production and expiration date. Unfortunately it's difficult to sell these Argan oil bottles on western markets – the produce just wouldn't meet standards in many ways.
Even with printed dates the biggest unknown is the age of the oil – with an average shelf life of 12-18 months before going sour. The shelf life of olive oil can be taken as a reference for culinary argan oil.
The best test for culinary Argan oil is by smell and taste by opening the bottle in the shop just after purchase and to negotiate the test into the deal.
Cosmetic Argan oil products
Most workshops do not produce cosmetic Argan products (anymore). For instance the required visual clarity of the oil in a transparent glass bottle can not be reached with a hand grinder. The factory with the industrialized press resides in Casablanca.


Culinary Argan oil clarity of hand pressed / grinded

Moroccan

origin

Looking for Argan oil Producers and Exporters in Morocco?

Traditional Moroccan Argan oil versus Western industrialized oil
With traditional Argan oil on one end of the spectrum and the industrialized version with bio-organic label on the other, what would be the chance to get your hands on culinary organic Argan oil for a reasonable price?

Most likely it will be the Argan oil from the road-side shop / factory in Morocco. The industrialized version will undoubtedly be much more expensive. Though traditional Argan oil undoubtedly has fluctuations in purity and clarity.
Other traditional crafts in Morocco
A selection of other traditional Moroccan handicrafts:
- Argan Oil sold in Morocco - Retail shops and Wholesale traders.
- Moroccan handicraft center in Marrakech, Ensemble Artisanal
- Ceramic Pottery store and factory in Fes
- Tiznit, traditional berber jewelry town