The new Beja International Airport in the Alentejo region in Portugal is now open for less than a year. An impression what's been happening in the meanwhile with a 2012 visit at Beja airport. Have a look.


Beja International Airport impression
The new Beja International Airport is located in the south of Portugal, just above the popular Algarve coast. It's a military airbase too with an impressive long runway.
After a 33 million euro investment Beja International Airport looks more than ready from the outside as well as from the inside. The terminal infrastructure, check-in, baggage scanners, car rental, tourist office and bar – coffee corner are all there.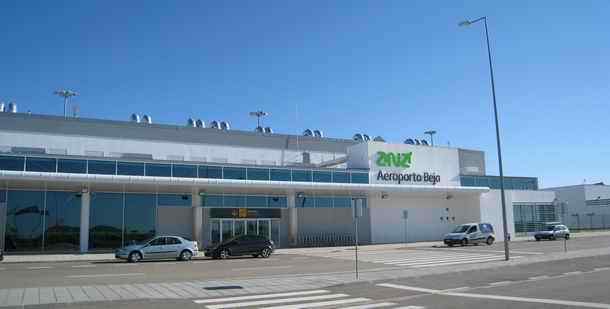 Beja International Airport Terminal in the Alentejo in Portugal

Inside the airport everything looks deserted but in an operational state. Reason? There are no flights in winter season. The only open counter at the time of visit is Europcar car rental. They moved their office from Beja city to the airport terminal – in this time it's a lonely job to sit there all day, 7 days a week.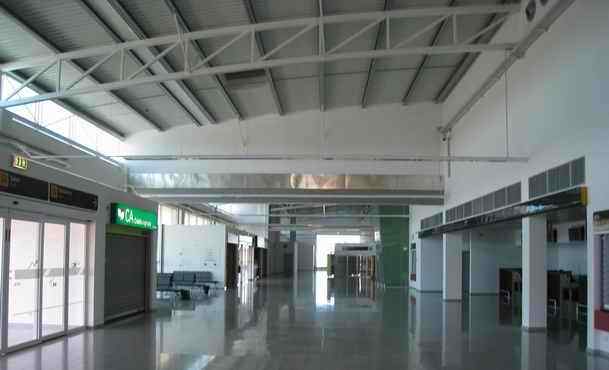 Beja International Airport arrival and departure hall in the Alentejo in Portugal

Still airport certification is ongoing according to those working at the airport. But over the past years there have been a few promising events such as the
yearly BMI seasonal flights from London
and the
Vila Vita charter flights from Germany
.
Unfortunately, Ryanair is not going to fly on Beja Airport
Vila Vita charter flights to Beja Airport
With a string of flights during high 2011 season arranged by the Vila Vita group from Germany, Air Berlin and Adria Airways flew about 150 passengers every other day to Beja International Airport with Boeing 737-700, Airbus 319 and Airbus 320 aircrafts.


All passengers had a booking at the Herdade dos Grous vineyard and luxury retreat just outside Beja. For 2012 the
German Vila Vita flights come to Faro Airport unfortunately
.
Outlook for Beja International Airport
The success of the Vila Vita group with Beja Airport will be heard in northern Europe – a much cheaper airport, less crowded and with the longest run-way in Portugal. The largest commercial jets can land and take off from Beja International Airport.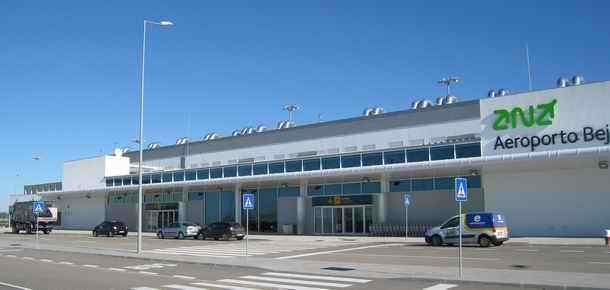 Beja International Airport Terminal in the Alentejo in Portugal

Although road and train connections can be improved, connection time to Faro (2.5 hrs) and Lisbon (2 hrs) won't dramatically reduce.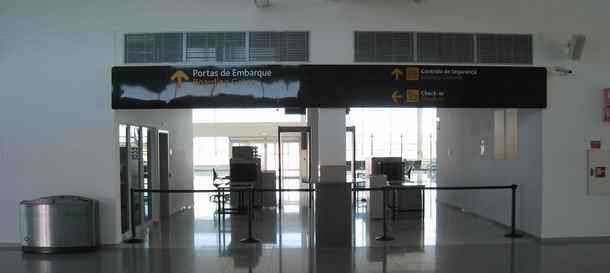 Beja International Airport check-in gates

Simply put with a morning flight to Beja International Airport – Faro and Lisbon are reachable in the afternoon.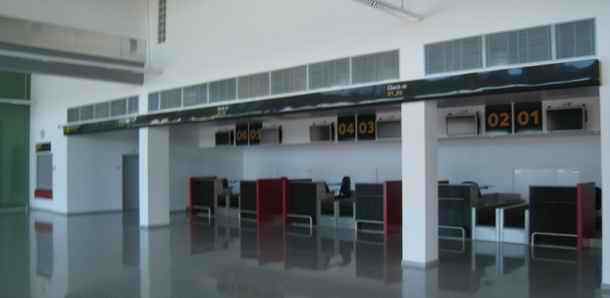 Beja International Airport check-in counters

But for tourists, the Alentejo is an interesting region to look around in. The holiday starts in Beja, Evora and surrounding area instead of immediately rushing to the Algarve coast.
Next to this a round trip to Seville, Cadiz, Algarve and back to Beja city is a great fit.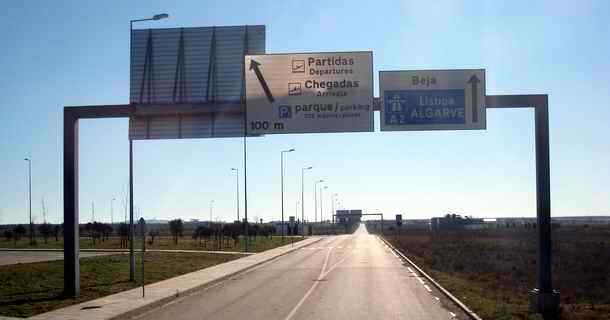 Beja International Airport road signs to Lisbon and Algarve

With the overcrowded and expensive Lisbon airport, the small Faro airport (Algarve) – Beja International Airport in current economic times simply can't be ignored. Certainly not with a 33 million Euro investment, national anti-politics and the derailed expansion of Lisbon airport.
With Beja airport certification fully completed, price and traffic pressure will put Beja International Airport on the commercial aviation map.
Around Beja International Airport in Portugal
Below links to websites around Beja International Airport
Read what
Beja city in Portugal has to offer
The largest reservoir lake in Europe is just near Beja
Experience of renting a car in Portugal
Early 2012 developments for Beja Airport
The Herdade dos Grous vineyard luxury resort near Beja Airport
Seasonal flights from Britsh Midland International (BMI) to Beja Airport
The Vila Vita Group signs a deal with Beja Airport
Beja Airport could become a low cost airline hub
The history of Beja Airport dating back to the cold war.