For those who wish to rent a car in Portugal – here's an experience of renting and driving a small car in Portugal in early 2012. In all low-season rentals are quite a bargain with unlimited miles and ultra low fuel consumption – have a look.


Car rent in Portugal
Renting a car in Portugal in low season turned out to be bargain with a VW POLO 1.2 TDI (2011) from Europcar. This car uses about 4 to 5 liters of diesel / 100 Km - that's about 46.6 mpg.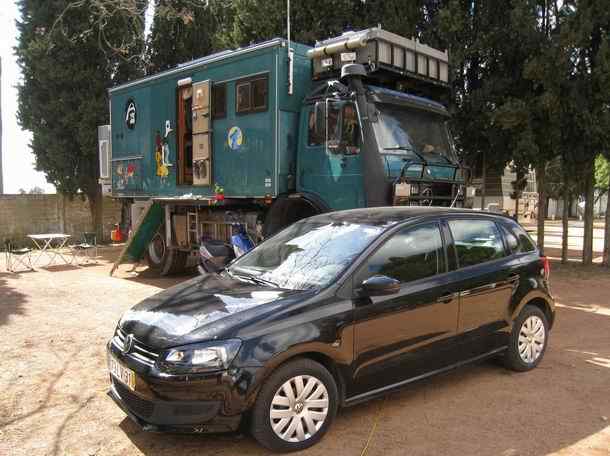 Rent a Car in Portugal with Europcar - Volkswagen Polo 1.2 TDI (2011)

With rental and diesel fuel costs included and 1700 Km further, a two week rental took about € 20,- / day (fuel included!!). Europcar in Portugal has no extra Km charge – meaning unlimited miles / km.
With a tent and outdoor gear – free camping at reservoir lakes mixed with a few dirt cheap campsites in Portugal, - can be a very cheap Portuguese holiday. Specially when combined with airline discounters like Ryanair or EasyJet.
To get a good deal it's obviously depending on the season - and less known the rental location. Airports rental outlets can be expected to rent out cars for a higher rate compared with a location somewhere else. For a 2 week rental period, the difference can be much more than a bus or train ticket to another Europcar office.
Rental agreement VW Polo 1.2 TDI
Here are the rental details with Europcar for a 4 door VW Polo 1.2 TDI (Make 2011) with Air-conditioning;

- 14 day rental : € 155,17
- Unlimited miles
- Limited CDW ( upto a maximum € 950,- damage risk)
- Single driver (meaning no-one else can drive the rental)
- Same location pickup / delivery.
- 85 liters of diesel @ € 1.50 = € 127,50
- 1700 Km driven
- Average fuel consumption; 5 liters / 100 Km (see note below)
This ads up to an average of € 20,- per day including fuel and rental costs.
NOTE: The fuel meter of the VW Polo 1.2 TDI still display FULL when it has approx. 150 Km on the dial. Actual fuel consumption was therefor lower, the fuel tank was not really full at pickup time. Actual fuel consumption sits around 4.6 liters / 100 Km.
Full CDW costs € 155,- extra per rental agreement reducing your own risk to zero. Do note that the costs of tire punctures, windshield damage, removal costs of interior and seat stains are usually excluded from Full CDW.
A Taxi ride from the bus station to Beja International airport from Beja City costs about € 11,- and takes about 15 minutes.
After delivery of the rental car at the Airport, Europcar staff usually take you back to the city if it's not busy at the counter. Monday morning and Friday afternoon are usually the busiest times.
The Volkswagen Polo 1.2 TDI (Make 2011)
For a holiday in Portugal, the VW Polo 1.2 TDI (Make 2011) is a small diesel car for 2 to 3 persons with luggage. 2/3 + 1/3 of the rear seat can be taken down. Leaving either a single seat or a large flat loading area. The car is large enough for a dog in the back.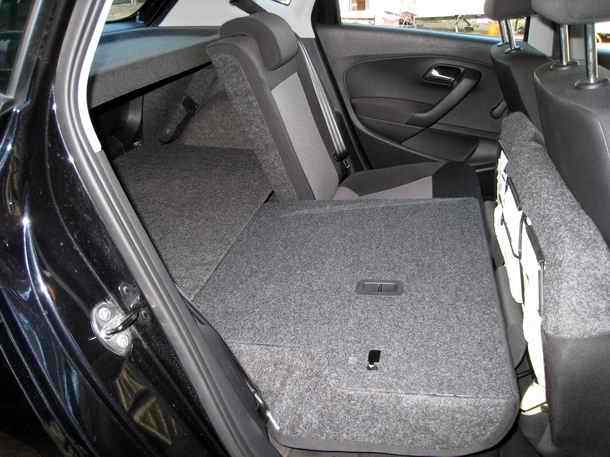 Rear seat of VW Polo 1.2 TDI

The 1.2 TDI three cylinder engine is surprisingly power full and fuel economy is impressive. Approximately 1100 Km on a full tank of diesel (45 liter) when driven light to moderate.
Engine of the VW Polo 1.2 TDI


More here: Car rental in 2012 - same car, different price
Driving in Portugal
The Portuguese driver is used to narrow village roads, bad rural roads and odd traffic situations. How you cope with that depends on where you come from. Though in all Portugal isn't a country with extreme driving – for this one has to visit India. Mind that for most locals on an average income, driving is an expensive affair.


Toll roads in Portugal are very quiet and a smooth experience. The larger interstate roads (IP / IC) are sometimes busy since here's where everyone drives on. But it depends where you are – the IP8 in the Alentejo is a quiet road overall. Roads near Lisbon and Porto are busy.
Rural (back) roads can be potholed, damaged by tree roots or very narrow. For cars with low hanging spoilers, side steps it will be a body scratching experience.
Rural gravel roads in Portugal
Gravel roads are (still) quite normal in Portugal. Still it's not a bad experience since the landscape is usually quite nice. Same for rural tarmac roads, speed has to go down to prevent crashing a spoiler or denting a doorstep.


The main issue with gravel roads is dust. It will cover the car and will take a bit time to get it dust free again when delivering the car after the rental period.
Have a look at a similar rental car in Greece in 2012

Beja city and Beja International airport information
A few interesting links about Beja International Airport and its surroundings;
Beja International Airport in 2012
Alqueva reservoir lake near Beja city
Huge solar energy farm near Beja city
Diesel and petrol prices online in Portugal
The weather in Portugal - Lisbon at this moment;