Location
Beja covered market place near the bus station.
38° 0' 42.0516" N, 7° 51' 32.8752" W
Hotels and pension in and around Beja - Alentejo - Portugal
Beja has quite a few hotels and pensions - below are the ones with websites. Also around Beja there's accommodation for those appreciating the serenity of Beja's golden plain.
Supermarkets in Beja
Beja has 3 large supermarket chains located in close proximity at the southern ring road. The Coop is located in Beja city center. It has a parking lot, free spaces are rare.
Beja covered Market place
Beja has a covered market hall with fresh vegetables, meat and on Saturday fresh fish. It's located close to the bus station. See the google map for the location.
The Gypsy market is at Saturday (every 2 weeks) on the parking lot of the Beja Exhibition Center.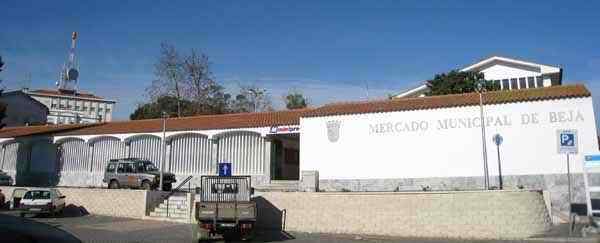 The Beja covered market "Mercado Municipal de Beja" near the Beja bus station.
Beja cell phone shops
Optimus has the best coverage for 3G prepaid PAYG internet in Portugal.
Beja Computer supplies
Car, bicycle and general supplies
Car Rental agencies in Beja
The Beja Parque Hotel has a car rental desk at the Hotel reception. It doesn't have a car depot so reserve a rental car in advance. For addresses and telephone numbers see below:
Public Transport in Alentejo
Beja has a large bus terminal near the Beja Market at the south end of Beja. The train station is at the west end of Beja.