Location
Andorra la Vella - cheap diesel in southern Europe.
42° 30' 24.3072" N, 1° 31' 46.1748" E
Andorra is known as a tax-free haven – prices are lower than in the surrounding countries Spain and France. Wondering if it's worth to plan a fuel stop in Andorra? Here's our story about cheap diesel in Andorra, decide for yourself if it's worth the effort.
Andorra – highest cheap fuel stop in Europe
Andorra is the highest cheap fuel stop in Europe, at an altitude of approximately 1000 meters (3280 feet) you can fill up with an approximate price difference of 20 eurocents with France and 10 eurocents / liter diesel with Spain. Though there are few things worth knowing to make a fuel stop worth while.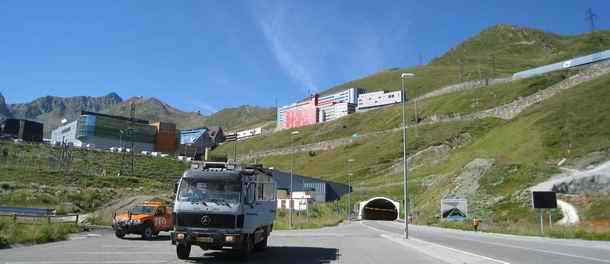 The D'Envalira tunnel connecting France with Andorra - access to cheap diesel

A fuel run for a passenger car is hardly worth it, unless equipped with excess fuel capacity. Nonetheless tax-free shopping is the other big attraction in Andorra.
Roads to Andorra
The best time for a fuel stop in Andorra is spring and autumn. In winter it's icy, windy and cold up there, in summer it's crowded with tourists. The best way to enter Andorra is through Spain – even when coming from France. It's avoids toll and a long wait in a traffic jam.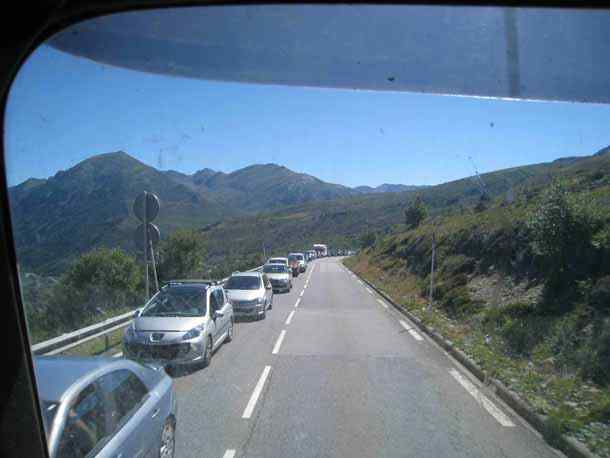 Traffic jam in France on the mountain road up to Andorra - in Aug 2010 about 8-10 Km

When coming from Ax-les-Thermes, France over the N22 in summer time expect a very long queue up the long hairpin mountain road up to the French border. Though customs doesn't really check much, only the drive-through gate is enough to cause a traffic jam for many kilometers. On a Monday morning in summer time the traffic jam was approximately 8 Km long – a long wait in the sun on the exposed mountain road. Weekends are definitely more busy.
On top of that the D'Envalira Tunnel as well as the high mountain pass from France is a toll road. A truck like ours passes the D'Envalira Tunnel for € 12,40. If that's not enough, to get to the road up to Andorra, you need to navigate several other mountain passes.
A better route from France is over the D115 - Prats the Molo or the N116 over Prades into Spain following the N260/N145 road entering Andorra through Spain. Though expect some traffic at the border in weekends, though much less compared to the French side.
Andorra fuel prices August 2010
Andorra is a free market, fuel prices are not fixed by government controls. The average diesel price on the Spanish side of Andorra was about 95 eurocents in August 2010. On the French side of Andorra the diesel price rose to about 98 eurocents. In between we found a small petrol station with a diesel price of 93 eurocents. So keep you eyes open!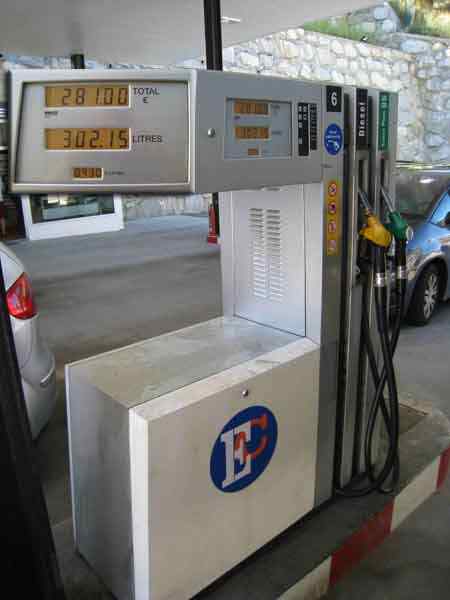 93 eurocents in August 2010 at the EC Petrol Station in Andorra

At the same time the Carrefour in Quillan near Aix-les-Thermes priced diesel at 113,5 eurocents. Quite a difference with Andorra.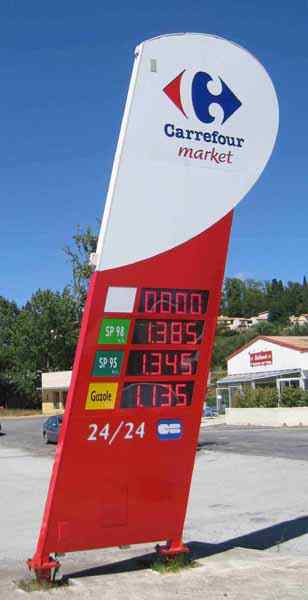 The price in August 2010 at the Carrefour petrol station in Quillan, France

Looking for heap fuel in northern Europe? Have a look at Luxembourg - cheap fuel, petrol, diesel, gasoline in Northern Europe.


To compensate for the toll road when coming from France through Quillan – tunnel or mountain pass - one needs to fill up with quite a bit of fuel to have any advantage.
Trucking through Andorra
Andorra is a small country, it takes less than an hour from border to border. The road narrows at several sections, with a few steep climbs coming from Spain. Much of the roads pass through urban area's. Andorra has a few road-side campsites which are stuffed to the max during summer season.


Most of the truckers enter and exit Andorra on the Spanish side. The toll on the French side of Andorra, the long decent into France over narrow roads make a drive through unattractive for most with commercial objectives.
Driving your diesel car / truck on vegetable / cooking oil
Looking for European Truck junk yards?
Driving south to Andalusia? Have a look at Traveling in the Cadiz province, Andalusia, Spain
Or driving to Africa? Read about the Ferry to Africa, Algeciras, Ceuta, Palmones commercial Zone