Location
Balearia Ferry Embarkation dock in Algerciras - Spain.
36° 7' 43.1724" N, 5° 26' 29.832" W
The Algeciras, Gibraltar corner of Spain is where many gather before heading for Morocco. From here many ferry companies can take you to Ceuta or Tanger on the African continent. Not surprisingly the ferry ticket business is all around with Palmones commercial zone as the last stop to stock up with supplies before Morocco.
Returning to Spain after Morocco? Read about traveling in the Cadiz province.
The Spanish ferry ticket business to Africa
It's just impossible to miss – the ferry ticket business in southern Spain is loud with large variety in rates and shadiness. It's somewhat odd compared to the much bigger ferry business running between Italy and Greece. Ferry companies are equally professional and big, but somehow the African ferry lines choose to have their tickets sold in a scene of shadiness and excessive hustling.
Shop around but expect to be hustled
In low and middle season, it's worth to shop around while ferry's are running near empty.
Even when in a rush because there is much to choose from. The benchmark can be the official rate at the ferries website or the official branches at the ferry ports.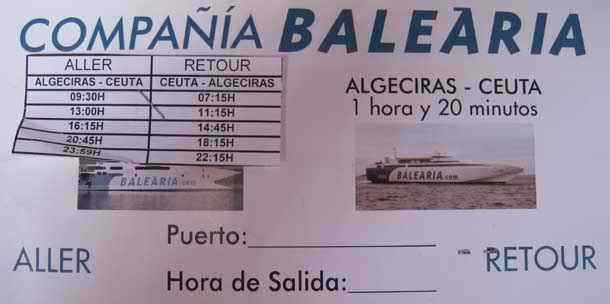 Balearia Ferry Ticket from Algeciras to Ceuta with Timetable
Expect to be hustled when visiting the official ferry branches in the maritime center in Algeciras and Tarifa. Driving to the port area, you'll find many waving, whistling, making signs and be right in your face when you step out of you vehicle. You'll be approached numerous of times, trying to lead you away from the official ferry branches in the maritime center to their favorite ticket reseller somewhere else.
The hustlers game and ferry ticket reseller business in Spain
The hustlers game is simple, they have guided you to the ticket reseller and want a piece of the action. Naturally, it's impossible to enter a ticket reseller office without a hustler stuck to you skin. The ticket reseller business is also simple, they buy batches of open tickets at the official branches and resell them for a higher price. These ferry tickets can be recognized by the price being blacked out with a black permanent marker. This is what the ferry companies choose to get themselves in with – a shady business with many players.
Buying at ferry ticket resellers in Algercias and Tarifa
The price offered by ticket resellers can still be way better than the official ferry branch price. However tread with care, specially in high season. Usually open ferry tickets are valid for a year from the issue date printed on the ferry ticket – but terms and conditions can vary.

The issue date of the ferry ticket must be clearly visible without signs of tampering. Also there are codes / serial numbers on the ferry ticket which are entered when embarking.

Before buying make sure to get the details of the person who you're dealing with, ask for a business card and a name. If in doubt, call the phone number in the reseller office – do you hear the phone ringing? When buying make sure you get a receipt with a clear date stamp and phone number with the name of the reseller ticket office. No clear & clean receipt no sale, simple as that. With all this, you have something to show at the ferry embarkation office when things don't add up after all.

Naturally, the best sale for a ticket reseller is to have you walk out the door without purchase receipt, name and telephone number. Perfect deniability your ticket actually came from them for the price you mention, of course you'll never find the same person who sold you the ticket. They see you coming from far.
Palmones commercial zone near Algeciras and Gibraltar
Parque Commercial de Palmones is like many commercial zones in Europe, however this one is special because of it's location. Many travelers and tourists stop here to stock up supplies and buy ferry tickets before heading for Morocco.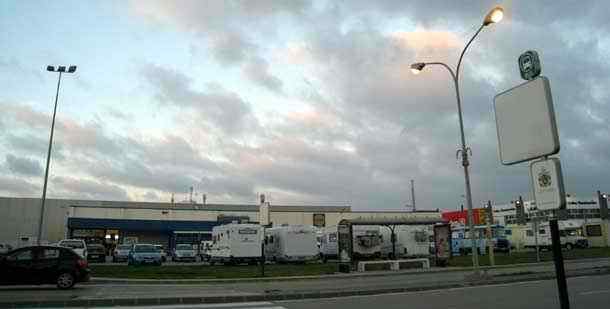 Mobile home - RV - Campervan parking at Palmones Commercial Zone Lidl supermarket
The commercial zone is located at the Autovia A7 / N-340 at exit number 112 just before Algercias and the A-381 Autovia exit to Seville. It's a big place as can be seen at Google Earth.
Javascript is required to view this map.
Palmones Commercial Zone, the biggest in Andalusia
It's a familiar sight for locals, RV's, mobile homes of all shapes and sizes parked at the Lidl supermarket parking lot just at the entrance of the commercial zone Las Marismas de Palmones. Many park and spend the night here, to head for the Algercias harbor the next day. Though this place is far from an ideal overnight stay, it's noisy and busy till late at night. If you're not in a rush,
there are more quiet places inland
.
Stocking up with supplies at Palmones Commercial Zone
Here's a short list of popular companies located at the commercial zone Los Palmones.

Supermarkets – Carrefour, Lidl, Dia, Aldi
Car supplies – Feu Vert, Norauto
Clothes - Factory Guadacorte Mall, C&A

Computer & audio, video, camera – Media Markt and Worten (new since 2010)
Telecom supplies – The Phonehouse, Media Markt, Vodafone, Movistar, Orange
Outdoor gear – Decathlon
DYI store - Leroy Merlin and Bricor (new in July 2010)



New in July 2010 :: Huge BricCor DIY store in Parque Comercial Las Marismas in Algerciras
Maps, books – Librerias Beta http://www.libreriasbeta.com/
Post Office - in Factory Guadacorte Mall
Stocking up beer and wine for Morocco? Read about the local Moroccan wine industry.
Don't get too much DIY supplies when heading of to Morocco, Mr. Bricolage has a branch in Marrakech and Casablanca.

PC City has seized its operations at this commercial zone, the huge Media Markt branche is the main player now.
Ferry ticket agent Viajes Normandie at Palmones Commercial zone
A favorite place to buy ferry tickets seems to be the Ferry ticket Agency Viajes Normandie at Palmones Commercial zone just before Algeciras. Also this agent is a ticket reseller, though with a reputation. The owner is known as Carlos, but the ticket counter is usually manned by 2 ladies. Same applies as mentioned above – make a paper trail when buying here. The agency is located at south end of the Carrefour supermarket.


The going rate at this agency in April 2010 was € 160 – 170 for an open return ticket with the
ferry company Balearia
. Service here was quick, in English and with a smile.
The travel Agency Viajes Normandie also supplies you with the vehicle importation (double check your chassis number) and the immigration forms.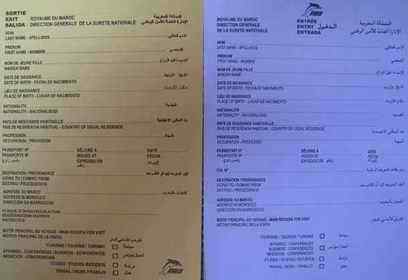 Moroccan Immigration forms - exit (yellow) and entry (white)
Having these forms before embarkation will fend of Moroccan hustling at the border.
Moroccan vehicle importation form online.
The temporary car importation form "Déclaration d'Admission Temporaire" can be found online at the Moroccan customs site.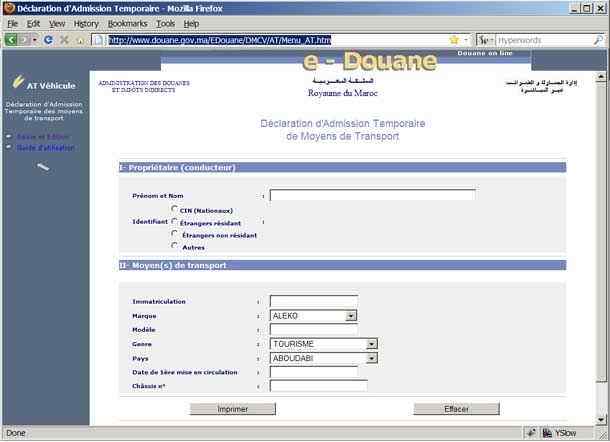 Moroccan Vehicle Importation Form Online
Have a look at the
online Importation menu at Moroccan customs.


(It changed a bit recently, but works the same)

The form speaks for itself. Press print (imprimer) and you get three copies.
(2 on one paper and 1 on another) All three are stamped at the Moroccan border; one is retained and two returned to you. Check if the date stamps are correct and readable. The maximum stay for your vehicle is 3 months and is extendable up-to 6 months maximum.