Garmin has released a new firmware update for the Garmin Dezl 560 in January 2012. A few details about previous versions and the firmware update process.


Garmin Dezl V2.70 firmware update
It took about 15 minutes for the download to complete. The installation took about 5 minutes - it seemed the Dezl 560 needed several soft restarts to complete this update taking about 3-4 minutes of waiting.
During the process you get to see this screen several times - between several black screens showing no activity.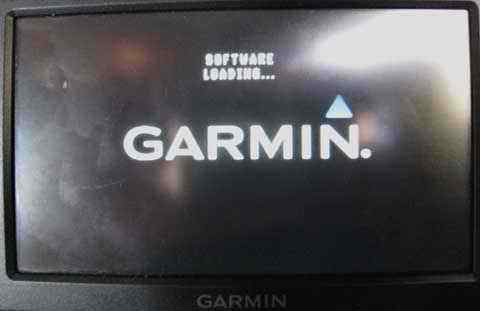 Garmin Dezl 560 software update screen too V2.70


The result - Garmin Dezl 560 Firmware version V2.70: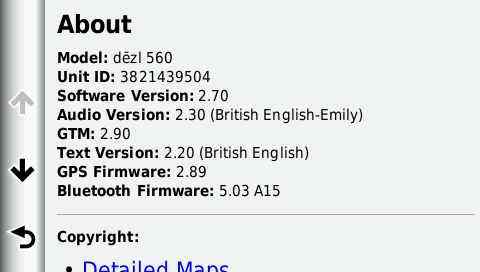 Garmin Dezl 560 V2.70 software version information


Garmin also released Garmin Dezl V2.80 firmware update
Garmin Dezl firmware update 2.50 to 2.70
First of all official Garmin release notes doesn't mention a GPS firmware update from V2.70 to V2.89. Unfortunately no mention of improvement of route guidance for trucks.
The changes according to Garmin are:
Garmin Dezl Bug fixes:
Fixed some issues with GPX importing
Fixed some issues in Custom Avoidances feature
Fixed issues with alerts when unit is in charging mode
New functions:
Updated to comply with France Safety Camera decree
Added Support for Yandex Traffic Service in Russia
Support for RDS based live Parking information update
Added display exit name along with the exit number
Added Truck Parking subcategory for Trucking POIs
Default to AZERTY keyboard in Belgian locale
Garmin Dezl Improvements
Improved the delay time in Traffic Map drawing
Improved the HOS module
Improved several Map drawing features
Improved the Truck Speed Limits at roundabouts
Improves along route searching for POIs for NTTS
Several other cosmetic improvements added in UI
Routing improvements with Historic Traffic
Added cosmetic improvements to FMI features

The previous software version was V2.50: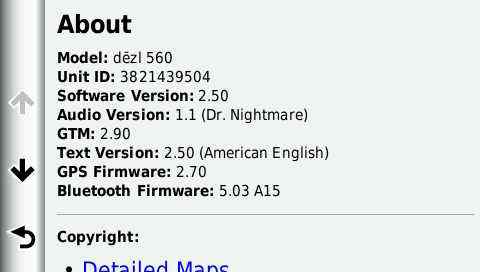 Garmin Dezl 560LT V2.50 version information

More release notes for the Garmin Dezl 560: