Location
Traditional berber jewelry souq in the Medina of Tiznit.
29° 41' 48.8076" N, 9° 43' 55.056" W
Take any Moroccan guide book and you find Tiznit mentioned as the place to look for traditional Berber silver jewelry. But Tiznit is more than that, Berber jewelry comes with another remarkable trade, the Moroccan Kaftans, Jellaba's and Takchita's. On top of that, the relaxed southern Moroccan atmosphere makes exploration of the shops a treat.
Traditional berber silver jewelry shops in Tiznit
The Berber jewelry souq in Tiznit is located in a new built part of the Medina. It has 2 levels, the Jewelry shops at ground level and a few workshops at the first floor. It's a compact area with roughly 20-30 shops in small concrete cubicles.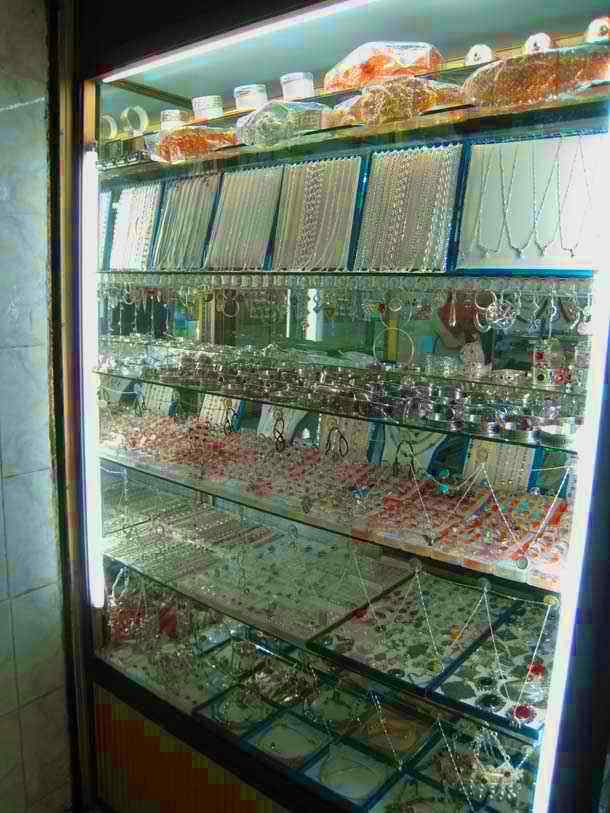 Traditional berber silver jewelry shops in Tiznit

In June 2010, most of the visitors were local women flocking the Jewelry shops in groups. And it's not only silver Jewelry on display, also gold jewelry has become increasingly popular.
There's lots of traditional Berber wedding jewelry on display – in such amounts not seen before in other parts of Morocco.
Ensemble Artisanal in Tiznit
With only a short stay in Tiznit, it's difficult to get an idea of Berber wedding jewelry prices. Negotiating a good deal as inexperienced buyer from the western world remains a dream. Local women with time on their side simply get the better deals.


Traditional Berber Silver wedding crown in Tiznit, Morocco

Though a good bet is the nearby L'Artisanat de Tiznit (Ensemble Artisanal) to get a quick grasp of reasonable price levels. Also jewelry making can be seen from first hand.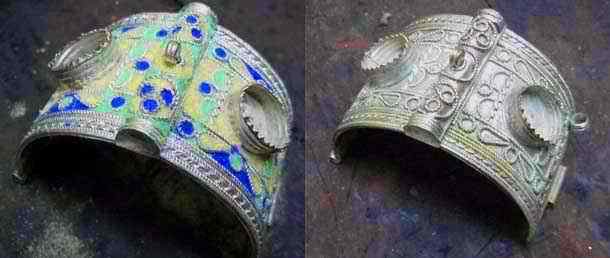 Berber Silver bracelet in the making in Tiznit, Morocco

Have a look at
Berber and Tuareg jewelry in Assemble Artisanal in Marrakech
These copper based bracelets are decorated with thin silver wire. After heating, the bracelet is decorated with emaille and heated again. Last step is fixture of stones and polishing the surface.
Traditional Kaftans, Jellaba's and Takchita's in Tiznit
And with jewelry shops there's traditional Moroccan clothing, such as Kaftans, Jellaba's and Takchita's. Tiznit's fashion street is close to the jewelry souq.


Tiznit traditional fashion street for
Kaftan, Takchitta and Jellaba's.

You'll find several fabric shops, very popular among local women.
Fabirc Shop in

Tiznit

, Morocco for Kaftans, Takchitta's and Jellabas

Then a few tailors to make your Kaftan, Jellaba or Takchita a-la-carte. And if you're in a hurry, there are several shops with the latest local traditional fashion.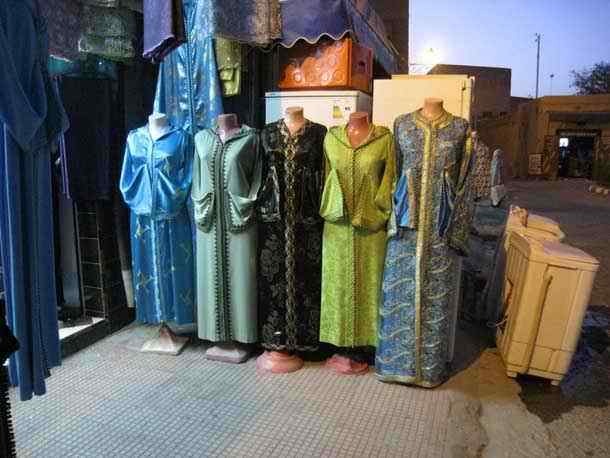 Moroccan Kaftan Caftan Jellaba Takchita in Tiznit

Long term stay in Tiznit – Morocco
During wintertime Tiznit in Morocco sees a large influx of European pensioners. Campsite international next to the city gates has an exceptionally large campground for those with RVs, mobile homes or campervans. Popularity seems enormous given a recently build overflow area when the main campground is full.

For those staying longer it's possible to have your own Kaftans, Jellaba's or Takchita's made by a tailor in Tiznit's fashion street. Certainly worth to explore the opportunity, prices are more than reasonable compared to the European hand-made clothes market.
Other traditional crafts in Morocco
A selection of other traditional Moroccan handicrafts:

- Moroccan handicraft center in Marrakech, Ensemble Artisanal

- Traditional organic argan oil

- Ceramic Pottery store and factory in Fes