Location
Mourão Municipality - Portugal
38° 23' 5.37" N, 7° 20' 47.76" W
Granja Amareleja is a Portuguese wine from Mourão in the southern Alentejo province. A region known for its hot and arid climate - giving the Granja Amareleja wine it's destinct taste. Have a look;
Granja Amareleja Wine - DOC Alentejo
The Granja Amareleja wine comes from the region around the village Mourão - close to the spanish border in the south of Portugal. The soil in this part of the Alentejo contains schist, a kind of rock with minerals like chlorite, talc, micas and graphite. Although its poor and dry soil making roots go deep to find water, it's apparently a good condition for grape vines.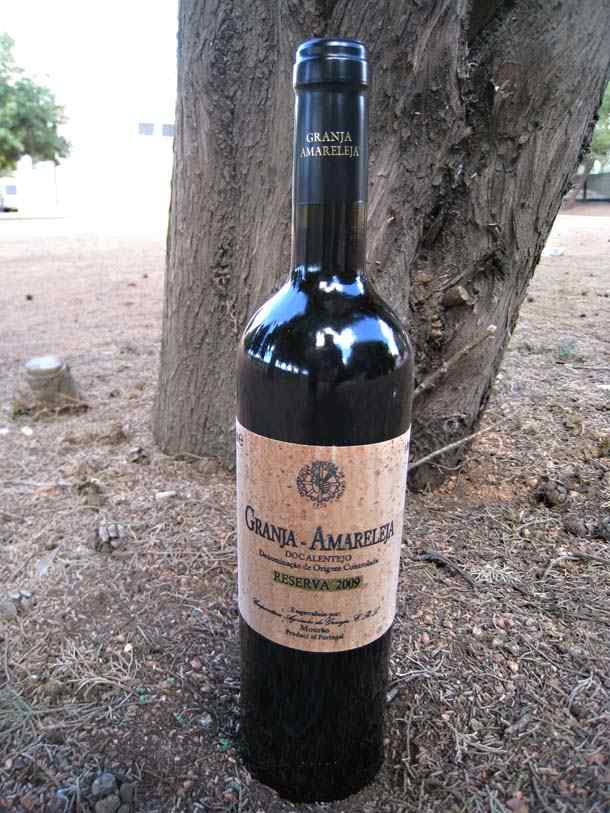 Granja Amareleja Portuguese wine DOC from Mourão alentejo

With price in the €10 to € 15,- range, the Granja Amareleja Wine is an above average priced wine on the Portuguese wine market.

In spring 2012 the Granja Amareleja Wine - Reserva 2009 had a prominent stand in the Portuguese supermarket chain Continente.
Granja Amareleja Wine - Reserva 2009
The bottle has a label with a corky feel to it - as if it's a very thin slice of real cork.
Granja Amareleja Wine - Reserva 2009 with a corky label

Since 2003 the wine reached the protected status "Denominação de Origem Controlada" (DOC), one of eight subregions of the Alentejo DOC.
Cooperativa Agrícola de Granja - Portugal
The backside label has two languages - Portuguese and English;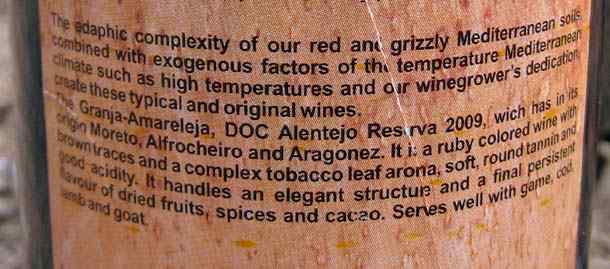 Granja Amareleja - a ruby colored wine with brown traces and a complex tobacco leaf aroma

The label reads;
"The edaphic* complexity of our red and grizzly Mediterranean soils combined with exogenous factors of the temperature Mediterranean climate such as high temperatures our winegrower's dedication create these typical and originals wines.
The Granja Amareleja, DOC Alenteho Reserva 2009, which in its origin Moreto, Alfrocheiro and Araggonez. It's a ruby colored wine with brown traces and a complex tobacco leaf aroma, soft round tannin and good acidity. It handles an elegant structure and a final persistent flavor of dried fruits, spices and cacao. Serves well with game, cod, lamb and goat"
* = Edaphic means - characterized by the soil in the Mourao region.
A first taste of the wine immediately confirms it's spicy character, a mix of many aromas. The mild tobacco leaf aroma comes later, making the Granja Amareleja a wine to remember.
More culinary highlights from Portugal
Have a look at more about Portugal;
Virgin olive oil – Azeite de Moura
Very popular in Portugal - Bacalhau - dried cod fish.
More wine from Portugal.
Interesting in the Mourão region
Mourão is located near the biggest reservoir lake in Europe - the Alqueva lake.
Moura near to Mourão has a huge solar energy farm
Have a look at Wine from Morocco