Visit an average Portuguese supermarket and you'll find the popular Portuguese Bacalhau – the dried cod fish. For those unfamiliar with this seafood, the displays of white salted flat fish - stacked high in many layers - looks rather strange.







Popular Portuguese food - dried cod fish - Bacalhau
Portugal has huge taste for dried fish – Bacalhau – which can be found in supermarkets allover the country;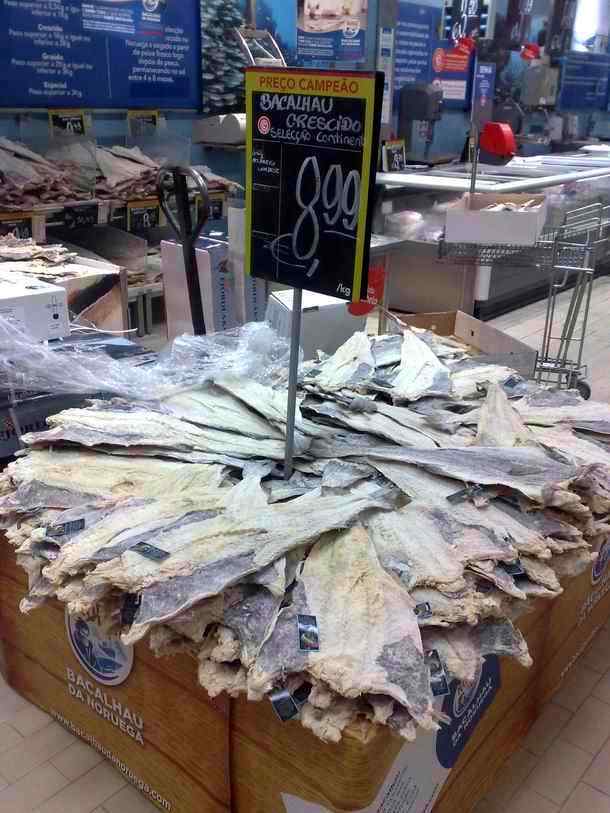 Portuguese salted dry cod fish known as bacalhau

Portuguese Bacalhau translates to Cod fish – Kabeljau – Gadus – Torsk. It's a dry salted fish used in many traditional Portuguese dishes.
In 2012 the price for 1 Kg of dried codfish is about € 9,-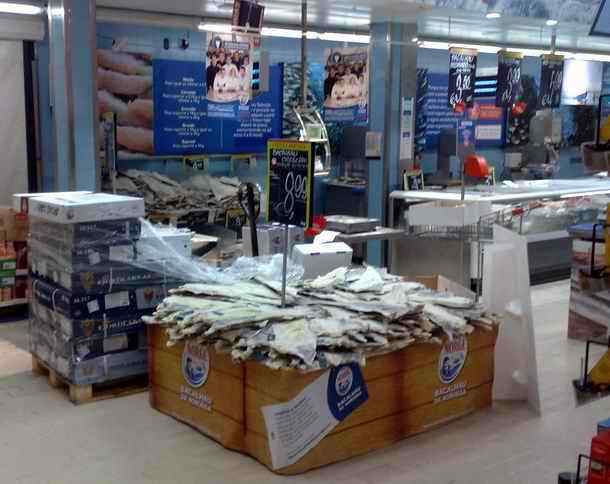 Portuguese supermarket with salted dry cod fish bacalhau

The pallet of codfish shown in the picture was sold out in just 2 days.
Norwegian cod fish in Portugal
Although the Portuguese do a lot of fishing themselves, their most popular fish comes from Norway caught in the Barents Sea.


Norwegian Cod Fish Academy - The masters of Cod fish - an Ad in a Portuguese supermarket

This Norwegian Balcalhau Ad invites Portuguese to earn a place among cod fish masters.
The Portuguese import a lot of dried cod fish from Norway. In January 2012 the value of Norwegian dried cod fish exports to Portugal was € 4.89 million. (NOK 37 million)
Also well known in Portugal for a long time: Olive oil from Moura
Bacalhau in other languages
French / Polish: Gadus
Spanish: Bacalao
Dutch: kabeljauw
German: kabeljau
Italian: baccalà
Norwegian / Danish / Swedish / : Torsk
Finnish: turska kala
Turkish: Morina
A few links to cod fish / bacalhau sites, including recipes and other statistics;
Popular Cod fish recipes - Bacalhau (in Portuguese)