Location
Campsite, Camping, Kampingplatz Domaine le Relais de Marrakech.
31° 42' 25.92" N, 7° 59' 19.86" W
The new campsite Le Relais de Marrakech just outside Marrakech in Morocco is located at a unique location in Morocco. Since 2007 this place established itself as travel hub where many gather on their journey.
Gateway to southern Morocco
For tourists and travelers, Marrakech is the gateway to southern Morocco and beyond. With the high atlas mountains and the desert in the south and south-east and the Atlantic sea-coast on the west, it's a unique geographical location where many arrive and pass by on their way to the south and vice-versa.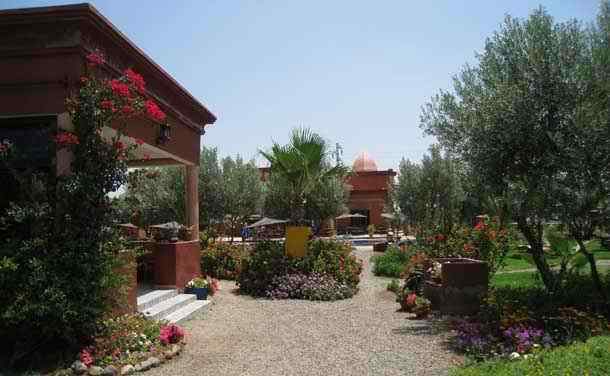 Reception and pool at campsite domaine le relais de marrakech in Morocco
For those with their own transportation, a secure and quiet place to park and stay for a while in a big city like Marrakech is a first. The new
campsite Le Relais de Marrakech
hit just the right spot – it has it all just outside Marrakech with surprising facilities.
A big quiet place - camping Le Relais de Marrakech
Camping Le Relais de Marrakech first of all is a large quiet camp ground. Ideal for those with large vehicles, tour groups who like to stick together or those who like a bit of privacy. Also dogs are allowed without having to bother anyone.



Pitches, places, parkplatz, stellplatz at campsite domaine le relais de marrakech in Morocco
Unlike other places in Morocco, showers and access to the pool is included, same as for free WIFI internet access. In 2010, the charge is about € 7,- for 2 persons and a campervan excluding electricity.
Free internet access at camping Le Relais de Marrakech
Camping Le Relais de Marrakech has an open WIFI access point to a ADSL line by Maroc Telecom. Speed / Performance is reasonable for e-mail and websurfing. Best performance is in morning time allover Morocco.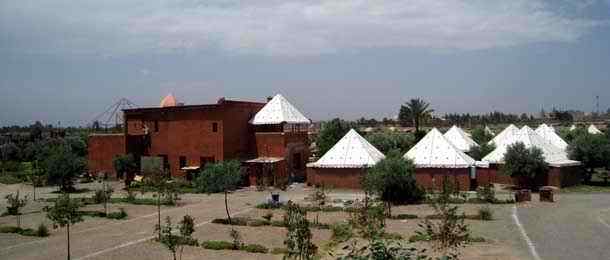 Restaurant at campsite domaine le relais de marrakech in Morocco
In May 2010 the IP address was blacklisted by spamhause.org. E-mails shipped through Outlook, Macmail or similar on your laptop, notebook or netbook could be rejected, deleted without notification by the destination. Either use a VPN tunnel or use webmail to ship e-mails to ensure your message arrives at the destination.
Access to Marrakech city center
Le Relais de Marrakech has organized a taxi service to Marrakech city center. It's a 15-20 minute ride for 60 Dirhams which can be split among a maximum of 5 persons. Return can be arranged upto 9 pm in the evening. Unlike other places the taxi ride is scam-free, no tricks. For a self organized return taxi rides to the campsite be aware of the euro-trick.

It's also possible to take your own car and park at one of the private car parks near the center. An alternative is to drive the first 5 Km yourself up to Marjane supermarket and take bus 12 to the city center.
Looking for tradition in Morocco? Have a look at:
- Traditional Moroccan organic argan oil
- Ceramic Pottery store and factory in Fes
- Tiznit, traditional berber jewelry town
- Handicraft center Ensemble Artisanal in Marrakech.

Marrakech spring-time climate
The climate during spring-time varies with cool, fresh winds from the west and soaring hot days as a reminder how hot it can get in summer-time. But most of all, it's a (very) dry place and it usually gets a bit windy in the late afternoon.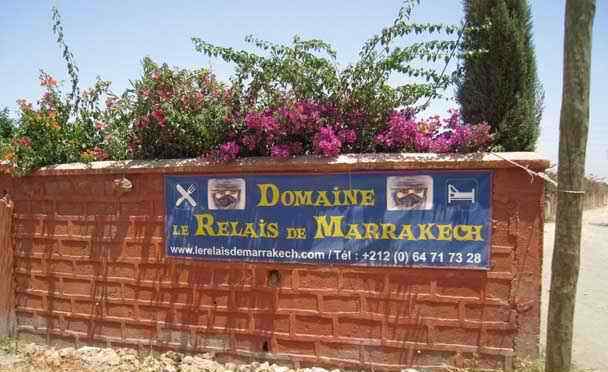 Camping campsite kampingplatz - domaine le relais de marrakech
The campsite can be found at
www.lerelaisdemarrakech.com
Read about more campsites in Morocco:
Campsite International in Fes
Campsite Atlanica d'Imourane
Marjane Supermarket and Mr. Bricolage
Located at approximately 5Km southwards, towards Marrakech is the Supermarket chain Marjane and the French owned DIY / Home Improvement store Mr. Bricolage.
Read about DIY / Home Improvement store Mr. Bricolage in Marrakech.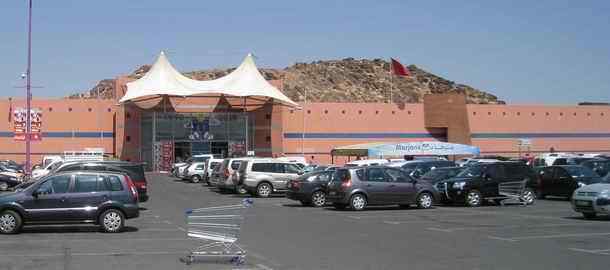 Marjane super market nearby domaine le relais de marrakech