Location
Camping International in Fes in northern Morocco.
33° 59' 54.9492" N, 4° 58' 6.744" W
Morocco has many campsites, it's an industry on itself for the motorized tourist, traveler or visitor with for example motorhome, RV's, Camper Van as well as for Moroccans during their holidays. Although it's well possible to stay outside campsites in Morocco, a campsite in this part of the world can be a nice change for a bit of privacy in Northern Morocco. Here's an impression of a large campsite near Fes, Camping International de Fes.


Camping International de Fes - north morocco
Camping International de Fes is one of two campsites near Fes. It's the bigger more spacious one of the two just a bit closer from the old city, called the Medina in Fes.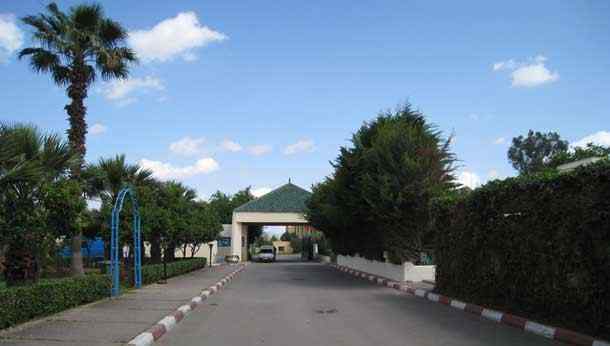 The gate at Camping, Campsite, Kampingplatz International in Fes in Morocco
This campsite is has the capacity for large vehicles as well as the larger groups. Apart from the gate (close to 4 meters) there are no height restrictions to move around at this campsite.
Large spacious pitches at Camping International de Fes
Camping International de Fes is a remarkably large campsite, somewhat unusual for the size of the campsite industry in this part of the world. It takes about 20 minutes to walk the site following the fences around.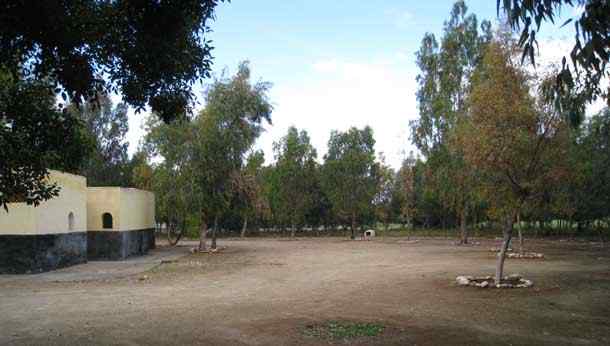 Pitches, Parkplatz, Spaces at Camping Campsite Kampingplatz International in Fes Morocco
For those traveling with a dog it's a perfect place to stay.
IMPORTANT NOTE:
There's no fixed price in Morocco - keep this in mind at all times. The city of Fes is known for it's haggling practice - after-all it's a city of very clever traders. If you're looking for a guide to show you the Medina of Fes - read the note about guides further-on in this story.

Pool and party corner at Camping International de Fes
The other business of Camping International de Fes is hosting weddings and parties. The party center is located near the gate and pool. During holiday, Ramadan and wedding season this corner of the campsite is well visited, specially during the evenings and nights.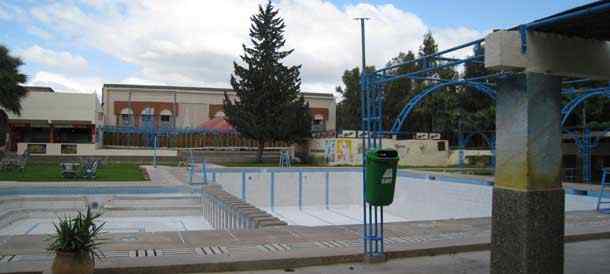 The swimming pool and party center at Camping, Campsite, Kampingplatz International in Fes Morocco
Because of the large size of the campsite it's possible to stay away form the noise by parking at the other side of the camping.
Rates in 2010 at Camping International de Fes.
The 2010 rates at the campsite including electricity and hot showers. Hot showers were ok in May 2010 - but it was VERY hot then.
- 40 MAD per person
- 30 for a caravan / mobile home / rv / camper van
- 55 for a bus / truck (adventure / coach tourism)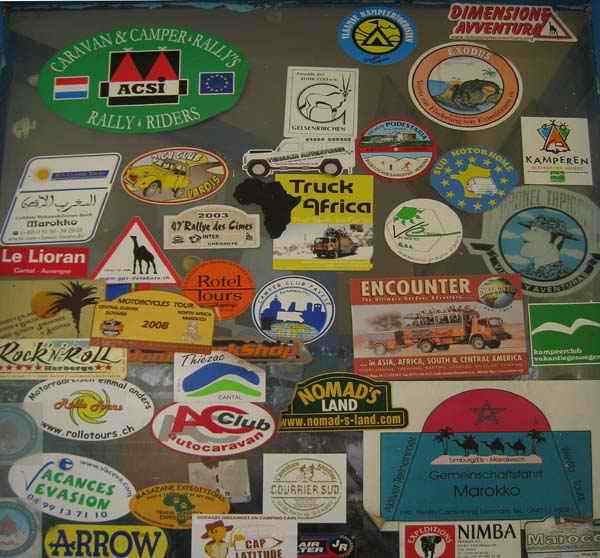 Camping, Campsite, Kampingplatz International in Fes in Morocco

Rates seem to be fixed and are listed at the reception but do asked around when on the site what others pay. Best is to be as explicit as you can - and ask for the prices before going in - write their vocally quoted price down in plain sight. (Even it's the same as on the price sign). Needless to say, but never ever hand over your passport. If a form need to be filled in, do it yourself.

If they ask you how long you stay, it means pricing is open for haggling.
One of the (many) tricks is to rate your RV, Mobile home or campervan a bit higher in price than the listed price because it's bigger etc. Not very surprising, Morocco is known for it's negotiation and changing pricing practices.
In May 2010, reception mentioned to install WIFI round the campsite. Also the electricity grid was recently upgraded with new sockets.

A guide for the Medina in Fes
First of all - this is Morocco. There is no such thing as a fixed price, ESPECIALLY not in Fes.
Campsite International can arrange a guide for you - the campsite gets commission which is a common practice in the tourist industry. You pay the guide - the guide pays the campsite commission.
It takes about 15-20 minutes to get to the Medina in Fes by Taxi. You can arrange an official guide for a fixed rate of 150 MAD per 4 hours - which seems to be the official price regulated by the Fes municipality. This after years of notorious reputation for bad guiding practices in the Medina.
If you don't want a guide from the campsite, get your "petite taxi" (20 - 40 MAD, one way) well away from the campsite. When you're told the Medina is closed, don't go for that, unless it's a well known public or religious holiday. Just ignore any other reasons - the guys at the campsite are known for their creativity.
If you do accept a guide from the campsite for a fixed price - re-quote the negotiated price with the driver / guide BEFORE stepping in the car / bus. It's happens the price is suddenly increased when you're back at the campsite. Unless the guiding service was really exceptionally good, firmly stick to the price.
Last but not least - Haggling is part of Moroccan culture, it's their way of getting a good price. Don't expect Moroccans to suddenly stop their cultural behavior because you're there. The opposite is true - a good price often comes from a tourist. All the tricks are used to get that good price, specially in Fes. Don't let this spoil your experience in Fes. It's your choice to buy something and chances are your price is not one of the lowest. In any case be very clear and stick to your ground and laugh about it whatever haggle they play on you.

The Medina of Fes - pricing practices
For those visiting the Medina - the golden rule - never ever take any vocal price for granted in Morocco and especially not in the Medina in Fes. Opening prices can be astoundingly high, where even a modest 1/3 rule results in a way too high price.
Never pass the opportunity to give feedback to retailers in Fes for asking ridiculous high prices.
Need a price benchmark? Visit a government backed handicraft center, like the Ensemble Artisanal in Marrakech.
Read about more campsites in Morocco:
Campsite Le Relais de Marrakech
Campsite Atlanica d'Imourane near Agadir