Location
Retirement campsite near Agadir in Morocco.
Spain
30° 30' 33.9588" N, 9° 41' 8.16" W
Escaping European winters is a growing trend among pensioners. Popular nearby destinations are Spain, Portugal and Turkey with mild winter climates. But for those who favor warm mild weather, the winter sun in Morocco is luring more and more pensioners. Here's a peek into a popular pensioner destination, Agadir on the Atlantic coast, with a new campsite that specifically caters to European pensioners.
Agadir, mild Atlantic climate all year round
Agadir is a popular destination for those who like the sun and travel by mobile home, RV or campervan. It has a mild Atlantic climate where the sun shines all year round. Even in summer it stays a relatively cool – unlike the soaring 40C+ / 100F+ temperatures inland and south towards Mauritania.


Javascript is required to view this map.
Mobile homes, RV's, Campervans parked at the beach north of Agadir in Morocco - now forbidden.

Best of all – local authorities allowed camping on the beach making it a very cheap stay for those with mobile home, RV or campervans.
But the rising popularity of the Agadir beach area made the local municipality decide to ban overnight stays on the beaches round Agadir in 2007. Regardless, it still is a popular place among retirees.
Large beach site pensioner campsite
During the 2009/2010 winter season a remarkably large campsite has just opened, right near the spot where many stayed for free. Campsite Atlanica d'Imourane specifically caters the European pensioner community in Morocco, something we haven't seen before in Europe.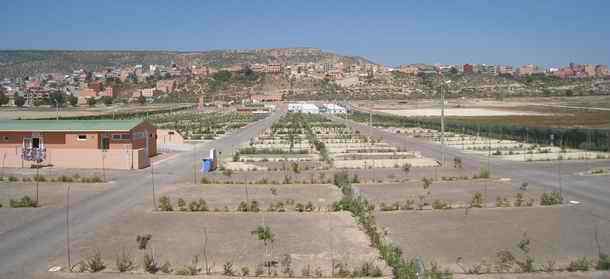 Campsite, Kamping, Kampingplatz, Camping d'Imourane near Tagazout Agadir in Morocco
It has a large range of facilities, such as a supermarket, hairdresser, campervan wash, large pitches with waste water disposal, private watertap and toilet facilities for disabled people. Pricing targets the long stay pensioner with discounts upto a 3 month stay.
The European pensioner season in Agadir starts in September and ends round April. The brand new campsite with 430+ pitches was near full right after being opening. A dream for every campsite owner.
A proven campsite concept in the Agadir area
The French owners of the new Campsite Atlanica d'Imourane knew exactly what they were doing. A similar campsite exists since 2006 just 4 Km north of the new beach site campsite – though not on the beach.
Campsite Atlantica park a proven concept of a retirement campsite.
Even more facilities exist there such as a mechanical workshop for campervans, TV repair workshop and much more, facilitating a long stay in winter time in Morocco.
Wintertime long-stay price ranges of campsites
Compared to European campsites, Moroccan campsites have very reasonable prices. Campsite Atlanica d'Imourane sits on the higher end of the Moroccan campsite price range but offers just what European pensioners are looking for. And not without success.

The charge for a 3 month stay in 2010 is 70 Dhs per day (€ 6,30 / US$ 8.20) for 2 persons, a campervan and a pet including hot shower. Electricity is charged extra, but for those with solar panels it's not really a necessity.
In European terms it's a straight bargain to stay here for just € 189,- / month (US$ 245).
Europeans get a 90 day Moroccan tourist visa on arrival, which can be extended up-to 6 months maximum including vehicle.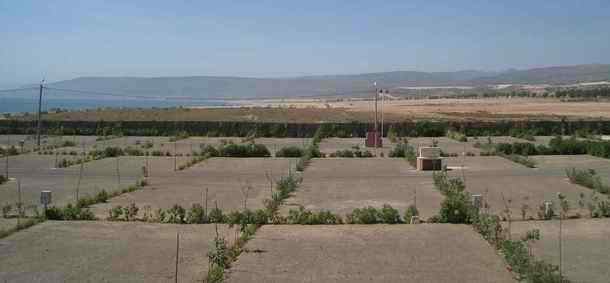 Large pitches with private water tap and waste disposal at Camping d'Imourane near Agadir.

Only Portuguese municipality campsites can compete with Moroccan campsite prices. Though facilities on Portuguese municipality campsites are pretty basic with a colder climate. Spanish winter campsites have prices in the range of € 15 – 20 per day (US$ 19.5 - 26) and Turkish between € 10 -15,- per day on average. (US$ 13 - 19.5)

With more European baby-boomers reaching retirement between 2010-2020, this area in Morocco will undoubtedly become increasingly popular.
Read about more campsites in Morocco:
Campsite Le Relais de Marrakech
Campsite International in Fes