During 6 years of overland travel with a Mercedes 1017A we experienced the on and off road quality of Michelin XZY-2 truck tires. With our 1719A – we vote for Michelin truck tires – this time with a much higher load range. Here's the story.




In this article:
Michelin XZY-3 wide base tire
Steel truck rims
Truck rim manufacturers
XZY-3 tire on Mercedes 1719A
Truck and rim tire dealers
Selecting truck rim en tires

Michelin XZY-3 wide base on / off-road tire
After quite a search with a list of tire selection criteria, the Michelin XZY-3 wide base tire is the best candidate for our 1719AK truck. The XZY-3 has the highest load range in 13 inch size and comes in three widths:


XZY-3 load range

385/65 – 4250 Kg @ 8.3 Bar
425/65 – 5150 Kg @ 8.3 Bar
465/65 – 5800 Kg @ 8.9 Bar





Michelin XZY-3 wide base truck tire 425/65@22.5 inch rim

The 425/65 came closest to diameter of the standard 13R22.5 tire and stays just within the front axle fenders. The XZY-3 425/65 can carry 5150 Kg as a single tire at 8.3 Bar. The tire alone weighs 95 Kg.
With 5150 Kg maximum load, two XZY-3 wide base tires exceed the 10 ton maximum axle weight of the Mercedes Benz 1719A.
Steel heavy truck rims
An overview of well known truck rim manufacturers on the European market;



The XZY-3 425/65 tire requires a rim size of 13 x 22.5. For trucks with drum brakes the ET value is 120 mm. Kronprinz is the preferred rim supplier for Michelin and Mercedes Benz. The KronPrinz (KpZ) rim weighs 51 Kg and can take a maximum load of 5150 Kg, similar as the XZY-3 tire.
As a reference Lemmerz -Hayes 13x22.5 - ET120 steel rim trades at €175,- excluding tax in 2011. A similar rim from Jantas costs € 115,- ex tax. A visual difference between KpZ and Jantas Rim is the thickness of the rim bolt plate.
In this case the XZY-3 tires are mounted on brand new KpZ rims.
XZY-3 tire on a 1719AK Mercedes Benz Truck
It's a huge visual difference – the 425/65 XZY-3 makes the 13R22.5 tire look whimsical.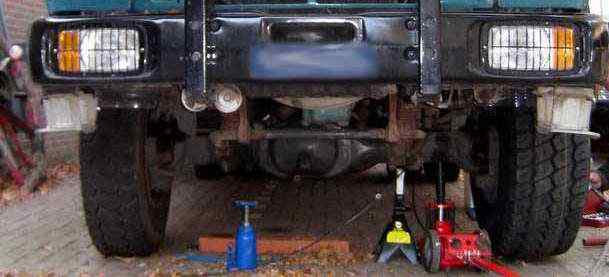 Michelin XZY-3
425/65
wide base truck tire at 22.5 inch rim

The XZY-3 tire a bit little bit higher compared to the Riken Gripstar D 13R22.5 tire. The less known Riken truck tire is made with a Michelin mold in Japan.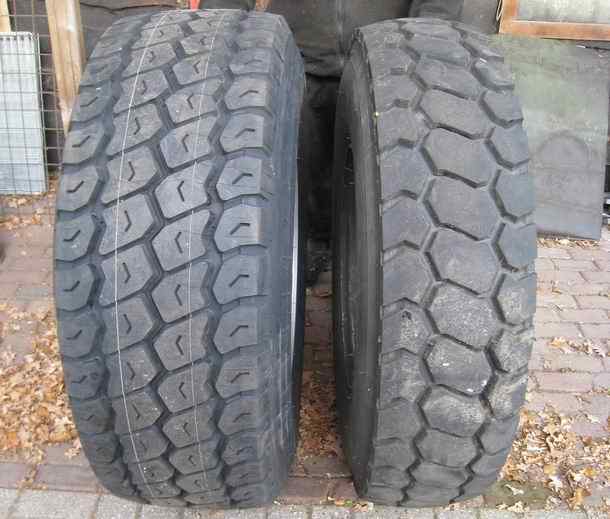 Michelin XZY-3 wide base truck tire 425/65@22.5 inch rim compared to a Riken 13R22.5 Gripstar D

New and used truck tire and rim dealers
For a price reference, 2nd hand tire and rim dealers were contacted to keep an eye on the price gap between new and used. An overview of truck tire dealers in the North European region;

Vraking near Rotterdam – South/West of the Netherlands

De Molen Banden in Reek – South/East of the Netherlands

Natterman Reifen in the West of Germany

Nord Truck tires in the North of Germany

Gebr. Kraan Bandenservice BV in Almere in the North of the Netherlands

Van Esch Bandenbedrijf in Boxtel - South/East of the Netherlands

Heuver Tyrewholesale in Hardenberg - North/East of the Netherlands
Most didn't have the Michelin XZY-3 wide base tire on stock.
Have a look at Truck Junk Yards and used Truck Part Traders in Europe.
Selecting heavy truck tires and rims
With Michelin as a preferred brand, selecting the right tire got a lot easier. Our list of selection criteria for overland travel with a 1719A Mercedes Benz truck:
New tires and rims – Avoiding invisible damage by previous use (punctures)
Tubeless tires – Avoiding wear between inner tube and tire
Wide track – for better weight distribution and floatation in sand and mud
Single wheels - on the 10 ton rear axle
Same size wheels – Keeping vehicle height at 3m80, speed is already ok
Steel rims – For highest load and endurance, though heavier than aluminum.
Standard truck rims – 22.5 inch iso 20 inch split rims
Top quality rims – For maximum durability
Tire availability – Europe, US, South America and North Africa
Starting with the size 13R22.5 and 5000+ Kg load range, the Michelin XZY-3 Wide base tire became our preferred tire.
See how to repair a puncture in a truck tire.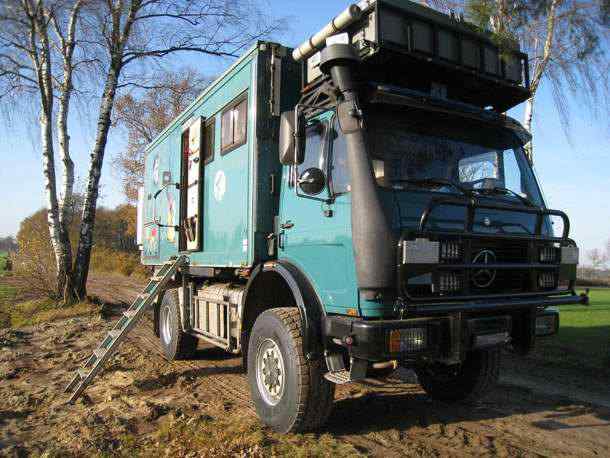 Michelin XZY-3 wide base tire on 1719A Mercedes Benz truck

Competitive tires from other manufacturers are the
Bridgestone® M844F
and the
Goodyear® G286A™ SS.

Michelin's truck wheel safety video shows runaway wheels and wheel-end fires: