After several adventurous years our Mercedes Benz 1017A 4x4 overland truck is sold at the 3rd of December 2011. An impression of a spacious home built for full time travel and living.
Mercedes Benz 1017A 4x4 overland truck
Built in 1983 as a commercial service truck with a spacious 1.5 front cabin for a German electricity company, it came on the 2nd hand market early 2000 with just 270K on the dial.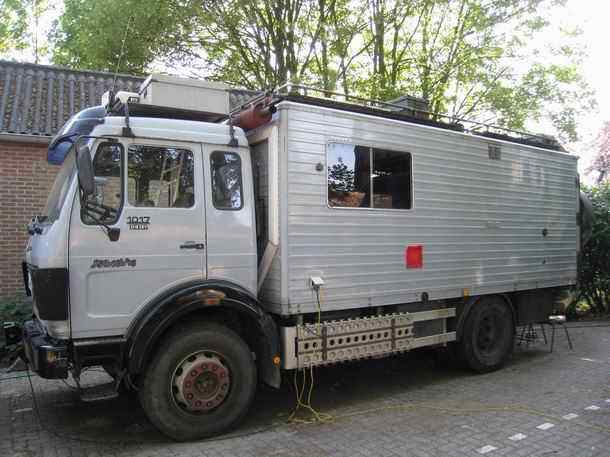 Mercedes Benz 1017A 4x4 overland truck - driver side

This 1017A is permanent 4x4 - with low gear and rear and central differential lock.
The 1017A Overland Truck is for sale through Expedition Truck Brokers.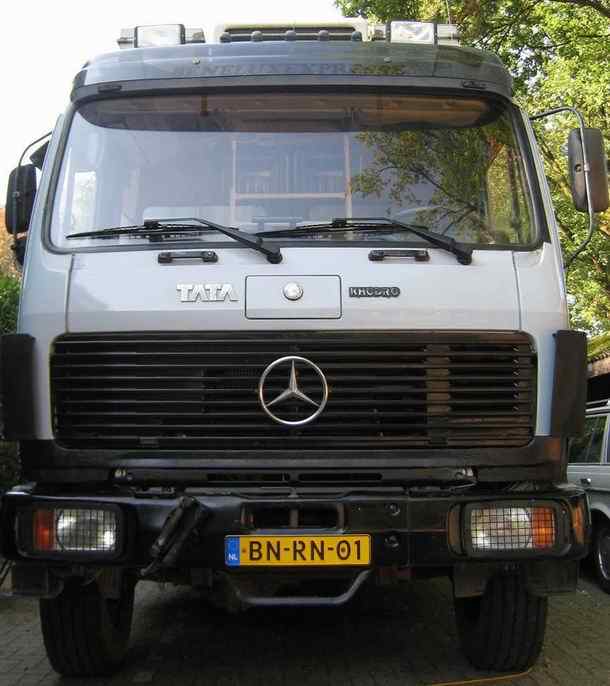 Mercedes Benz 1017A 4x4 overland truck

With 580 liter diesel, 400 liter water, 2 large gas tanks, three 200Ah AGM living batteries, 240 watt solar panels, a water filter system and a 2 Kw generator - this spacious 1017A has considerable autonomy and travel range. Essential for overland travel in Asian and Middle-East countries with little support infrastructure. The 1017A with a Rotzler 5 Ton hydraulic winch and double airco.
Looking for European Truck junk yards?
1017A main features
With 3m30 height and 7m50 length its similar in size like most trucks in the 2nd and 3rd world. It will get you through most small towns and crawl up and down narrow mountain roads. The robustness of chassis and living unit have been tested to the max on the horrendous bad roads of India - this design can take a huge beating without breaking.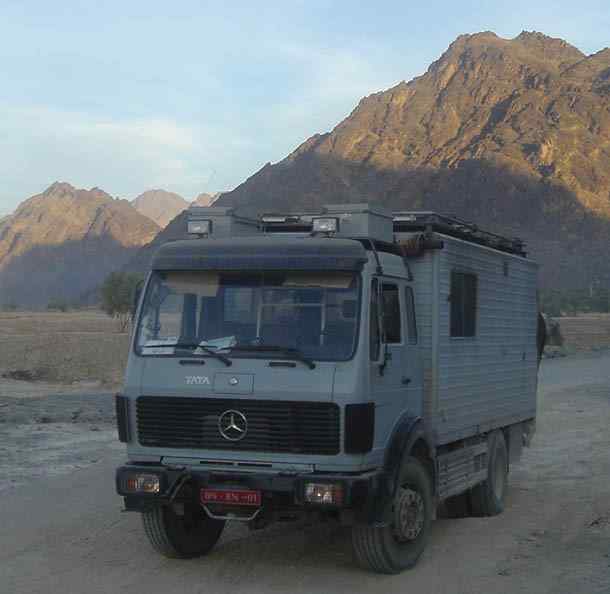 Mercedes Benz 1017A 4x4 overland truck - in Baluchistan - Pakistan


The 3m90 wheelbase is just right for tight cornering. The height suits countries like India with low hanging electricity wires. The 5m35 long living unit is a tough aluminum frame with riveted panels and a thick wooden floor. The riveted construction makes it incredible strong and light at the same time.
This 1017A is built as commercial truck in 1983 - meaning it has 'fast' axles with an average cruise speed of 90 Km/hr with a top speed of 105 Km/hr. This in contrary to the 1017A military edition which barely reaches a top speed of 80 Km/hr on factory tires.
It has superb 11R22.5 Michellin XZY-2 tireswith one new XZY-2 spare tire.
The 1017A has 5 forward gears, rear and central differential lock and a crawler gear. This 1017A is a full-time 4x4 - providing traction on all 4 wheels in every condition. A PTO gear drives the hydraulic pump for the 5 Ton Rotzler winch with 120 meter cable located in the rear.
Mercedes Benz overland truck appearance
On first glance its grey colored appearance looks quite neutral. It's not a beauty causing not too much attention - avoiding a 'here comes the cash' impression. It's a deliberate choice from start for travel in 2nd and 3rd world countries. Windows in the living unit are tinted to gain some privacy in densely populated area's in Asia.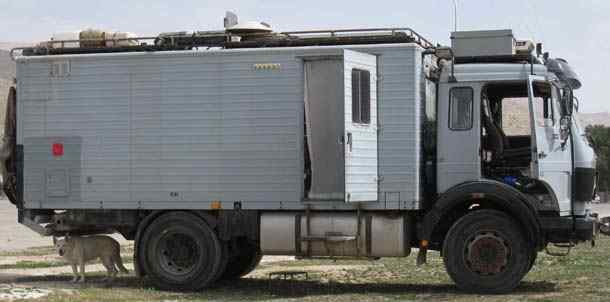 Mercedes Benz 1017A 4x4 overland truck in Persopolis - Iran

A large roofrack, acts as a 2nd floor and sunscreen, covering the aluminum ceiling from front to back with 2 large marine escape hatches in the middle. The roof - easily accessible from the inside - proved to be an important asset during our journey. The high view is great for picture taking and cool nights outside.
The front roof rack section is covered by two 120 Watt solar panels. The back section is large enough for pitching a tent on the roof or sleeping outside when it's too hot inside.
Mercedes Benz 1017A 4x4 overland truck interior
Those overland travelers who've seen and experienced it's interior all said the same: Incredible spacious inside. Many felt like being in a boat with lots of wood work. The large center space facilitates travel with a (large) dog. The interior is based upon 2 people with 1 extra bed on the couch and one in the driver cabin for extra passengers. The large wooden table allows a normal working space - a sharp contrast with tiny dinner tables often found in other motorhomes.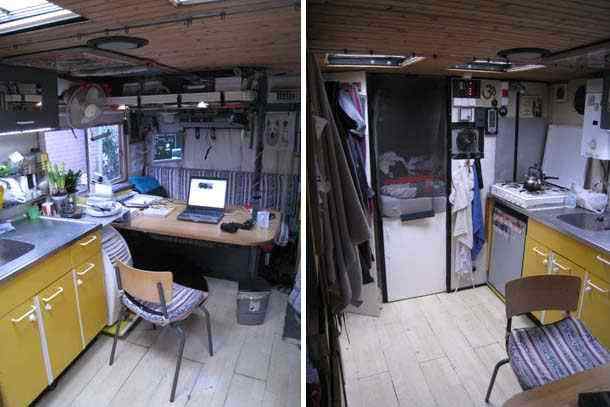 Mercedes Benz 1017A 4x4 overland truck interior

For those who wish to re-arrange the interior – most expensive parts are there in reasonable state. Such as AGM batteries, battery charger, AC inverter, waterpump, waterfilters, diesel heater, compression fridge, watertanks, tires, fixed seat chemical toilet and generator. Read
the complete 1017A feature list
.
OM352 Engine -Turbo charged - 170 Hp
The OM352 6 cylinder 170 Hp turbo engine is in good state running smoothly and practically indestructible. The same engine is still produced in Iran (Kohdro diesel) and India (TATA).
With 5 forward gears it's an easy drive. The low crawler gear, rear axle diff-lock and permanent 4x4 mode makes it terrain worthy.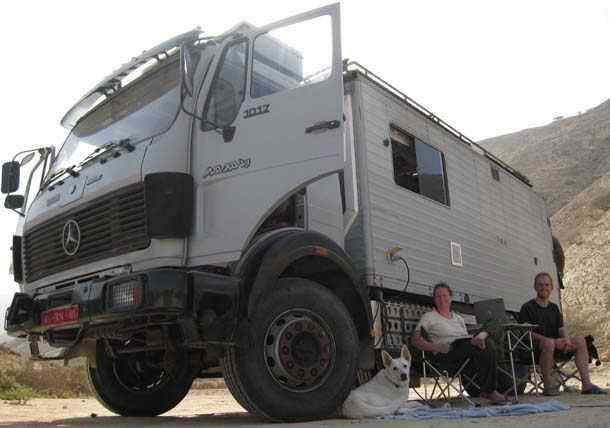 Mercedes Benz 1017A 4x4 overland truck in Al Jissah beach Oman


Parts availability is good and the truck engine is still manufactured in many parts of the world with Iran (Kohdro Diesel) and India (TATA) as the main players.
Summarized features - Mercedes Benz 1017A 4x4
The features in short:

- OM352A 6 cylinder 170 Hp turbo-charged engine
- 339.000 Km on the dial - original engine (MOT/TuV/APK: 26 September 2012)
- Year 1983 - registered on dutch license plates - tax free in the Netherlands
- Imported from Germany in 2003 - original registered on German license plates
- 7490 Kg empty registered weight – 9.200 Kg traveling weight – 10.300 Kg max
- Seven 11R22,5 inch tires - Michelin XZY-2 M+S (70%) including 1 new XZY-2 spare tire
- Permanent 4x4 with central and rear differential locks with low gear
- Power assisted steering / Power assisted breaking
- 5 Ton Rotzler 120 meter hydraulic winch with pneumatic remote control
- Double air-conditioning – driver cabin and living unit (2008)
- Spacious 1.5 front cabin with sleeping space behind the chairs

- Interior height 1m80
- Fixed spacious bed 2.00 x 1.50 – height to ceiling 90 cm
- Bathroom with shower and extra warm / cold water sink
- Chemical toilet with normal height fixed seat
- Large 1m60 x 1 meter wooden table
- 1m60 Couch (also spare bed)
- 580 liter diesel tank (Mercedes Actros)
- 400 liter water (220 Aluminum inside & 180 stainless steel outside)
- 90 liter waste water tank

- 4 army boxes fitted on the roof rack
- 1 air-tight army box under the bed
- Large roof rack - tropical woodwork with metal railing.
- 240 Watt solar panel system + digital charge controller
- 90 liter WAECO compressor fridge
- Two 200Ah / 24 volt AGM batteries (replaced in 2010)
- One 200Ah / 12 volt AGM battery (separate 12 circuit)
- Space for 2 large gas tanks (One 13 Kg tank included)
- Mastervolt 24V@15 Amp 4 stage battery charger with 3 Amp starter battery output
- 400 Watt pure sinewave inverter
- 3.5 Kw Eberspacher diesel heating supplied from main tank
- 2 Kw Kipor portable generator in chassis box (2005)
- 2.5 Bar water pressure system (Hydrofoor + Hydrostat)
- Vailant propane / butane water heater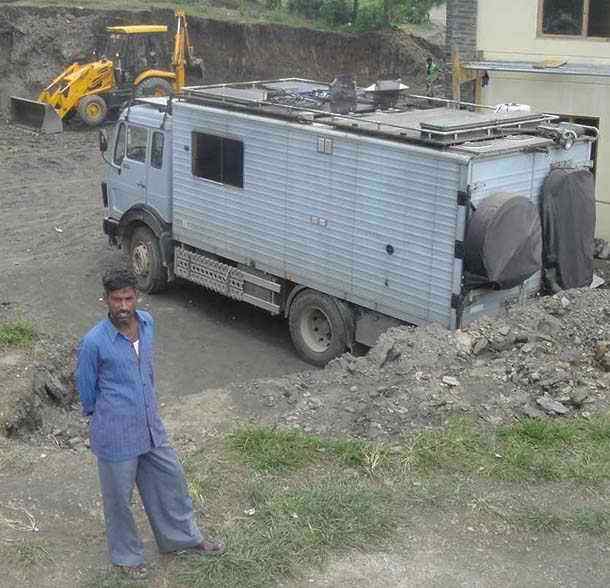 Mercedes Benz 1017A 4x4 overland truck
- in Almora - hippy hill - India

The truck has been built in 2003 as a one-man project in 3 years time starting of with an empty living unit. To build a similar vehicle takes at least a full year and requires rigid endurance and determination to be able to pull the project to completion.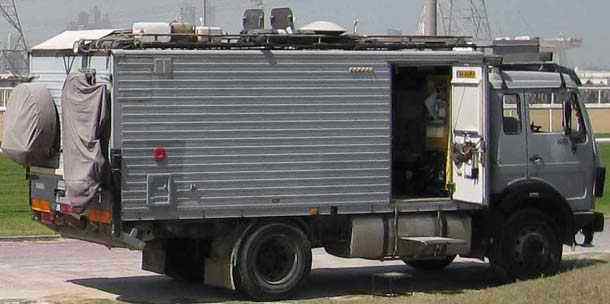 Mercedes Benz 1017A 4x4 overland truck in Dubai - UAE

Has our journey stopped? Nopes - have a look at the Mercedes Benz 1719AK truck.
Impression of a similar 1017A with OM352A engine sound;
Also interesting;
- Mercedes Benz clutch cylinder repair - how to NOT get stuck.