Location
Volos SIXT rental station
39° 22' 17.3352" N, 22° 54' 47.988" E
An impression of renting a car in Greece in 2012 with a comparison of similar rentals in Portugal. Also a bit about driving on Greek roads.




Rental car in Greece
Most of the international car rental agencies have branches in Greece and are usually found near the bigger cities and airports. Again we rented through Europcar as we did in Portugal in early 2012. We ended up with a Suzuki Swift (model 2010) from the SIXT rental agency;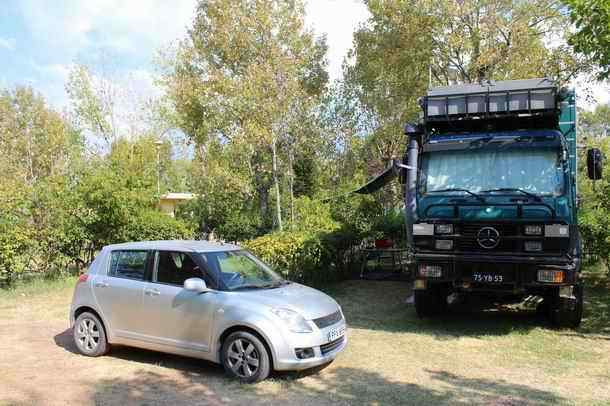 Europcar rental car - delivered by SIXT in Greece

Europcar cooperates with other rental car agencies in Greece. The car rental station in Volos is a franchise of Alamo, National and Sixt and a seasonal location of the main car rental station
Volos International Airport
also known as
Nea Anchialos National Airport
.
The Europcar rental agreement didn't state other parties might be involved. Looking for the Europcar rental station in Volos would have been a long search, because there isn't any. Not even a sign on the door.
Rental car in Economy Class
Most international car rental agencies use the ACRISS car classification model to rank their cars. Although the rental company website shows a particular car, there's no guarantee you get the car listed. In most cases a 'similar car' is delivered for the same price.
Here are a few differences within the EDMR rental class for cars we rented before;
Suzuki Swift II - 1.3
VW Polo 1.2 TDI
VW Polo 1.2 Petrol
- Smaller car
- Higher fuel usage
- Uneven cargo floor
++ Strong engine
++ Low fuel usage
+ Level cargo floor
- Weaker engine
+ Low fuel usage
+ Level cargo floor

You can simply get lucky. As internet customer there's simply zero control what 'similar' car you end up with, unless you're at the rental station to hand pick a car.

Most people who rent a car are under (holiday) time pressure and not in the position to argue or refuse a rental car because of different expectations. It's just expensive (holiday) time ticking away.
Rental prices in Greece are higher compared to Portugal. The difference is roughly the price for a full / Super Collision Damage Waiver ( SCDW sets risk at 0 ). But Portugal isn't Greece. The road conditions in Greece are tougher, reducing the cars 2nd hand value after 3 years on the road.
Expect to pay about € 450 - 500,- for a 2 week EDMR car rental contract in 2012 high season without SCDW. If you want to add SCDW, buy it locally for a much lower price with risk reduced to zero. There's some space for bargaining also.
Rental car damage
A large area for dispute is damage on a rental car. Even with Super Full Collision Damage waiver, renting a car can be an expensive affair.

| | |
| --- | --- |
| | |
| Alloy Rim damage on a rental car | Brake disc damage - stone settled in the claw |
Damage to tires, windscreen, mirrors, interior is usually excluded from any waiver. These kinds of damage are easily missed by most customers when picking up a car. Not to mention mechanical damage only noticeable after driving a car.
Cuts in the tire from driving gravel / dirt roads
These tires have done about 22.000 Km (13.670 Miles)

It's a large grey area only cushioned by the leniency of the rental car manager. In short - you can be ripped off or be given a considerable favor. In any case - with the internet the reputation of the car rental station is also at stake. Posting bad or good experiences on popular
travel forums like Lonely Planet's Thorn Tree
can stay for a very long time.
Roads in Greece
As the tires of the 2 year old Suzuki Swift already indicate, the roads in Greece are rough. With many historic and archaeological sites in rural area's driving dirt roads is quite common in Greece.
Nonetheless there are still plenty of old cars on the road which have seen their share of rough roads and creative driving.


Even the most careful experienced driver simply can't avoid the occasional pothole, hit a stone or get surprised by an unmarked speed bump. Still compared to driving in developing countries, Greece still has pretty good roads.
Highways in Greece are toll roads. In 2012 it's still a manual system with toll fee's in the range upto 3 euro for passenger cars. As a comparison – Athens airport to Kameena Vourla (203 Km) costs about €10,- toll and € 26 petrol (€ 1.82 / liter) and takes 2 hours . By train and metro it takes 4-6 hours for about € 30,- ticket cost.
Driving in Greece
Driving in Greece can be challenging for those used to drive in countries with strict law enforcement. There's not much traffic police in Greece so you'll have to cope with a fair amount of free style driving and messy traffic situations.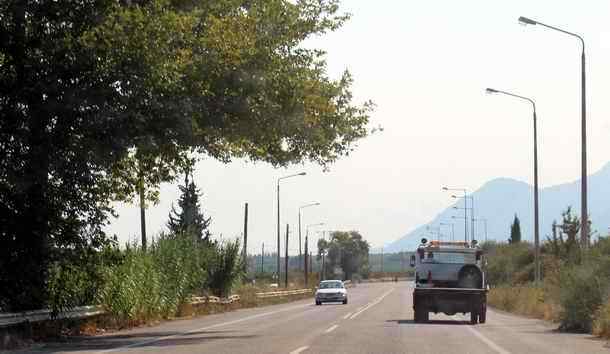 Driving the Emergency lane in Greece - specially trucks often drive the shoulder of the road


Probably most confusing is the Greek 'shoulder driving' habit. It comes from the time when trucks & vans were slow and gave way to faster traffic by driving on the shoulder / emergency lane of the road. Even with a double line in the middle of the road overtaking doesn't stop. Slower traffic is pressed to the shoulder by extreme tail gating – even if you're already (far) above the speed limit.
Once you give in – you cross the fixed line demarcating the shoulder, which is a traffic offense on itself. The faster traffic over takes with oncoming traffic, trying not to cross the double line in the middle of the road. Needless to say, the shoulder of the road is a bad place to be.

The easy way out? Avoid driving on the emergency lane and just cope with the tail gating. If people overtake on the right and left side? So be it. Its part of Greece culture and everyone gets it's fair share on the road.
Suzuki Swift 1.3 II – model 2010
The Suzuki Swift II with the 4 cylinder 1300 cc petrol engine is a compact car. It's appearance resembles the Mini cooper for a bit. Compared to a Volkswagen Polo model 2011 it feels like a smaller car.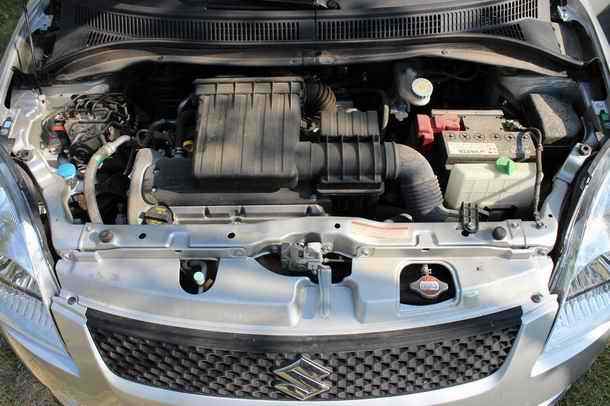 Europcar rental car - Suzuki Swift II - model 2010 engine

The 1300 cc engine is less powerful than the 3 cylinder 1200 cc petrol engine the Polo has. The difference is the older engine technology of the Suzuki Swift.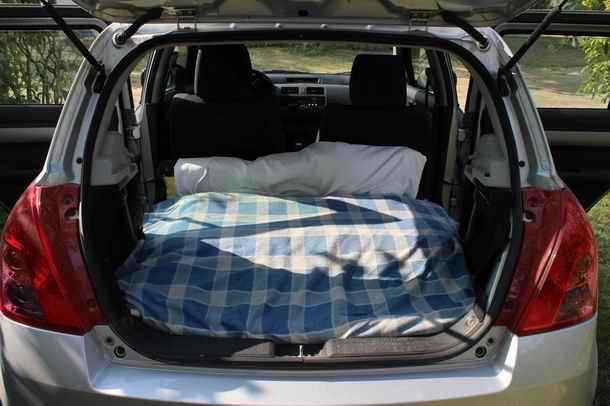 Suzuki 2010 - cargo floor is not level - the rear couch can't be collapsed behind the front seats

Fuel consumption averages around 6.5 – 7.2 liters / 100 Km – which comes down on 14 – 15 Km / liter petrol. Be careful filling up – modern cars don't handle fuel pollution very well.
Best is to use international brands like Shell or BP and stay clear of local brands. Specially if the fuel price is too good to be true. Your rental car might get a sip from the bottom of the petrol station bulk tank. The result is engine problems. Call the rental agency at once since engine problems are logged in the motor management system.
Last but not least - get some black duct tape. Having the rental company logo on the rear windscreen does not help much. Cover it - the logo brings out the worst in the impatient tail gating driver.
Nonetheless the Suzuki Swift II a nice drive, though for the Greek roads a bit more body clearance would be a plus.
Rental car info in this story
Rental car in Portugal
(Volkswagen Polo TDI)
Car hire in Portugal (Volkswagen Polo 1.2 Petrol engine)
Acriss Car Classification code for rental cars
Europcar in Greece (website is for Greece only)
Volos International Airport Greece
Thermopylae - Hot sulphur springs
Lonely Planet Thorn Tree forum