Location
Roncão d'el Rei - Golf resort and hotel in Portugal
38° 18' 23.7564" N, 7° 26' 28.4892" W
A large golf resort at the shores of Europe's biggest reservoir lake in Portugal is expected to open end of 2012. A former royal hunting estate – Herdade do Roncão – owned by King Carlos I of Portugal is transformed into a luxury hotel with golf course. Have a look;

Luxury Golf resort in the Alentejo in southern Portugal
Designated as a project of national interests, work officially started at the abandoned royal hunting estate – Herdade do Roncão - in April 2010.


Javascript is required to view this map.
Luxury golf resort on the shores of Alqueva reservoir lake
- Green spots mark the golf course

End of 2012 – Hotel do Monte with 81 rooms is expected to open its doors in the renovated hunting estate now at the
shores of the Alqueva reservoir lake
. Unfortunately the site is not accessible by road in early 2012;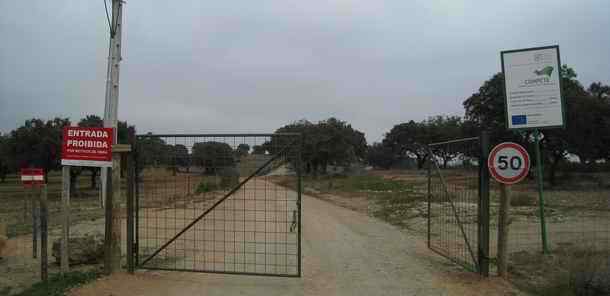 Entrance to the golf resort Roncão d'el Rei in early 2012
In November 2011 the development of the Golf course design by golf course architect Roger Rulewich was ongoing.
Google Earth and Panoramio showed green lush fields
around the Herdade do Roncão royal hunting estate.
The hunting estate was abandoned a long time ago and in serious decay as recent pictures on Panoramio showed. With the planned renovation most of the buildings will most likely be restord in their former glory.
Roncão d'el Rei - Alila Hotels & Resorts in Portugal
The luxury golf resort is known as Roncão d'el Rei – which will be developed further with more hotels to come. With Beja International Airport already finished in 2011, the golf resort just a 40 min drive from beja international airport.


The
former royal hunting estate owned by King Carlos I
will be
managed by Alila Hotels & Resorts
as Hotel Do Monte – which is the first European location for this primarily Asian luxury hotel chain.
The main investor in Roncão d'el Rei is "Sociedade Alentejana de Investimentos e Participações" (SAIP) with
José Roquette as the main shareholder
and manager of the project.
Luxury golf project half way finished
In May 2012 the Roncão d'el Rei project is half way finished. Unfortunately funding has come into trouble with banks holding back. With already 50 million euros invested by the main shareholder - the banks seem to refuse to back the deal any longer.
Read more here:
Tourism project, Roncão d'El Rei at risk of failure due to banks' attitude
Roncão d'el Rei information in Portugal

Information and pictures about the former royal hunting estate, Herdade do Roncão;
Roncão d'el Rei Golf course aerial pictures
Pictures of the Abandoned royal estate Herdade do Roncão


And around the new golf resort
Largest reservoir lake in Europe - Alqueva lake
Beja International Airport in Alentejo, Portugal

And about the new hotel chain and history;
Alila Hotels & Resorts website

Carlos I - King of Portugal and the Algarves.

José Roquette - main investor in Roncão d'el Rei