Location
Villsom campsite near Seville in Dos Hermanas.
37° 16' 40.0008" N, 5° 56' 12.9984" W
For those visiting Seville – in Andalusia in Spain with their mobile home / RV / Campervan there's Villsom camping in Dos Hermanas south of Seville. It's a very popular place to park for a few days, but not only that. Stocking up supplies from here is quite easy before heading down south. Although it seems it's the only camping near Seville, there's a few places more. An impression of Villsom camping and alternatives.




Going to Jerez de la Frontera too? Read about traveling in the Cadiz province.
Villsom camping near Seville in Dos Hermanas
As many already found out - there is no camping in Seville, same as for Jerez de la Frontera and Arcos de la Frontera. There are a few alternatives, the most popular is Villsom campsite down south.
Villsom campsite near the city Dos Hermanas at the south end of Seville is highly popular given the non-stop supply of new daily arrivals. High season is during spring - in summer time it's more quiet.
For a large and popular campsite as Villsom camping, it's a bit odd the campsite has no website.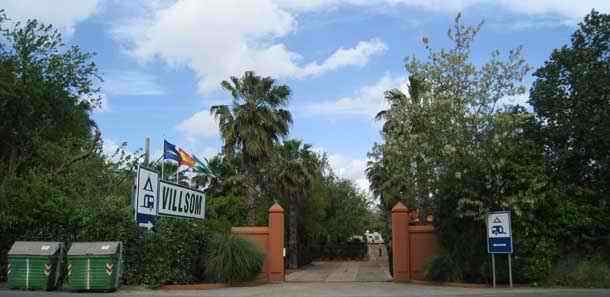 Villsom camping near Seville in Dos Hermanas- Andalucia in Spain
In April 2010 – in the week before the Seville April festival – the camp site was close to full. The spring season price for a day is about € 20,- for 2 persons and a mobile home including electricity.
Busline to Seville center
There's a public bus service from the campsite to Avenida de Portugal in the center of Seville. The MT-132 line starts at 6:30am from a bus stop on the other side of the highway. It runs every 30 minutes with the last departure from Seville at 23:45 back to Dos Hermanas.
In weekends it starts at 7:00am with the last bus at 21:45 back to Dos Hermanas. It's a 20 minute walk from the bus stop in Seville to the big cathedral. Be warned the area round the Alcazar palace and Cathedral is the lucrative prey-ground of female pick pockets. They approach you head-on with flowers or whatever con trick is in fashion.
Read more about parking in Arcos de la Frontera and Jerez de la Frontera.
Alternatives to Villsom camping in Seville
There are several alternatives to Villsom camping in Dos Hermanas. All campsites are located on the south of Seville and most likely cheaper. An overview:
Camping Oromana in Alcalá de Guadaira - N37° 19.384' W5° 50.604'
Expect very basic facilities - have a look first, then decide whether to stay

Club Campo - Motel in Dos Hermanas - N37° 17.398' W5° 56.063'
Is closed for renovation (July 2010), might open later again.
Camping Oromana is located near a large public park in Alcalá de Guadaira. Club Campo – Motel is located near the Carrefour and railway station in Dos Hermanas. No website information is available – use Google Earth or a Navigation device (TomTom) to locate these campings

Experimental sites for those who like to try something different with an RV / Campervan, have a look at the guarded parking space of the following Marina's.

Typically, a marina has all the facilities usually found on a campsite. Marina Club Nautico is closest to the city center. Marina Puerto Gelves is located near the Metro line.

More about public parking area's in Europe.
Any experiences with the above places? Feel free to comment.

WIFI hotspot at Villsom camping
Villsom camping has free 54G WIFI (WLAN) hotspot connected to a DSL line of Telefonica – the main Spanish telecom company. The hotspot is unsecured and has reach of about 20-30 meters round the reception office, no repeaters are installed to reach deeper into the campsite. It's possible to sit down with a laptop in the small coffee bar next to the reception office.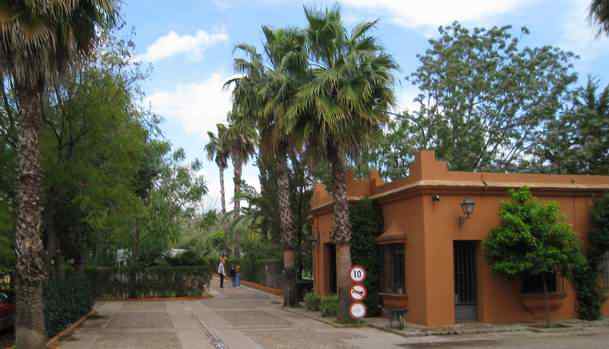 WIFI hotspot at the Villsom campsite reception
Because of the Villsom WIFI hotspot popularity trying to connect from a greater distance requires sensitive antenna's and larger output power. Connected laptops close to the hotspot distorts the WIFI signal for those trying to connect over a larger distance. Be sure to have an active firewall. The villsom hotspot sees lots of 'wild traffic' with malicious content - caused by poor security of connecting laptops. For for connection problems read about
WIFI hotspot problems at Villsom campsite
.
Stocking up supplies
Within 15 minutes walking distance from Villsom campsite there's a commercial area with Carrefour, Lidl and various other big chain supermarkets.
Feu Vert has a of stock car parts for main stream car brands and has a garage for regular service. Nearby is an Opel workshop, Hilti drill service and much more. There's a Chinese restaurant nearby with take-away service.
Parking big vehicles at Villsom campsite
For big rigs like ours the campsite is too small – pitches are limited for vehicles over 8 meters in length. The main problem is making the tight turns into the campsite pitches, specially with truck size vehicle width. Though most European mobile-home brands are able to park at Villsom campsite with a little bit of maneuvering.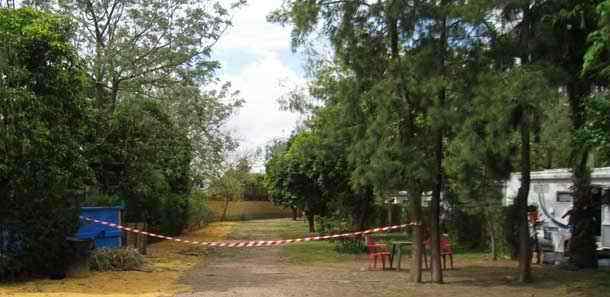 Parking area for large vehicles at Villsom camping near Seville.
Villsom campsite allows 18 meter passenger buses to park in a special lane near the entrance. It fits 4 such buses but it's a 'first in first out' spot. When the last one wants out the rest has to move. When your rig doesn't fit, there's public parking space across the street behind the commercial building block. The doors of the campsite close during the night.
WIFI connection problems at Villsom camping
During a short stay at Villsom campsite in spring and summer of 2010 the following connection problems where seen by many visitors with laptops. Most of the problems are due to the technical setup of the WIFI hotspot and network or the internet connection provided by Telefonica.

1. Connected to Villsom but no internet connection
Cause : Most likely the Telefonica internet connection is down.
Action: Wait or ask at the reception.

2. Connected to Villsom but limited connection
Cause: Most likely the ADSL router or modem at the reception is down
Action: Ask the reception when either one is either reset or powered-up.

3. Villsom WIFI hotspot is visible but can not connect while others can
Cause: Your MAC address is added to WIFI hotspot firewall block list
Action: Check your computer for malicious content or reduce connect attempts

4. Villsom WIFI hotspot is not visible
Cause: Out of range, WIFI hotspot is down or your WIFI client is incompatible
Action: Move closer, ask around or buy a WIFI USB stick at Carrefour.

5. Disconnected from Villsom WIFI hotspot
This can be a combination of 1 to 4 above.

Last but not least, sharing your internet connection with others (creating a new hotspot or wired share) will most likely result in getting your MAC address blocked at hotspot level (see 3).
Please note that managing a popular WIFI internet hotspot requires quite a bit of knowledge and skills to provide secure and continuous internet access. Internet at Villsom campsite is provided free of charge. You might also want to try the McDonalds hotspot near the Carrefour.

An alternative to WIFI is subscribing to Yoigo prepaid 3G cellular internet using either a 3G USB stick or a smartphone. (Iphone, Nokia N95/N97) Yoigo uses the Vodafone cellular network for mobile internet connections. In spring 2010, Yoigo charges € 3,- per 24 hours with a daily bandwidth limit of 100Mb. After 100 Mb the connection drops from 3G to GPRS speed.