Location
The Cabril Reservoir – Pedrogao Grande - Coimbra - Portugal
39° 55' 18.4368" N, 8° 8' 1.356" W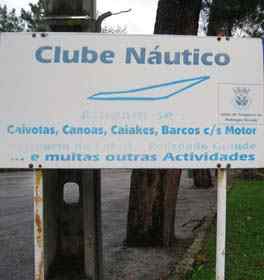 Build during the rule of Oliveira Salazar, the Cabril Reservoir finished in 1954, forms a 55 Km long man-made lake. Located in the centre of Portugal on the IC8 highway it's an easy get-away for those looking for a quiet place.


The Cabril reservoir – The Green Lake – Lago Verde
The Cabril reservoir captures the flow of the river Zezere (rio Zêzere) and the smaller Unhais river. The reservoir releases into the big Tagrus river (Rio Tejus) cutting Portugal in half. The reservoir was build during the rule of Oliveira Salazar in a decennium of rapid industrial growth upto the 1960's. As with many of the man made lake reservoirs in Portugal it's water is put to agricultural use for the growth of wine, olives and cork.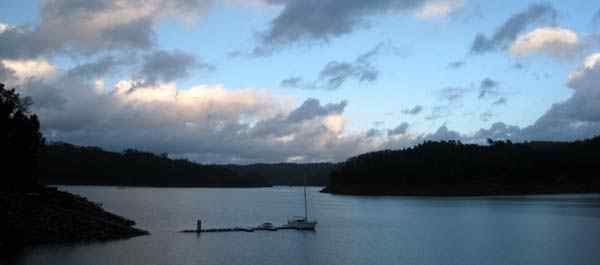 The Cabril reservoir – The Green Lake

Have a look at Europe's biggest reservoir lake in Portugal - the Alqueva lake
Nature park de Merendas do Cabril
Nature is abundant in the Cabril reservoir region. The surrounding hills are covered with dense forests and many unmapped roads (see Google Earth) surround the big lake. There are a few mapped footpaths coming down from the nearby town Pedrogao Grande.
It's allowed to fish in the Cabril reservoir as many do in the area.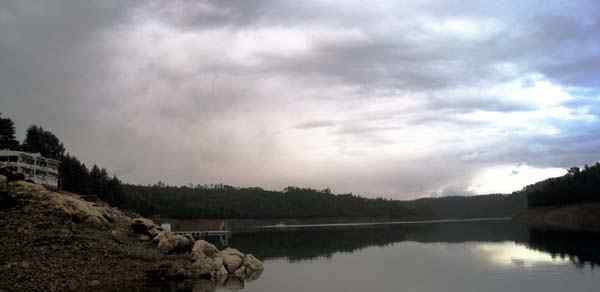 The Cabril reservoir – Lago Verde
The restaurant Lago Verde near the dam (left in the picture above) has a selection of local dishes of which many are prepared with fish from the green Lake. The place has a panoramic view over the dam and the lake. For those who want to connect to the internet, it has a WIFI hotspot. The nearby GSM cellphone antenna is also equipped with UMTS (3G) and allows those with a (prepaid) internet contract to surf the net with a cellphone. (Google "
Fast prepaid 3G internet in Portugal
")
The Cabril Reservoir campsite and watersports club
On walking distance from the restaurant Lago Verde there's a campsite called "Parque Municipal de Campismo – Pedrogao Grande".
Parque Municipal de Campismo – Pedrogao Grande

Although the place is not meant for big trucks like ours, the terraced campsite is located in a forest with a view over the lake. Bigger vehicles can park easily on the big parking lot nearby.

The Clube Náutico (watersports club) rents out boats, canoe's during the season and even has a small sailboat. It's undoubtedly a popular sport, the lake has 2 large ramps to float boats.
Clube Náutico -

Pedrogao Grande
Have a look at the new International Airport in Beja in the southern Alentejo region.