Thuraya recently launched a Twitter service for those with a Thuraya Satellite phone. Here's a test of the Thuraya Twitter service with a Hughes HNS-7100 satellite phone. And it works great, have a look at the details;




Global GPS tracking over Twitter
Those on overland journeys through remote area's often have a satellite phone to stay in touch with those at the home. A great way to let others know is to sent an SMS Text message straight from the Satellite phone. But what if you want to have a group of people know where you are?


Thuraya Twitter Service - Tweet straight from your Thuraya Satellite phone

It's now possible with Thuraya's twitter service – by connecting your Satellite phone with a standard Twitter account. With a single SMS you get your message from the bush across to many.
The Thuraya twitter service can be alternative to sending a SMS tex message straight to a mobile cell phone - a message path that doesn't always work.
Tweet your GPS location with a Thuraya Satellite phone.
After signing up with the Thuraya Twitter service, this is what you can do;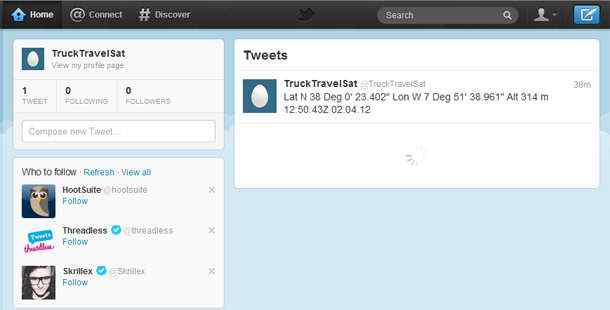 Thuraya GPS Tweet - your message from the bush straight on the internet

You see a GPS position tweet straight from a Thuraya Satellite phone – the first generation
Thuraya Sat phone, the Hughes HNS-7100
.
Even more important - the Thuraya Twitter service can prove to be more reliable if phone networks stop working. SMS text messages are published directly on Twitter in the UAE, straight from the Thuraya Satellite network.

The older Twitter - Sat Phone service launched in 2008 for Inmarsat, Iridium and Thuraya works with international phone lines (+44 7624 801423) and requires an extra communication leg (landline or satallite) from the UAE to the UK.
Satellite phone twitter service setup
It requires 4 satellite phone SMS text messages (totaling US$ 2.00) to activate the Thuraya Twitter service with your Satellite phone number. It's done by giving Thuraya access – through Username and Password - to your Twitter Account. Just create a new Twitter account if you don't want to share your personal Twitter account keys with Thuraya.

The Thuraya Twitter service signup with an existing Twitter account goes like this;
Thuraya Twitter Setup

| | | |
| --- | --- | --- |
| # | SMS text message | Thuraya Twitter response message |
| 1 | START to 1888 | Welcom to Twitter! Reply w/ SIGNUP to begin. Already on Twitter? Reply with your USERNAME. |
| 2 | USERNAME to 1888 | Hi, @USERNAME. Reply w/ your password to register this phone to your Twitter account.(Password is case sensitive! Phone may capitalize the 1st letter) |
| 3 | Password to 1888 | Oops! That password is not correct, try again. Rely w/ your password. |
| 4 | Password to 1888 | Your password is correct! Replay w/ OK to confirm you want to use Twitter with this phone. |
| 5 | OK to 1888 | No response from Thuraya Twitter Service |

The Thuraya Twitter service works right away after the last SMS Text Message
There's a limit of 100 Tweets per day per satellite phone number. Incoming tweets from other users are free of charge at the Thuraya handset - but this could change in the future.
Thuraya Twitter commands
To receive messages from other Twitter users, each Twitter user needs to authorized separately through an SMS text message.


Thuraya Twitter commands

#

SMS text to
1888

Command Explanation
1
ON
Turns all previously authorized twitter messages on.
You'll get them by SMS message.
2
OFF, STOP, QUIT, END, CANCEL or UNSUBSCRIBE
Turns all Twitter messaging off.
3
ON [username]
OFF [username]
On turn SMS Text messaging on or off for this user.
4

FOLLOW [username]
UNFOLLOW [username]

Works the same as on Twitter and start SMS messaging for this user also.
5
LEAVE [username]
Stop receiving SMS text messages from a specific user without UNFOLLOW
More about Satellite phone SMS Text messaging
Calling with a Thuraya Satellite phone
Details and secrets about Satellite phone SMS text messaging
Satellite phone details, secrets and rates.