A satellite phone is a valuable asset on overland journeys – it's the last communication straw for those who travel in remote regions and family and friends at home. On this journey we've used a Thuraya Satellite phone many times. Though calling is not hassle free – a bit about a much seen error on the popular first generation Thuraya Satellite phones.





Read about the new rugged Thuraya XT

Making Thuraya satellite phone calls
In 2007 / 2008 we published our experiences with the Hughes Thuraya satellite phone in a docking station with external satellite antenna. The satellite phone always did it's job in regions without cell-phone coverage to stay in touch with family & friends. Though setting up a sat phone connection wasn't always without problems.

A much seen error on the Hughes HNS-7100 Thuraya satellite phone is this one: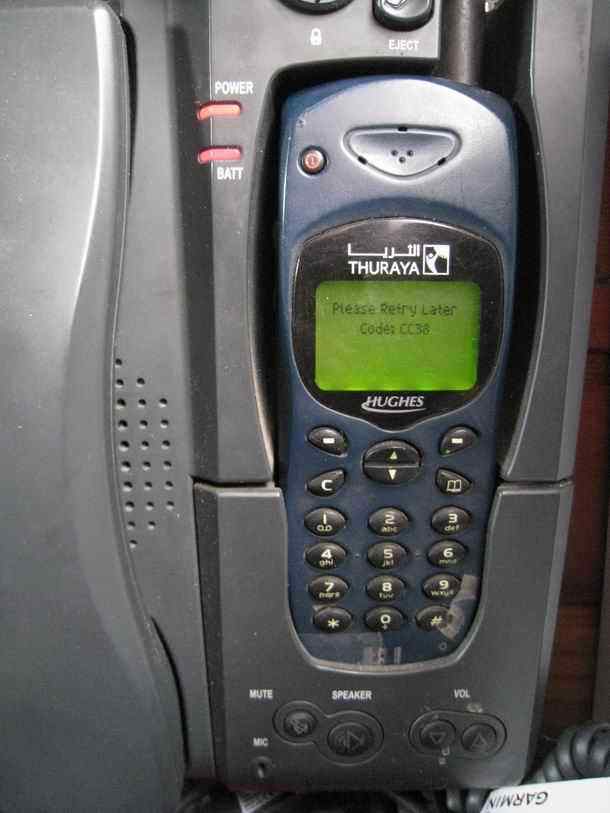 Thuraya Hughes Satellite HNS-7100 phone - "Please Retry Later, Code: CC38"

The "please retry later" error code CC38 happens while making a call with a full-bar satellite signal and GPS positioning finished. Specially during an emergency it's an frustrating problem.
In most cases the problem resolved itself by moving the satellite phone around outside.
Thuraya support – antenna and software issue
Thuraya customer care suggests to upgrade the firmware of the Hughes HNS-7100 to solve the "Please Retry Later Code: CC38" issue. This indicates different firmware will handle this issue differently – possibly a different display message or continuing to build up the phone call.
However the Hughes HNS-7100 can't be upgraded with newer firmware – there's none available. Satellite phones like the SG-2520, SG-2510 or the new rugged Thuraya XT do have firmware upgrades.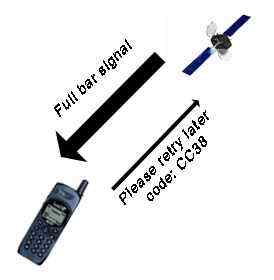 Thuraya Hughes Satellite HNS-7100 phone - uplink signal

In more detailed contact the problem is explained by Thuraya Customer Care as a satellite signal issue. Although signal reception is shown as a full-bar signal, making an actual call tests
the reverse signal path – from satellite phone to satellite.

The "Please Retry Later Code: CC38" message actually indicates poor contact with the receiving satellite.
Meaning the Satellite in orbit can't "hear" the signal from the Satellite phone and doesn't respond to the Satellite phone - hence it displays a "Please Retry Later Code: CC38" message.

The problem increases in urban area's or terrains (ie: hills, trees) where line of sight is not optimal.
Adjust Satellite Phone Antenna azimuth and elevation
The "Please Retry Later Code: CC38" message can be resolved by adjusting two angles – Azimuth (Az) and Elevation (Alt).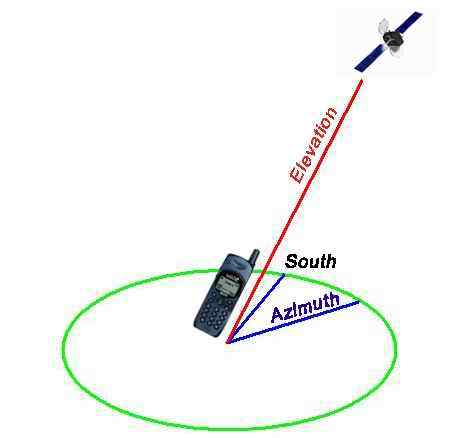 Azimuth and Elevation angles for a good satellite phone connection

The correct Azimuth and Elevation can be retrieved from Thuraya by sending the current GPS position as SMS / Text message to 1300 using the Satellite phone. Thuraya repsonds by SMS in North european countries with: "The direction of the Thuraya Satellite is Azimuth 134 and elevation 21 for your current GPS position".
This explains why moving around with the Thuraya satellite phone helps to improve the signal path from Satellite phone to Satellite.
New rugged Thuraya satellite phone – Thuraya XT
The Hughes HNS-7100 was the first generation Thuraya satellite phone – a sturdy brick phone later replaced by the more fashionable and less rugged SG-2520 and SG-2510 models. With the new Thuraya XT - ruggedness is back at Thuraya.


Thuraya XT rugged Satellite phone

Compared to the first generation Hughes HNS-7100, the Thuraya XT is smaller, lighter and complies with dust protected / splash water resistant IP54 and IK03 impact resistance. Next to this the Thuraya XT has more GPS navigation capabilities a better omni-directional antenna and increased battery live. Though the GSM/cellular mode of the HNS 7100 has disappeared in the Thuraya XT – which makes it a satellite phone only.
More information about Thuraya Satellite phones
A few Thuraya articles published earlier:
- Satellite phone usage details, secrets and fixed line calling rates.
- SMS text messaging to satellite phones
- Hands-on experiences with a Thuraya phone
- Thuraya Hughes 7100 / 7101 satellite phone with APSI FDU-2500
- Thuraya prepaid simcard renewal in Iran
Thuraya satellite phones on the market:
- First generation Thuraya satellite phones - Hughes 7100 range