Those looking for truck parts sometimes turn to junk yards to find the right affordable part. Here's a list of truck junk yards in France with links to truck junk yards in other European countries.





Truck junk yards in France
The word for junk yard in France is "Casse" or "Casses" or less used "Demolition". Trucks are known under 2 different names in France: "Camions" and "Poids Lourds".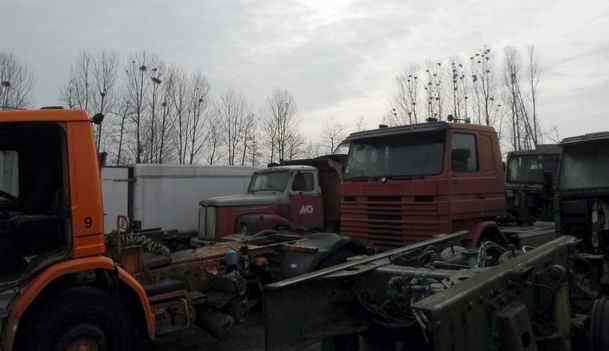 Truck junk yards in France
- Casse Poids Lourds

Truck junk yard list in France
In the list below you'll find the GPS location (click on the address) together with truck Junk yard website. If there's no website, the satellite image is listed.
This is an example of a Truck junk Yard listing;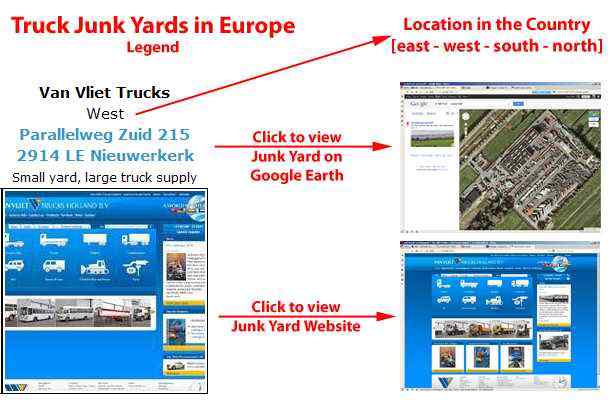 Truck Junk Yard listing and explanation
Spare parts are called "Pièces détachées". A truck junk yard is Casse Poids Lourds in French.



| | | |
| --- | --- | --- |
| Bieron Pieces Bus | Euro Poids Lourds | |
| South-East | South-East | |
| Z.I. La Plaine - 26780 MALATAVERNE | Chemin d'Avignon 84370 BEDARRIDES | |
| Used parts for bus, touringcar | | |
| | | |
| | | |
| Michel Poids Lourds | Poids lourds martin | Centre Europe Atlantique |
| South-East | South-West | Center |
| 970 Avenue d'Avignon | 19 route de Nieul - 17250 SOULIGNONNE | 7 Ancienne 141 |
| | | |
| | | |
| | | |
| Le Bris Poids Lourds | MPL Casse Montoy Poids | Jean Michelle Rivot Casse Poids Lourds |
| North-West | North-East | South |
| ZAD de la Meslinière | Route de Sarrebruck sur la R.N. 3 | 340 avenue Argonne |
| | | |
| | | |
| | | |
| Surplus Poids Lourds | GREFEUILLE POIDS LOURDS | Demolition autombile |
| Center - South | Center - South | None |
| 45 Route Paris, 31140 Aucamville | 38, avenue de Fronton | ZI Quilla - La Cabane 31190 Auterive |
| | | |
| | | |
| | | |
| | | Lorraine poids lourds |
| | | North-East |
| | | 10 rte de Sarrebruck |
| | | |
| | | |
| | | |

Have a look at Truck Junk Yards in Europe