Location
The Red Hill - Cerro Colorado by the Rio Tinto Mining company.
37° 42' 18.0396" N, 6° 35' 7.8612" W
The landscape is totally surreal - mining activities at Minas de Riotinto created huge pits and odd shaped hills in the metal rich soil in Andalusia, Spain. The area can be visited though mining still continues at nearby Nerva by the Rio Tinto company.



The Red Hill - Cerro Colorado - at the Rio Tinto Mine in Spain
The area is certainly worth a visit, even when not visiting the museum or taking the guided tour with a train through the mining landscape. The pictures below are taken near the mining cemetery on the road towards Aracena.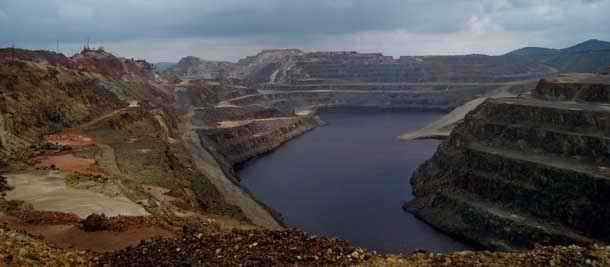 Rio Tinto Mine called the Red Hill - Cerro Colorado - in Andalusia Spain
Minas de Riotinto - an area full of metals
Cerro colorado had a red thick surface made out of rotten Iron called Gossan. Underneath this 20 meter thick intensely oxidized layer sits a band made out of limonnite and coalin. The copper band appears underneath, about 10 meters thick made out of sulfurs like copper ore and covellin. Underneath sits a layer of pirites, caclopirites, pirrotine, quartz calcite and chlorites.

Welcome to Mars made by the Rio Tinto Company in Spain
Not only copper - but also gold and silver
Between 1966 and 1968 the Riotinto Patiño company performed measurements at the Red Hill, after which open-cast mining began. The Red Hill mine produced about 4.5 metric tons of ore every year, containing about 6.700 Kg of gold and 140.000 Kg silver. The open-cast mine is now closed, though mining continues at nearby Nerva.

The Red Hill by the Rio Tinto mining company in Spain is a prohibited area
Digger Claw at the Rio Tinto mine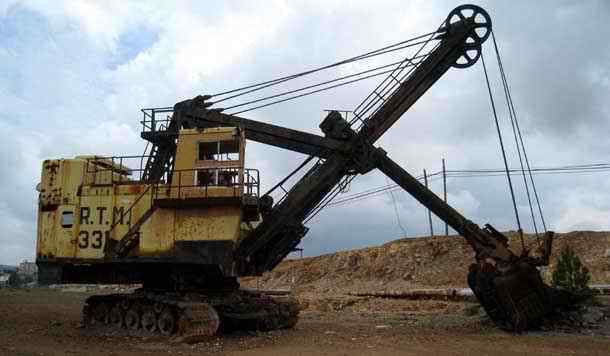 The RTM #331 digger at the Rio Tinto Mine

Other interesting public coal mines in Europe

- Huge bucket wheel excavator in Germany

- Deep open cast mine Cap Decouverte in France

- Former coal mines converted into recreational lakes in Germany