Location
Watch tower behind the Iron Curtain at Checkpoint Alpha - Germany.
52° 13' 6.6216" N, 11° 3' 33.84" E
The Cold War Iron Curtain at Check Point Alpha near Marienborg in Germany is a remarkable place. Parts of the old border infrastructure is still there and can be found in the woods near the iron curtain border post. Here's how to get there by foot - a nice walk through the woods over an old DDR border patrol road. Includes info about other Iron Curtain Wall tours.
The Iron Curtain at Checkpoint Alpha
Checkpoint Alpha at Marienborn is the main and biggest border-post to the former DDR (East Germany). The other 2 border posts called Checkpoint Bravo and Checkpoint Charlie are in the Berlin area.
The walking trail towards the Iron Curtain wall at Checkpoint Alpha takes about an hour over old east-german DDR border patrol roads. The trail goes through woods known as Harbker forest - named after Harbke, a small village located nearby.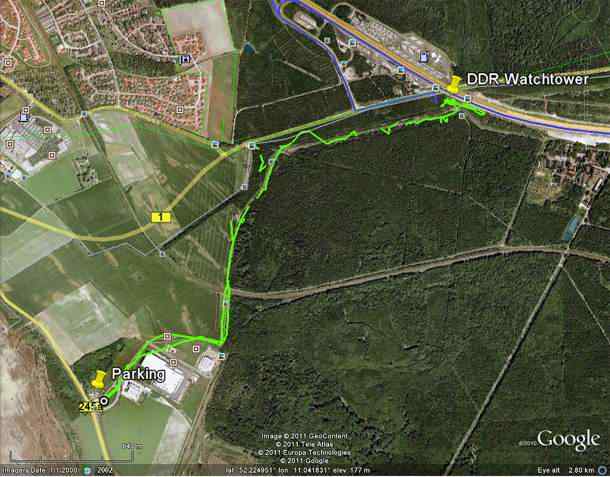 Walking trail to the Iron Curtain at Checkpoint near Marienborn - Germany

The walking trail starts at a parking lot at a small industrial area. This spot used to have a Cafe - Bar in an old plane supposedly used by the former DDR president Honnecker. The Google Map from 2000 still shows this plane. Unfortunately in 2011 only the parking lot remains and a sign of walking trails in the area.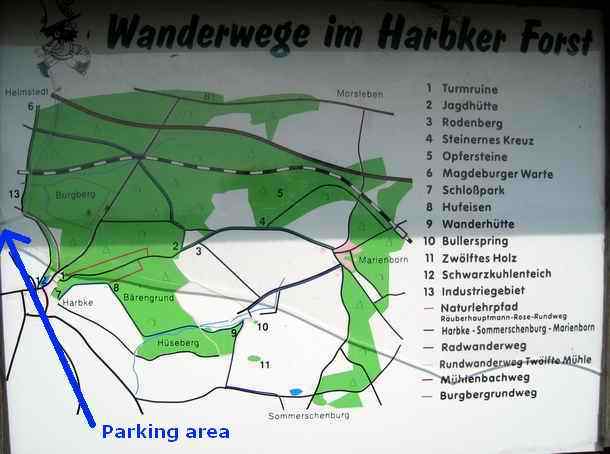 Walking trails in the Harbke region - Germany

From the parking area walk towards the 90 degree right turn past the huge Toys 'R Us warehouse. A partly overgrown tarmac road starts just at this corner. Follow this road and cross the railroad about 1 kilometer further. Just follow the trail which takes you to a huge watch tower overlooking the A2 / E30 German Highway.
Checkpoint Alpha Watchtower overlooking the highway
At the end of the trail you'll find a huge watchtower located just behind the Iron Curtain.
Walking trail to the Iron Curtain at Checkpoint near Marienborn - Germany

From this tower you get a great view at border demarcation sign located in the middle of the highway and the Marienborg border post.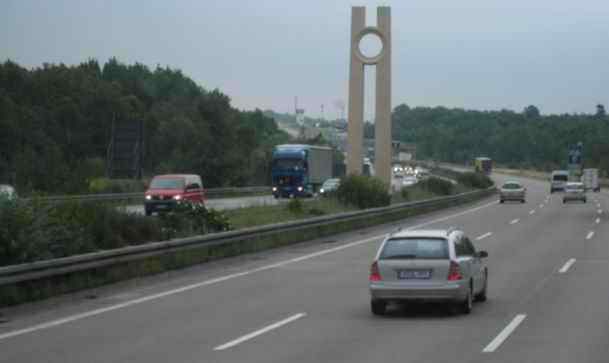 The former border with East Germany - marked by a statue in the middle of the highway.


The round hole in the statue used to hold the DDR - East German state sign.
Iron Curtain wall remains
Just near the watchtower there's a remnant of the Iron Curtain - a concrete wall separating east from west Germany.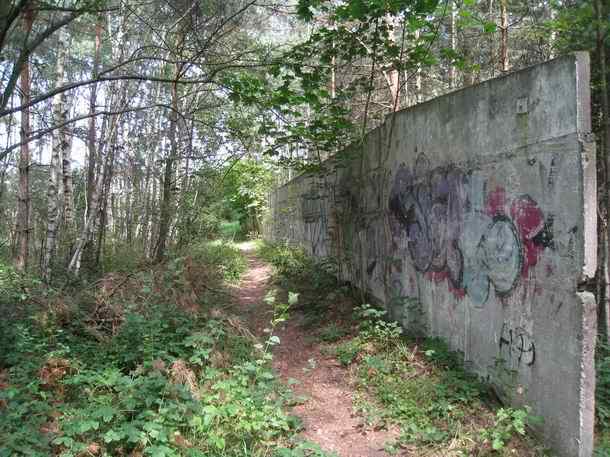 Remains of the Iron Curtain at the Marienborn borderpost - Germany

The picture is taken from the West-German side.
Former border patrol roads in the DDR
From the parking lot at N52.205279° E11.033285° - a small industrial zone - a former border patrol road takes you to the old DDR watch tower and remains of the Iron Curtain.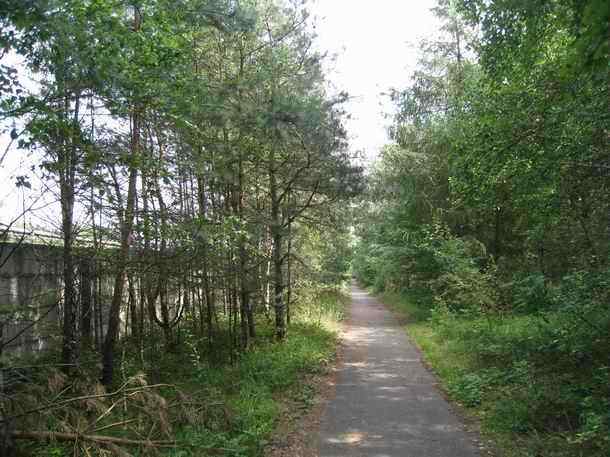 Former border patrol road behind the Iron Curtain at Marienborn Germany

Tour the Iron Curtain Wall in Germany yourself
Here's an information overview about (self) guided tours along the Iron Curtain Wall in Germany:
(Self) Guided tours along the Iron Curtain Wall in Germany


Books about the Iron Curtain Wall and Berlin Wall:
Like other historic buildings? Have a look at these:
- Historic hospital in Beelitz-Heilstätten - Germany
- Huge historic Abbey in Lubiaz - Poland
- Deserted stylish house in Andalusia - Spain
- Hermitage and Chapel Ermita Santa Justa in Cantabria Spain
- La Tourelle - Saint Jean by GALTIER in St Jean de Luz - France