Location
La Tourelle - Saint Jean in St-Jean de Luz in France
43° 23' 20.7564" N, 1° 39' 50.3352" W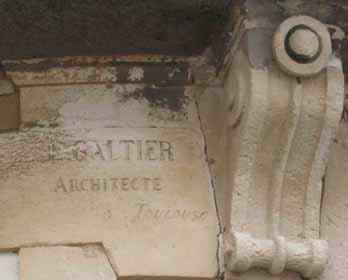 A remarkable building photographed by many on the main boulevard in St Jean de Luz in the Basque region of France. Yet, there's no trace of it on the Internet other than non-descriptive pictures on Google Earth. Have a look - who knows it's history?


"La Tourelle - Saint Jean" in St Jean de Luz
Located on the the main boulevard in St Jean de Luz - Promenade Jaques Thibaud - the building is marked as "La Tourelle - Saint Jean". It's a remarkable building noticed by many while taking a stroll along the sandy beach of St Jean de Luz. La Tourelle means The Turret.
Click to enlarge the picture of La Tourelle

At the time this picture is taking the building looked closed and left unattended for many years. With all windows shut and the tell-tale marks of seaside weather there must be a story behind it.
A search on the Internet returns a void, even-so an image search. The only other non-descript pictures of this building can be found on Google Earth. (See the GPS location at the end of this story.)

Architect L. GALTIER from Toulouse
On the front there's a trace of the name of the architect of La Tourelle. It's near faint mark on the front-side of the building and reads "L. GALTIER - Architecte - Toulouse". A search in Google Books results in a shred of information - the architect GALTIER worked in the early 1900's. This most likely dates the building at least end of the 1800's.

The book that mentions GALTIER is L'ornement en série: architecture, terre cuite et carton-pierre" written by Valérie Nègre and published by Editions Mardaga in 2006.
Location of La Tourelle - Saint Jean
La Tourelle sits on a prime location in St Jean de Luz, it simply doesn't go unnoticed by anyone visiting the city.

Three roads encircle this remarkable building - on the back it's the "Rue Jeanne COUTARDE", on the east end it's "Rue Tourasse" and on the front it's the Promenade Jaques Thibaud. The building is marked as number "1" in the "Rue Jeanne COUTARDE".

The door on the backside has a six doorbells indicating some activity in the building. However the building looked very deserted in this busy part of St Jean de Luz.
Like other historic buildings? Have a look at these:

- Old hospital in decay in Beelitz - Heilstätten in Germany
- Deserted stylish house in Andalusia - Spain
- Hermitage and Chapel Ermita Santa Justa in Cantabria Spain
- Amazing abbey in Lubiaz - Poland