Those who have built their own campervan, mobile home or RV know the importance of water tank level measurement. It answers the question how much drinking water is left for the journey. There are several commercial solutions, though not all work that easily or have priced themselves out of the market. Here's a simple LED based water level measurement system based on a popular Votronic measurement display.
Votronic indicator and gauges
Votronic in Germany produces a wide aray of measurement displays and gauges for mobile homes, campervans and RV's. Their product catalog is impressive and Votronic products are often found in commercial as well as in DIY vehicles.


Votronic water level measurement LED display

However not all situations are supported such as
water level measurement for metal water tanks
using a metal probe with resistive measurement positions. Metal water tanks are preferred above plastic tanks for large water volumes.
Votronic does support water level measurement for metal tanks using a capacitive probe. But in this case two large 250 liter metal water tanks already had a custom built stainless steel probe with resistive measurement points. Votronic didn't have the interface circuit to for steel tanks with resistive metal probes. Other Votronic probes and interface modules are also expensive amounting over € 100,- for each water tank excluding the Votronic display.
Votronic simple water level measurement circuit
The solution you find here is based on a metal water tank isolated from ground / mass. This is an important requirement since the steel tank has a DC voltage during water level measurement. Metal water tanks bolted directly to the chassis (ground) will not work with this solution - though information listed here can be used to build your own solution.
The circuit is drawn below;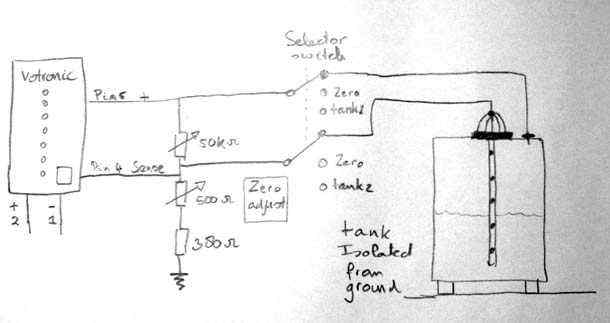 Votronic DIY water level measurement circuit

The 500 Ohms variable resistor sets the "zero level" when the tank is empty or when the probe is not connected. The 50K Ohm variable resistor sets the measurement current that flows through the water tank.
All measurement points in the metal probe are connected together.


Stainless steel water level measurement probe - 5 measurement positions

The steel casing of the probe can also be used as measurement tip - in this case 5 measurement positions is enough accuracy.
The 24 volt Votronic Tank Display lits all LEDS when about 2 volts is measured between pin 4 (sense) and ground.
The same setup can be used with plastic water tanks. Either pin 5 is connected to a metal contact drilled in the bottom of the water tank or to a probe with 2 rods. The latter solution is preferred since no drilling in the side or tank bottom is required.
Votronic measurement sensitivities
Fluctuating battery voltage does influence the measurement accuracy of the Votronic water level display. Specially AGM batteries with a high float voltage (14 volt) will cause the display to show different values when the battery charger is connected or disconnected.
In this case the measurement circuit uses a simple 7812 step-down voltage stabilizer to create a stable 12 voltage from a fluctuating 24 to 28 volt AGM battery.
The power supply circuit is drawn below - the capacitors are both 100 uF;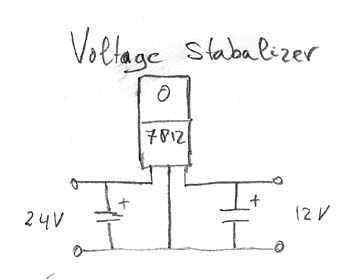 24 to 12 volt voltage stabalizer - stepdown converter

The 24 Volt version of the Votronic water level display also works with the 12 volt stabilizer.
When there's only 12 volt available the same 7812 stabilizer can be used to step down voltages above 12 volt.
Votronic simple water level measurement cost
The cost of this simple water level measurement solution:
Votronic 24 volt measurement display
Three variable resistors (2x 50K 1x 500 Ohm)
Two 100 uF capacitors 50 Volts (electrolyte)
One 7812 voltage stabilizer
One 380 Ohm resistor 1/4 Watt
Calibration switch (zero position) optionally with second tank select
Connector block to connect the above parts together
amounting to about € 45,- in total.
Votronic water level measurement display used in this setup:
Votronic Tank Display for Fresh Water 24 V Order No. 6012
Votronic Tank Display for Fresh Water 12 V Order No. 5212

Votronic water level measurement display with input specification:
LED Tank Display HE 010 Order No. 0242
LED Tank Display HE 420 Order No. 0244