The Mercedes Benz station-wagon from the 70's and 80's was built to last a long time. Even in 2012 many are still on the road, some on a daily basis. Here's an impression of a 1984 Mercedes Benz 230TE combi estate.


Mercedes Benz 230TE estate combi stationwagon.
With it's 28 years, this Mercedes Benz 230TE estate from 1984 known as the W123, still performs quit well in modern day traffic.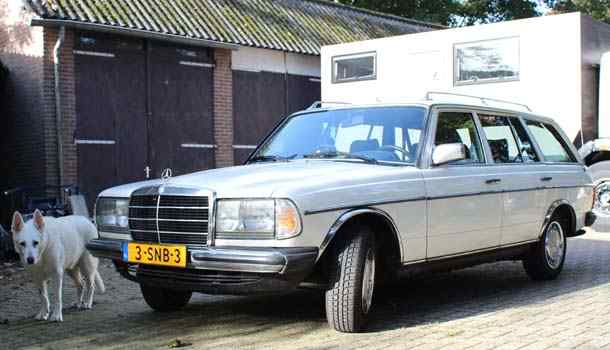 Mercedes Benz 230TE estate

With 222.000 Km (137.944 miles) on the clock its in pretty good shape. The 4 cylinder 2.3 liter petrol injector engine produces 100 Kw, which makes it faster than the average passenger car in 2012.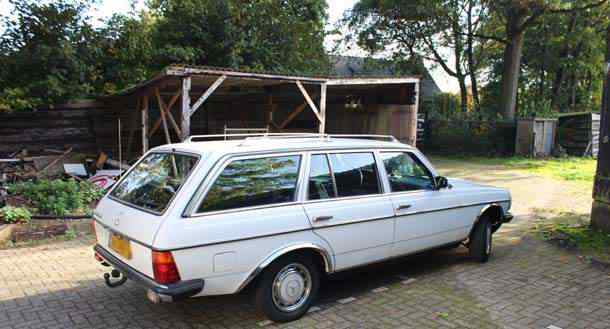 Mercedes Benz 230TE estate - rear view

Mileage hovers between 23.5 mpg (10L/100Km) to 19.5 mpg (12L/100Km). The automatic gear box makes the 230TE Combi a very comfortable ride.
Exclusive Mercedes Benz W123 Book
For those who like the W123 model - there's an exclusive 168 page book with 200 pictures sold in the Mercedes Benz Museum in Stuttgart Germany;
This nice hardcover book is in German language and can also be bought on-line:
it contains design and manufacturing information as well as buying and technical tips.
Mercedes Benz W123 weak points
This Mercedes Benz model is known as the W123 – a platform seen in sedan and estate variants with several petrol and diesel engines. The estate or stationwagon models are known as the "Mercedes Benz Kombi" or Combi in Europe.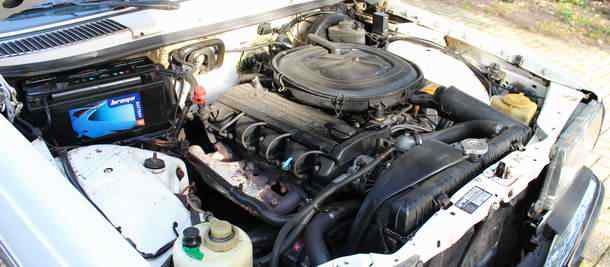 Mercedes Benz 230TE engine

The design lasts given the amount of W123 models still on the road. As with every car design there are weak points which surface after many years.

An overview of the weak points of the Mercedes Benz W123 model;
Weak point

Symptom
Cure
1
Central door locking system
Doesn't lock or open, locks very slowly or doesn't open after several hours.
Replace pneumatic actuator or ripped rubber seal
2
Leaking sunroof
Wet seat, wet floor, wet ceiling
Clear drainage channels or replace sunroof seals
3
Jack points
Rusty jack points, cracks when jacked up
Difficult renovation, involves structural damage
4
Dashboard lights
Dashboard hardly visible, no light in switch or heating unit
Replace W2W and W3W, J12 bulbs
5
Alternator belt
Squeaks when starting, specially when cold. This is a design issue.
Check angle of alternator pulley, replace belt or clean pulley with brake or belt cleaner. Candle wax helps also.
6
Oil filter
Oil pressure sags to 1-2 bar during cruising speed. Filter is designed a bit small for this engine.
Oil filter clogged, replace oil filter
7
Rear windscreen wash
Motor running, no water while tank is full
Check hose in rear hatch if broken or squeezed when hatch closes.
8
Speedometer offset
Shows speed offset of +10Kmh. ODO meter usually is correct
Unknown or adjust speedometer
9
Sagging seats
Seats sag or show signs of wear
Change or upholster seats
10
Windscreen wiper interval
Slow interval doesn't work
Replace relay or fix condensator / transistor
11
Door handles inside
Wear out and angle downwards
Swap mechanism with rear doors
12
Rear hatch
Doesn't stay open in top position
Replace hydraulic cylinders

13
Bodywork
Rust at:
- Battery compartment
- Antenna mount rear
- Edge front window
- Edge sunroof
- Inside / bottom doors
- Wheel arches
- Sills door opening
- Bonnet edge front
- Bottom of rear hatch
Treat superficial rust and bloating.

Repair battery compartment, sills, wheel arches.
14
Steering

Easily misaligned or pulls to the right or left.

Below a ball joint that caused a fight to get it loose.

Balljoints, rubbers worn out
steering rods bent.
Ball joint can be hard to remove. See the ball joint remover and special tricks to get it loose.
Mercedes Benz 230 TE - W123 workshop and repair manuals