Our Mercedes Benz 1719AK came with a mysterious device mounted in the diesel fuel line. Its called the Fuel Finisher, sold somewhere in the 90's to improve fuel economy and cleaner combustion. Here's a bit about the fuel finisher and fuel catalysts.



Fuel finisher – diesel fuel catalyst
The fuel finisher - a fuel catalyst - claims to react with diesel fuel to gain more engine power, better fuel economy and cleaner emissions. It's quite a mouth full for a contraption rarely found in today's diesel engines.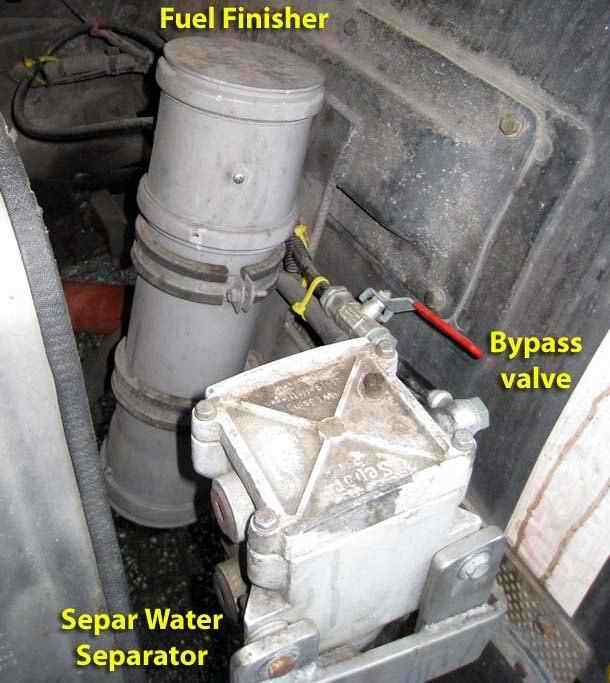 Fuel catalyst by GUT - Germany, called the Fuel Finisher

The brand "Fuel Finisher" has North European roots. It seems its developed and patented by GUT in the early 1990's. (Gesellschaft für Umwelt Technik – Stuttgart - Germany) The Fuel Finisher brand had a website now long offline. Part of the
Fuel Finisher could be retrieved through web.archive.org
with some of it's contents further down this article.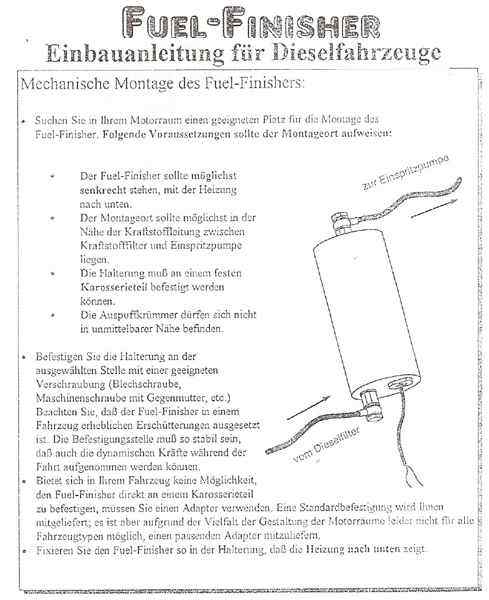 Fuel catalyst by GUT - Germany, installation schematic

The fuel finisher came with a
test report claiming 15% better fuel economy over a distance of 2400 Km with a Mercedes 190D
. Presumably fuel usage sank from 8 liters to 7 liters / 100 Km. The installation manual also mentioned prices in 1997.
The Fuel Finisher – FDD703 - installed in our 1719AK costs 1380 DM (€ 705 , US$ 910) in 1997 and should last about 150.000 Km. Its quite a price with a big promise!
We took the fuel finisher to the test in summer 2011 with 105.000 Km on the dial.
Fuel catalyst testing
For testing purposes we installed a simple bypass valve – to easily run the engine without the fuel finisher.

We checked the internal heating of the fuel finisher to make sure it worked – something that is said to help the reaction process in the fuel finisher.

In short: with 2000 Km with and without the fuel finisher – we couldn't notice any positive difference. Still fuel consumption was pinned down on 30.2 liters / 100 Km iso of a 15 % positive effect up to 26 liters / 100 km.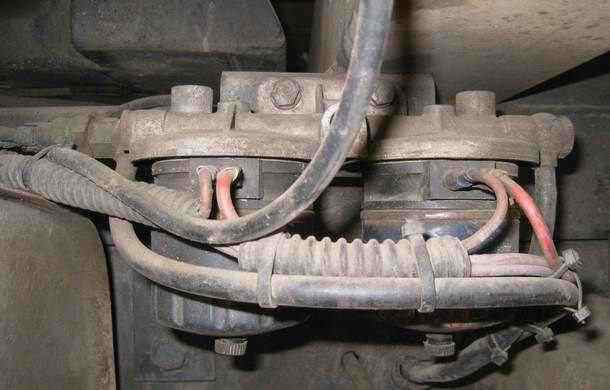 Diesel fuel heater - double stage. The heater elements sit between holder and can

More surprisingly, we didn't notice any difference in power also. We expected some loss of power because of extra drag in the fuel line. With a (1) double paper fuel filter, (2) a double fuel heater - see picture above, (3) Separ water separator, the (4) extra fuel finisher is quite a bit of an obstruction.
So is the fuel finisher just snake oil? A bit about the backgrounds.
Diesel fuel catalyst backgrounds
A look around on the internet reveals several fuel catalysts based on the same principle. Enriching fuel with the metal element tin – causing a chemical reaction that presumably produces a more complete fuel combustion. Examples are Broquet, Finch etc all with their own patents and more or less the same claims. Better fuel economy, more power and cleaner emissions.

The GUT Fuel Finisher tries to distinguish itself from other fuel catalysts using a electrical heated ceramic honeycomb coated with a copper-tin alloy (mix 2 to 98). The automotive version consists of pellets coated with copper-tin alloy compressed into a tube. It seems the fuel finisher was also used in a chemical process to recycle oil waste from various sources into diesel fuels.

Without doubting genuine German engineering efforts to create a working fuel catalyst, the question remains why the fuel finisher was launched on the automotive market? If positive effects are measurable, the Fuel Finisher will sell itself – very fast. When effects are hardly noticeable the word of disappointed customers will spread even faster.


Its clear the fuel finisher for the automotive market wasn't a whopping success – above that there's no place to buy a replacement nowadays.
Diesel Fuel catalyst information
More about Diesel Fuel Catalysts;
Fuel Finisher defunct website

Patent mentioning the Fuel Finisher – Recycling waste oils by GUT (german)

Patent mentioning the Fuel Finisher – Recycling waste oils by Oberländer (german)

Australian warning about fuel catalysts

More about Fuel saving devices – Fuel Catalysts

Broquet fuel catalyst