Outside the western world many medicines are available without a doctors prescription – meaning you're more on your own when it comes to buying medicines at a local pharmacy. Here's a reliable and well known book about medicines and their use for the seasoned traveler.




Travelers clinic medicine book
As a traveler you're the first in charge of your own or your travel companions health. A visit to a local doctor or pharmacy can result in having to buy medicines you never seen before – sometimes in a language you can't read. Before taking any of those medicines – its well worth the effort to get to know the details from a reliable and authoritative source.

Once a year the Royal Pharmaceutical Society of Great Britain and British Medical association publishes the British National Formulary. This book written in English provides up-to-date information about relevant details and use of medicines.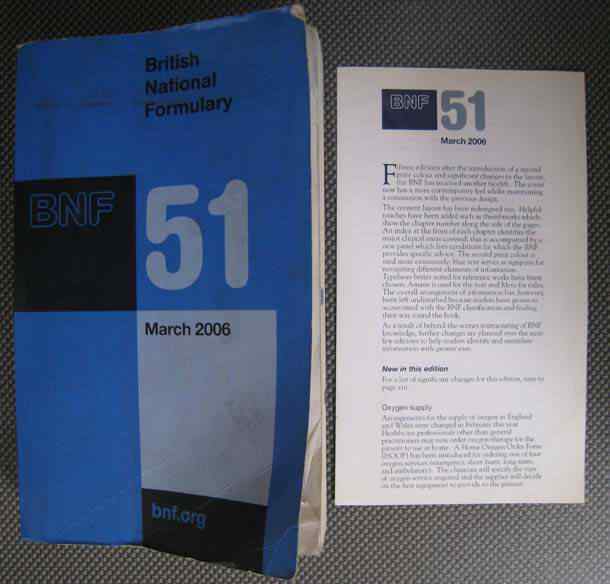 Our well-used Travelers clinic medication handbook BNF - British National Formulary

The BNF enables you to known about
indications, cautions, contra indications, side-effects and dose of practically any commercial available drug
in local pharmacies world-wide. A must have for any seasoned traveler.
Medicine content and manufacturer search
The BNF has a manufacturer index and medicine content index. This allows you to look up any medicine fast. Usually content and manufacturer information is printed on the medicine label in international format. And if it's not in the BNF - it should instantly raise the alarm bells!
| | | |
| --- | --- | --- |
| | | |
| BNF at UK Amazon | BNF at US Amazon | BNF at EU Amazon |
Currently the edition for 2011 is BNF publication number 62. BNF books are generally cheaper for previous years. A separate BNF edition is available for children medication.
Information in the BNF book is drawn from medicine manufacturers, pharmaceutical companies, regulatory authorities and professional bodies. Advice comes from clinical literature and evaluation evidence from diverse sources.

In any case – the BNF is by no means an invitation to doctor your own health. However access to reliable information is key for those traveling the globe.


Read about the BNF at the British National Formulary website.