Location
Anteros Lighthouse on Cape 1000 miles
38° 51' 5.418" N, 22° 41' 47.5512" E
Greece has a lot of shoreline – lighthouses are found everywhere along the coast. Here's an example of a neat little lighthouse on a cape with peculiar name – 1000 Miles – or "Chiliomili". It's built in 1890 and located in the Skarfeia region in Central Greece, have a look.
Anteros Lighthouse in Greece
Cape Chiliomili (Khiliomili) is located near Lamia – between Athens and Thessaloniki. The lighthouse – known as ΦΑΡΟΣ ΑΝΤΕΡΟΣ – Faros Anteros - stands on a large marshy plane;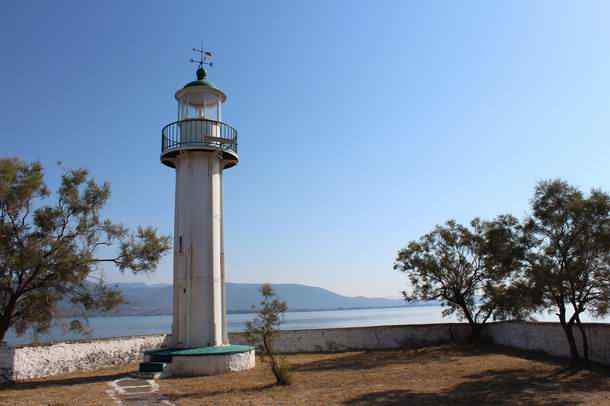 Faros Anteros - Lighthouse Anteros on Akra Chiliomili

Cape 1000 miles (Ákra Khiliomíli - ακρα Χιλιομιλι) has a Turkish connection, it's the distance of the sea journey to Constantinople / Istanbul.
Apparently the lighthouse is made in France fabricated from cast-iron panels and assembled in Greece in 1890 as a prefab lighthouse kit.
Faros Anteros - The oil lamp is replaced by a lamp with solar panel.

This place is also known as Akra Anderas (or in variations like Anderos Anteros)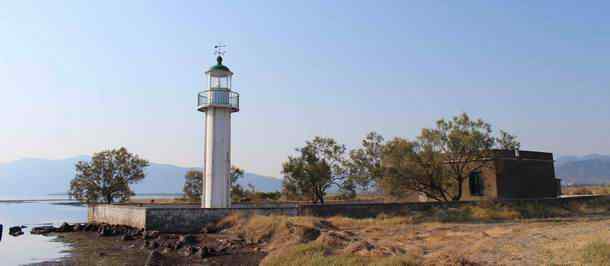 Lighthouse Anteros on Akra Chiliomili from the west side

It's a nice and quiet location to park for the night with a superb sunset and sunrise.
Cape Chiliomili also hides a Geocaching cache.
Military airstrip and fuel bunker
Just next to the Anteros lighthouse there's an old aviation fuel bunker. It sits at the end of a retired runway / airfield from the Greek air force.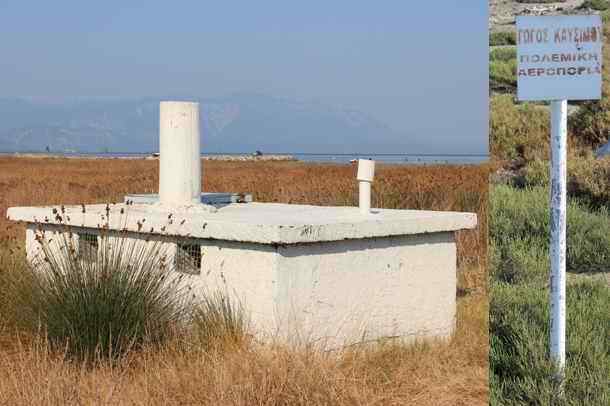 Military Aviation fuel bunker - ΓΟΓΟΣ ΚΑΥΣΙΜΟΥ - ΠΟΛΕΜΙΚΑ ΑΕΡΟΠΟΡΙΑ (Aviation Fuel - Military Airforce)

The marshy area used to belong to the Greek air force to refuel military airplanes. The house located next to the lighthouse also looks like a military bunker.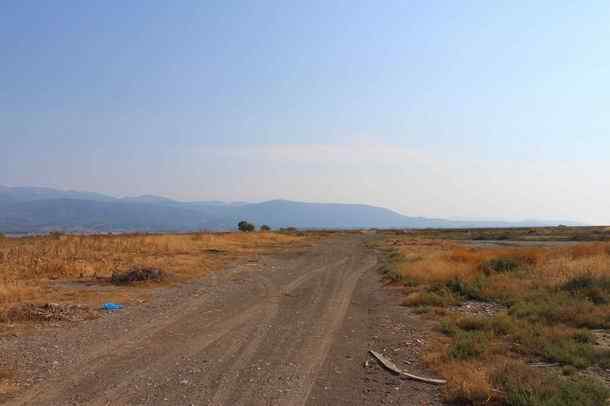 Deserted military airfield from the Greek airforce - the the lighthouse sits on the far left

Nowadays the nearby Molos Airstrip is a better location to land an airplane.
Thermopylae satellite earth station
3.5 km south of the Anteros Lighthouse there's the thermopylae satellite earth station – or LES (Land Earth Station) operated by Otesat-Maritel.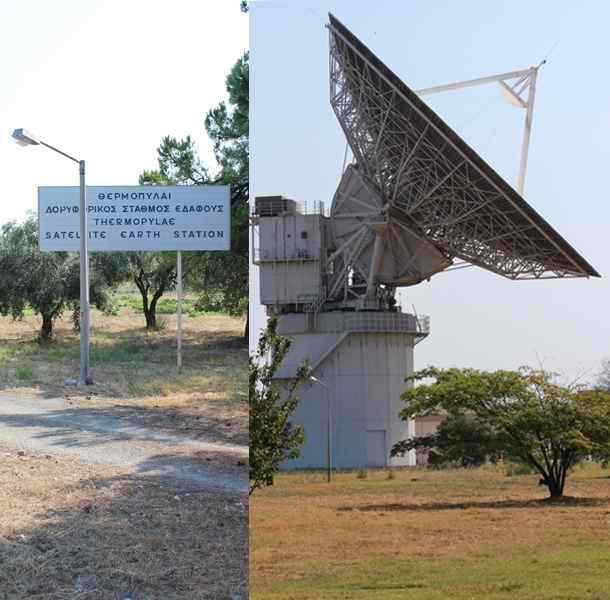 Thermopylae Satellite Earth Station near Lighthouse Anteros

The satellite dishes host maritime Inmarsat and iridium satellite phone services around the globe.
Thermopylae means "hot gates" and refers to the nearby sulphuric hot spring.
More information from the Skarfeia region in Greece
Otesat Maritel - Greek marine satellite communication company