Location
Vitoria Gasteiz - Basque Santa Maria Cathedral
42° 51' 3.006" N, 2° 40' 21.504" W
Vitoria Gasteiz, the capital of the Basque country on the high plain of Spain, is an intriguing city. With a heritage dating back to 1000 Ad, the old city center has a few must see gems. Have a look at its Murals, the massive reconstruction of the Santa Maria cathedral and a few other things about this city.
Vitoria Gasteiz – Basque cultural heritage
The compact historic city center at the hill overlooking surrounding plateau has a strategic location. Walking up from the north confronts the unsuspecting visitor with intriguing murals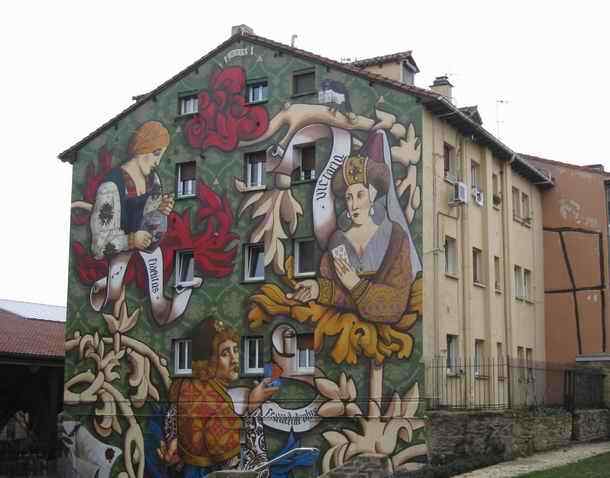 Mural in Vitoria Gasteiz the Basque capital city in Spain

It shows people playing
Mus – a popular Basque card game
known allover Spain.
The Mural is called "El Triunfo de Vitoria" – based on the painting by Georges de la Tour "The Cheat". A bit further next to the Santa Maria cathedral, this Mural - "Al Hilo del Tiempo" -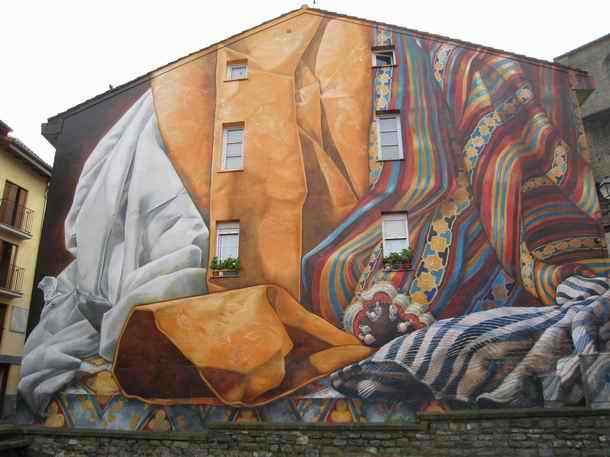 Mural at the Santa Maria Cathedral in Vitoria Gasteiz

It's a mural made by volunteers during summer workshops under the supervision of professional artists such as
Verónica and Christina Werckmeister – under the wing of IMVG
and others.
Washing label at the Mural at the Santa Maria Cathedral in Vitoria Gasteiz

This mural is next to the entrance of the reconstruction project of the Santa Maria Cathedral.
Reconstructing the Vitoria Gasteiz cathedral
The old church was closed in 1994 after a brick fell down from the ceiling. Since then a massive reconstruction project was started to preserve the Santa Maria Cathedral from further disintegrated. Since 2000 excavations started resulting in more than 600 skeletons dug from the floor and basement.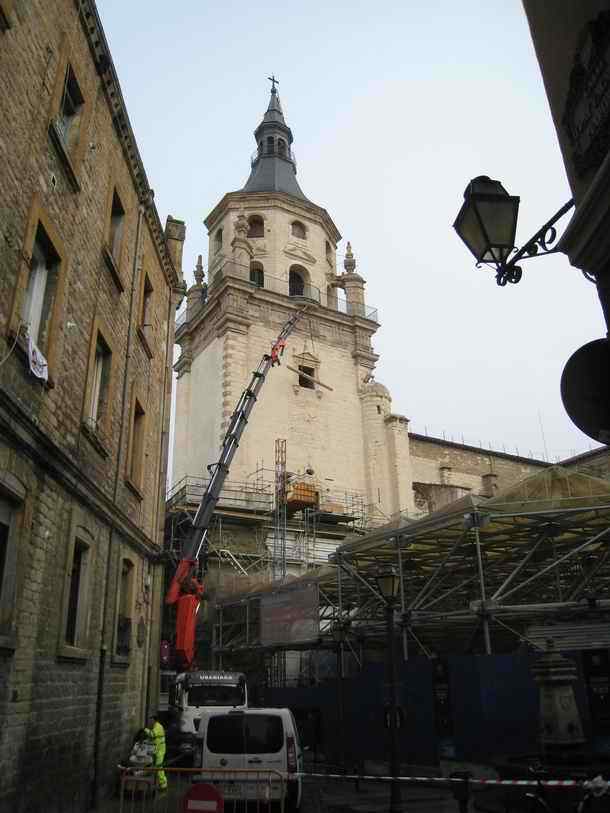 Reconstructing the Santa Maria Cathedral in Vitoria Gasteiz

The work produced a detailed impression of the heritage of Vitoria Gasteiz from early 1000AD. In the coming years the church will be opened again – now with a museum showcasing its history and stuff found during excavations.
Vitoria Gasteiz is a less known part of the
Santiago de Compostella trail – the Saint James Way
.
In
2012 Vitoria Gasteiz is the Green Capital of Europe
. The many parks in the city center and its initiatives to for a sustainable environment has been rewarded.
Information about Vitoria Gasteiz - Basque Country Capital
The Vitoria Gasteiz Murals - IMVG - Itinerario Muralístico Vitoria Gasteiz
The Mus card game - Basque Card playing game Mus
The Santa Maria Cathedral reconstruction
Vitoria Gasteiz Green Capital of Europe 2012
Santiago de Compostela - The Saint James Way